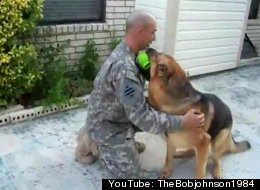 Here's a perfect way to end your week.
Ranger, a German shepherd, is playing fetch with his toy, "Green Monster." But after the man throws the toy (his favorite, according to the video's YouTube description), he returns to find that, in place of the man who threw the toy, is his owner, who's just back from being deployed overseas.
We can't even begin to describe the pooch's reaction, so you'll have to watch the video to see why dogs, really are, man's best friend.
If this warmed your heart, be sure to check out this video of Chuck, a boxer, welcoming home his owner after an eight-month deployment.
And for more videos of dogs reuniting with their recently-returned owners, be sure to check out the Welcome Home Blog's collection of dog videos.
Happy Friday.
[Gawker via Welcome Home Blog via BIOTV]
WATCH: Holiday Military Surprise Homecomings
Knowing his boys loved knights and all things medieval, Lt. Col. Jeffrey Allen and his wife planned to surprise Benjamin "Hunter" Allen, 8, and Nathaniel "Cooper" Allen, 6 at Medieval Times in Hanover, Md. Watch their excitement when they find out who just knighted them!

A soldier surprised his kids at a big family Christmas gathering, disguising himself as a big red present. His kids were happy to do the unwrapping!

Watch this Siberian Husky, Silver, welcome her soldier home. Silver is asked to sit down repeatedly but she seems too busy crying, kissing, hugging and running in circles. "I haven't heard her cry like that before!" her owner says.

Watch this military dad, dressed up as Santa, hand Christmas presents to his kids one by one. The children have no idea who he is until they give a tug at his beard, and then they're in for a surprise!

When a large and mysterious present from Santa is left on the lawn for a young girl named Emily, her mother encourages her to see what it is. Watch as she dissolves into her dad's arms ever-so sweetly!

With one more gift left under the tree from Santa, a mother urges her daughter to see what's left. Little does she know, this year Santa brought her dad, a U.S. soldier, home to celebrate Christmas with his family.

A soldier coordinates a time to video-chat with his family for a Christmas celebration he can't attend. Mid-chat, they get a must-see surprise!