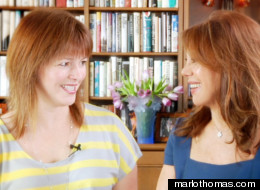 When Kathy Spencer's husband ended up in the hospital a few years ago, his absence from work and the mounting medical bills got Kathy thinking very seriously about ways to save money. And it was a simple purchase of a carton of juice with a coupon that led Kathy to the realization that with a well-planned strategy, she might actually be able to shop for free, all the time.
Today, she feeds her family of six - and their pets too – for an average of just $4 a week. By stockpiling and carefully organizing coupons from drug stores, local newspapers, web sites, Facebook and even Twitter, she estimates her annual savings are roughly $60,000. When she sat down for an interview on "Mondays With Marlo," Kathy shared some of her best advice on saving money and shopping for free. Among her tips:
Start stockpiling coupons from a variety of sources.
Make a list. Don't go to the store blind, just grabbing things.
Make a budget. Do the math beforehand so you know how much you will owe, and take only that amount of cash.
Go to the stores that know you, so they are used to you using coupons.
Call ahead if you are going to have a huge amount of coupons or are planning to buy extreme amounts.
Carry the store's coupon policy in case the cashier is unfamiliar with it.
If it's free and you don't need it, get it anyway and donate it to a charity or a shelter.
Remember that manufacturers refund the store for your coupons, so coupons are cash to them.
Don't buy items in bulk. It's not cheaper! That's a myth.

Don't cut coupons until you need them. Use the coupon database on howtoshopforfree.net to organize them!

There is a fine line between stockpiling and hoarding. If you're stockpiling items under your kids' desk, then donate them!

Look online, on Facebook, howtoshopforfree.net, in your free local newspaper, and, um, even by dumpster diving!

Lower your weekly amount you spend week by week, making your goal to eventually get your items for free.

Be disciplined when out shopping. Keep just enough cash in your pocket for what you need and have your list. Don't grab spontaneous items. Know when to walk away!

If you're going to be getting a lot of items for free with coupons, call the store ahead of time and let them know so that they're prepared.

Carry your store's policy on coupons with you when you shop, in case your cashier doesn't know it.

If you can get something you don't need for free, get it anyway and donate it!

Buy kids' clothes at the end of the year, when they're on sale. Stores like Abercrombie & Fitch never go out of style.

If you love a product but can't find a coupon for it, call the manufacturer and ask them to send you coupons. Most times, they will.

Eating healthy on coupons is definitely possible! Whole Foods has coupons that can be combined with manufacturer coupons. A dollar off here, a dollar off there -- and soon your yogurt is free!
See 12 Money-Saving Tips From Kathy Spencer Here
Add Marlo On Facebook:
Follow Marlo on Twitter:
Weekly Newsletter

Sign up to receive my email newsletter each week – It will keep you up-to-date on upcoming articles, Mondays with Marlo guests, videos, and more!

Sign up here