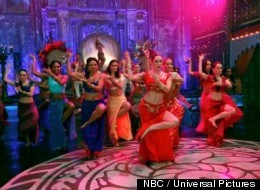 Sorry Jason Segel, but all of your charm -- and you do have a lot of it -- couldn't save you from the critics this week. Segel's latest rom-com "The Five-Year Engagement" has been receiving mixed reviews, but which writer was outright angry by the time the two-and-a-half-hour movie was over? Maybe Segel should have kept that full-frontal scene, after all.
Over in TV land, musical dramas are not faring too well in the critics' eyes. HitFix thought that "Glee" totally missed the mark with its Whitney Houston tribute. Meanwhile, HuffPost's own Chris Rosen can think of a thousand and one things that he'd rather be doing than watch "Smash." So. Many. Eyerolls.
HuffPost Entertainment has rounded up the week's snarkiest reviews just for your enjoyment in this latest installment of our "Week In Ouch" series.
Let us know what you think deserved the harsh critiques, and which ones you think critics should ease up on, in the comments.
Tom and Violet may have had a five-year engagement, but for The Wall Street Journal, it felt like a five-hour engagement just watching the Apatow film. Tom is a San Francisco sous chef who can't assert himself. Violet goes off to Michigan to pursue a job in academic psychology. He pursues her, keeps trying to please her and finally finds his anger. I found mine long before he did. Whatever tied these two excellent performers to such a dim script?

When it comes to choosing sides in this current boy band battle, The Los Angeles Times would rather listen stay up all night with One Direction than listen to The Wanted's new EP. "Though saucier and sleeker than its peers, the Wanted isn't nearly as fun ... But none of the guys has an especially charismatic -- or even distinguishable -- voice, and the song's production is drag-and-drop generic. 'Chasing the Sun' makes the numbing thump of Tiesto sound incomparably nuanced."

Maybe Jenna Fischer should keep her day job at Dunder Mifflin? The A.V. Club sure thinks so, especially after its critic saw her performance in the joyless rom com "The Giant Mechanical Man." Jenna Fischer trudges joylessly through the independent quirk-fest "The Giant Mechanical Man" with all the pep of a condemned man being led to the gallows.

After last week's strong "Saturday Night Glee-ver" episode, HitFix was not impressed with "Glee's" seemingly pointless Whitney Houston tribute. We're three seasons into the show and "Glee" still refuses to have actual rules about what governs musical performances, so it's unclear. Sometimes it's realistic, sometimes it's not, and sometimes a host of rubber-suited women straight out of "American Horror Story" backing Blaine up as he scream sings inside his own music video.

Jason Statham may be one of Hollywood's leading antiheros, but even he couldn't save "Safe," which according to The New York Daily News, lived up to its name. "Safe," however, locks that all up in turf-war histrionics and mobster-movie speeches that drop every safe-sized cliche on the viewer's head.

Tell us how you really feel, A.V. Club. It looks like someone won't be seeing The Dandy Warhols this summer. According to this website, their new album This Machine is an "undistinguished slog." No one does a better job of making The Dandy Warhols unlikable than The Dandy Warhols ... None of that reluctant charm is on display in This Machine, an undistinguished slog of an album that counts an atrocious cover of '16 Tons' as one of its many grating moments.

Judging from this week's eyeroll count, HuffPost Chris Rosen could probably think of a thousand and one things he'd rather be doing than watch "Smash." Some notable eyeroll moments include: 9. "You're not an understudy ... you're a star." 12. "Boyfriends can be a problem on the way up." 27. "I love Bollywood." 33. The entire performance of "One Thousand and One Nights."