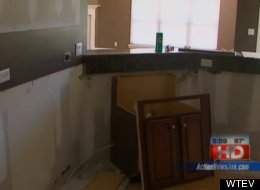 Home owners who have had their houses taken away in foreclosure sometimes take their anger out on the houses themselves.
WTEV reports on a foreclosed mansion in Jacksonville, Fla. in which the previous owners have apparently ripped out the home's cabinets, light fixtures and appliances.
With millions of Americans still facing foreclosure, the phenomenon of homeowners ransacking their houses on their way out may only continue. In Florida, one in every 336 housing units received a foreclosure filing in March, according to RealtyTrac.
The glut of foreclosures across the country is weighing on property values, and with former homeowners leaving their houses completely stripped, the houses are likely to drag down neighboring property values even more. Foreclosed homes weigh on neighboring properties more than vacant homes, according to an October report from the Cleveland Federal Reserve.
Evicted homeowners ransacking their houses isn't all that uncommon. KVUE reported on a similar situation in Texas.
"They're mad at the bank so they take it out on the house," George Roddy, of the Addison based Foreclosure Listing Service, told KVUE.
Ransacked or not, foreclosed homes weigh on their surrounding neighborhoods. Properties that are occupied, but in foreclosure, drive down the surrounding property values twice as much as vacant properties, an study from last October found. In the coming year, ABC reports, American taxpayers will spend more than $40 million just to keep the lawns of America's foreclosures mowed.
The Prudential American Group says on its site that homeowners who intentionally damage their homes after foreclosure could face lawsuits.
Check out these additional bizarre foreclosure stories:
Foreclosure Fails(CLONED)
Shock Baitch and his wife Lisa of Connecticut were threatened with foreclosure by Bank of America after never missing a payment. BofA mistakenly told credit agencies they were seeking a loan modification. "Now I am literally and financially paying for it," Baitch told CTWatchdog.com.

Facing foreclosure, Perry Laspina of Jacksonville, Florida ended up with a home practically for free after his mortgage lender was shut down by parent company Wells Fargo, AOL Real Estate reports. Laspina got the home "because of the significant decreased value of the property," a bank spokesman said.

In Boynton Beach, North Carolina, Bank of America filed a foreclosure lawsuit against the owner of a building that houses one of its own branches, South Florida Business Journal reports.

A Massachusetts man was told he'd face foreclosure unless he paid an outstanding mortgage payment worth $0.00. "I'm going to write a check to them for zero dollars and have it clear? I couldn't help but laugh," he joked with local News 22 WWLP.

Chris Boudreau of Brooksville, Florida told local news that his house was ransacked by his mortgage company, 21st Mortgage Corporation, who he says even shredded his wife's wedding dress. "When she saw what happened...she was crying her eyes out," he told WTSP 10 News.

A senior couple in Pasco County, Florida faced foreclosure not for missing payments, but for making one too early. According to a Bank of America representative, they made themselves ineligible for a mortgage modification under the Home Affordable Modification Program when they did not make their payment in the "month in which it [was] due."

Property developer Kent Swig and his soon-to-be ex-wife Elizabeth faced foreclosure from their apartment at 740 Park Avenue, a New York City address often cited as "the world's richest apartment building."

Brian and Khanklink Pyron of Houston, Texas were threatened with foreclosure despite keeping current on their payments due to an untransferred title. "We did everything we were supposed to do," Brian Pyron told MyFoxHouston.

Brad Gana, of Seabrook, Texas was threatened with foreclosure by Bank of America even though his house had been completely destroyed years earlier in Hurricane Ike. "Bank of America is ruthless in their incompetency," he told Houston 2 News.

Utah's Shantell Curtis and her family were threatened with foreclosure by Bank of America on a home they had already sold years prior. On top of that, the whole episode concerned the matter of just a $1 coding error.

George Knapp, chief investigative reporter for Las Vegas CBS affiliate KLAS, found he was a victim of the very brand of foreclosure fraud he was investigating for a news report. Him being the reporter, the episode put him in a "very weird spot," he told the Poynter Insitute.