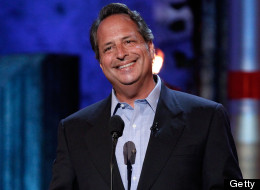 "Saturday Night Live" alum Jon Lovitz has taken to Twitter to defend comments he recently made about President Barack Obama.
During a podcast recorded in January, Lovitz joked that Obama is "a f*cking a**hole" for "saying the rich don't pay their taxes." Filmmaker Kevin Smith co-hosted the episode of "The ABC's of SNL," which wasn't released online until last week.
Lovitz sent a series of tweets early Sunday morning defending his rant and hitting back at those who took issue with his criticisms. Most notable is a tweet in which the comedian wrote, "Last I checked, he's President, not King!":
@realjonlovitz

Jon Lovitz
Because I criticized the President, it's news? Last I checked, he's President, not King! This is America! Freedom of Speech. what's the bfd?
He also expressed confusion that the issue had been viewed through a political lens:
@realjonlovitz

Jon Lovitz
I never realized the economy was Democratic or Republican... I thought it was business and math.
In response to one tweet, Lovitz noted that Obama is not the only president he has criticized:
@realjonlovitz

Jon Lovitz
@AstroNerdBoy
I have blasted Bush.... in my stand up act.. no one commented on it, though.
Another tweet directed at the former SNL star read, "This is red meat for conservatives who are trying to prove the whole country hates him, you gave them ammo, they're using it." Lovitz shot back at that tweet, saying that he criticized Obama for "lying":
@realjonlovitz

Jon Lovitz
@BowedOak
excuse me... the President is lying... I just pointed it out. It's not my fault he's lying.
Initially, only audio of Lovitz's comments was available online. Along with his other tweets, he included a video version and noted, "Here's the video of what I said about the President... it's a lot different when you watch it."
The video clip can be viewed below (via YouTube/seesmod):