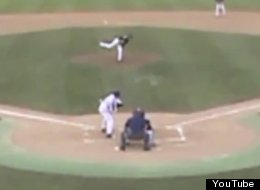 Sacred Heart-Griffin High School pitcher Ryne Elvers reached Randy Johnson territory when he nailed a bird with a pitch in the fifth inning of last Wednesday's game against Southeast High in Springfield, Ill.
But unlike the incident involving Johnson in 2001, the bird Elvers hit somehow kept flying after the blow.
The sophomore only gave up four hits and led the Cyclones to a 3-1 win.
A similar situation occurred in 2009 during a game-deciding moment of an Indians-Royals game when Shin-Soo Choo's game-winning RBI hit struck a seagull in center field, making sure outfielder Coco Crisp couldn't make a play. The seagull briefly limped around before managing to fly away.
Of course, one of the most famous bird/baseball incidents was when Yankees outfielder Dave Winfield threw a ball at a seagull and killed it while warming up.
CORRECTION: A previous version of the story falsely stated Dave Winfield's position and said he struck the seagull with a warmup pitch. The error has been corrected