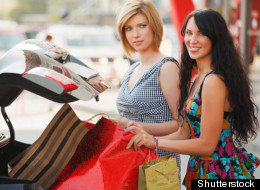 It's Monday and we're back in the office. Oh, joy.
Since the dawn of time, working stiffs have been annoyed by the same basic things day-in and day-out: the awkward and annoying conversations, the technology that never quite works, hearing everyone weigh in on every single item in the news. Of course, it's better to have a job than not, but it doesn't make these daily annoyances any less grating.
So we thought we'd do another quick salute to those topics of conversation everyone who works in an office would prefer to avoid this week. Let us know if you have any to add; we're sure we missed one or two soul-crushers.
9 Things We're Not Looking Forward To This Week
If this happens, just grab the nearest, biggest lamp shade and pretend that's your hat. Seriously, no one will notice.

This isn't the kind of gig where you need to give a week's notice before you quit. You can just go.

Replace all those nice liquors with cheap tequila and plastic red cups and you've got the collegiate version of the holiday.

Let us guess: "Backward?"

We can only hear about how effective your Zumba classes have been so many times.

Whatever you do, don't insult the cosplay.

We see one limo of teenagers and flashbacks of dancing sober to House of Pain's "Jump Around" come rushing in.

That lotion/bubble bath/candle gift set is a cop-out and you know it.

You think it's a nice gesture, but they really just want to see you do that little jog.