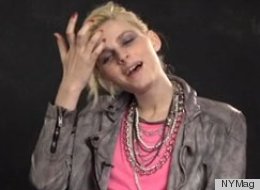 Picture this: famous model Andrej Pejic wearing a hairnet and a fast food uniform serving up French fries.
Can't believe it? After all, this is the same face who's walked runways for Jean Paul Gaultier, starred in his own fragrance campaign and even caused some major fashion controversy already.
But it's true: in a new video interview with The Cut, Andrej admits that yes, he really was discovered at McDonald's, although he claims that he never had to actually flip the burgers.
And since Andrej is no stranger to swapping gender roles, we're not surprised that he nabbed TWO special titles at his high school prom. As he told interviewer James Lim:
"I was prom queen, and the year before, I was prom king. It was kind of the same, you just got a differently shaped crown."
(We weren't even popular enough to get ONE title. Sigh.)
Watch below to see more of Andrej's interview!