Seeing Anja Hitzenberger's photography exhibition on Chinese fast food feels like the visual equivalent of eating cheap takeout -- we experience the craving, the flavor overload, the dizziness, and ultimately, the gnawing emptiness that comes with wanting more.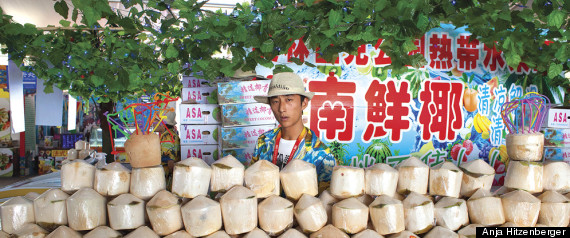 The series, which is simply titled, "Take Out: Chinese Fast Food Photographs," was shot in a temporary food court in Beijing, and captures the places and people offering quick eats. Both food and imagery are amped up to hyper speed as cheap meals are churned out, privileging quantity over quality. Similarly, the visuals pile one on top of another in popping candy colors, from succulent pictures of chow mein to borderline nonsensical advertising cartoons. The bored employees present a humorous yet disturbing counter foil to the imposing images of fast food-induced happiness. The visual feast ends up leaving you feeling like you just ate too much junk food.
However, the exhibition leaves a different aftertaste than polemics like "Fast Food Nation" or "Supersize Me," since the photograph on view have a bizarre beauty to them. Although fast food is a staple of contemporary urban life, to stop and focus on the imagery behind it all results in a surreal experience. The "more is more" aesthetic does give us kind of a buzz, even if we know we may feel a little depleted after the experience.
"Take Out" will show at the Underline Gallery in New York until May 13.
PHOTO GALLERIES
Take Out: Chinese Fast Food Photographs