Normally no one pays much attention to the advertisements that movie theaters run before the previews start up. But at one Texas movie theater, they've drawn quite a bit of controversy.
One day before they were set to run, Angelika Film Center, a movie theater in Plano, Texas, pulled ads from a Dallas-area atheist advocacy organization following complaints from local Christian activists, CBS Local reports. The ads for the Dallas-Fort Worth Coalition of Reason aimed to educate viewers about the ability of families to be "Great Without Religion."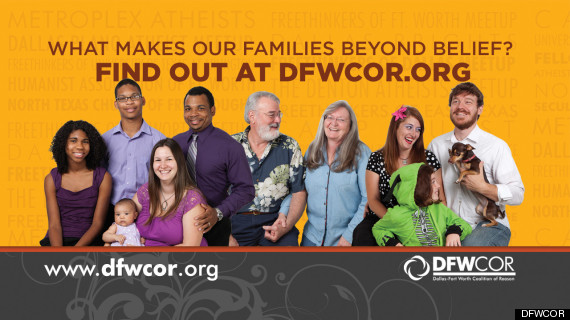 A lawyer with the American Humanist Association, an atheist advocacy organization, told CBS Local that they're considering filing a discrimination suit over the incident. This isn't the first time the AHA has been embroiled in controversy. The organization recently raised a scholarship fund for a teenage atheist who challenged the practice of prayer at her Rhode Island high school.
Angelika Film Center agreed to run the group's message after another theater, Movie Tavern in Arlington, Texas, rejected the Coalition's ads, which were set to start on the Christian holiday of Good Friday. The first theater, which says they haven't run church ads either, cited a universal policy against all religious advertising in explaining why they pulled the commercial, according to the Star-Telegram. The Coalition claims Angelika has permitted church ads on the big screen.
Advertisements selling an atheist message have often stoked controversy. Last year, a federal judge ruled in favor of local atheists to run ads that read, "Are you good without God? Millions are" on public transit buses after the Central Arkansas Transit Authority initially rejected them.
The Center for Inquiry in Michigan -- an organization that promotes scientific claims and free inquiry -- recently sued a country club for backing out of their contract for a book signing and lecture event for Oxford University professor and evolutionary biologist Richard Dawkins last fall after the club realized that Dawkins is an atheist, according to news service Michigan Live (h/t Patheos ).