Best Weekend Ever: What HuffPost Women Readers Did April 27-29 (PHOTOS)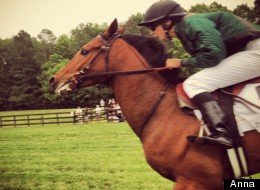 Welcome to our 3rd installment of your #BestWeekendEver -- and the last one for the month of April!
The premise here, as we explained before, is that as much as we look forward to the weekend (even when it's only Monday), it's also fun to look back on the amazing couple of days you just had and appreciate that time. Even though April is supposed to be the month of gloomy showers, our readers photos indicate just the opposite. This past weekend you completed marathons, read "Fifty Shades of Grey" on the sand, attended rallies and took your four-wheeler out for a drive -- among other pursuits.
Check out the photos below, and don't forget to take a snapshot of your favorite moment next weekend and send it to women@huffingtonpost.com. We'll feature it here on Monday in next week's Best Weekend Ever slideshow.
LOOK: HuffPost Women Readers' Best Weekend Ever, April 27th-29th
Best Weekend Ever April 27-29
Potluck brunch!

My grandparents came to visit!

Completed my first half marathon - Memphis TN!

Poet Taylor of @X1023 at BRIDGES at Rivera Beach ..for their "My Beautiful Baby Resource Fair & Fin Day"

Relax!

At 42 I competed in and finished last in my first ever Warrior Race! That's a 5k obstacle course.

Best weekend ever, go Tribe! My weekend watching the Los Angeles Angels at the Cleveland Indians. Here I am with Slider, the Indians mascot.

My closest girlfriend and I ran a 5K in the mud! 10 obstacles - two of which we were in water up to our necks and ended in a mud pit! Quite an exfoliant! And yes, that is us dressed up like The Pink Ladies. Read more at www.martinisandminivans.com

Yes, I had fun this weekend! Hiked Watchman Tower in Zion National Park in Utah!

My first homemade cake! Vanilla cake with vanilla buttercream icing....semi homemade....with strawberries on top!

Tanning at the lake and reading 50 shades of grey!

Winery in The Plains Virginia with my best friend Casie Idle.

Besides putting in a garden, attending an indoor football league game, and firing two new pistols at the gun range... ;) I also managed to take my 13-year-old daughter and niece to the mall. They're not old enough for prom, but they have tons of fun trying on the dresses!

My dad & I went to a dodger game

I participated in (and finished!) my first half-marathon! The event was the Iron Girl Half Marathon in Columbia, MD. I finished in 1:50:58, which is way better than I thought I'd do! It was the first time this event was held in Columbia, and it was an all-ladies event! Definitely inspiring and the best weekend ever!

1st time shooting a rifle!

Vicki, (left) my best friend from high school, her son Matthew (center) and me, Miriam, at Matthews track meet (4/29/ 2012) where he beat his own time running the mile!! Matthew (19) has three older brothers, yes Vicki and her husband have 4 boys, is a big movie buff, is a bright and loving young man who despite having Aspects plans on going to college in the Fall!!

I attended the Unite Women rally in Topeka KS. Wonderful people, wonderful speakers, wonderful cause. Lets stop this War on Women!

This weekend I went rollerblading on the Santa Monica beach... good times!

Yes, I did something fun! I took my new 4 wheeler out for a spin. There was ICE at the bottom of that puddle! Bev Krupa... Fairbanks, AK This was yesterday. I was with my brother and sister in law, Candice Krupa took that photo - before she towed me out! :)

From the #UAWOW march/Rally at Pershing Square in LA on Saturday.

I attended the Queens Cup Steeplechase in Charlotte, NC! -twitter: @annakiser

Hey, Huffpo, you bet I did something fun this weekend. Saturday, I was one of about 400 women and men who marched on the Kansas State Capitol protesting against the war on women as a part of the nation-wide Unite Against the War on Women rallies. I was lucky enough to speak with other Kansas women and show people that not everyone in the state wants to set the clock back 150 years. It's my hope that more women who participated in this weekend's rallies send their photos to you, and that you provide coverage that local media failed to do.

Hands-on grilling lesson with Chef Tim Love @ Austin Food & Wine Fest!

Mountain biking in Sedona, AZ

I just got back from a week in St Petersburg, Russia. I had no intention of going there as a tourist, just as a mom chaperoning a group of high school and middle school kids who were attending Odyssey of the Mind's Eurofest 2012! Both of my sons competed and the middle schooler's team won FIRST PRIZE in the Mixed Teams Junior Division! It was a proud Mama Bear moment to see them interacting and communicating with their counterparts from Russia and Belarus to get that trophy. Traveling to Russia can be amazingly inexpensive and red-tape free IF you know what to do. I plan to blog about it soon on my blog below. The photo was taken in front of the Church of the Spilled Blood in St Petersburg, Russia. @LLMilitaryWife

Here are a few pictures from the downtown Los Angeles Unite Against The War on Women march and rally that took place on April 28th. Val from @wowcali.

Even while working in the West Bank, we make some time to pamper!