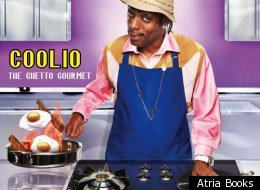 By Daniel Lefferts for Bookish
Ever get sick of mac and cheese, and feel the need to branch out into the wilder reaches of the culinary world? Here's a start: A new Dutch cookbook encourages readers to open their kitchens and palates to a class of beings absent from "The Joy of Cooking": insects. "The Insect Cookbook" includes recipes for dishes such as chocolate muffins with worms and grasshopper pie, and argues that insects are a valuable source of protein at a time when livestock production is nearing its limit.
Whether insect cuisine picks up in the Netherlands or elsewhere remains to be seen. In the meantime, "The Insect Cookbook" joins the ranks of of out-there cookbooks. From haute animal brain recipes to space food, below are some alternative cookbooks that will spice up your coffee table as much as your kitchen.
Read more at Bookish
Luckily for non-Dutch-speakers, self-described "entomological epicure extraordinaire" David G. Gordon opens up the insect world with the English-language "The Eat-a-Bug Cookbook: Real Recipes Using Beetles, Spiders and Other Truly Unusual Ingredients." Gordon's tactic is to take staple dishes and give them distinctly crunchy (and/or slimy) twists. Recipes include "Larval Latkes," "Three Bee Salad," "Superworm Tempura" and--our personal favorite--the cockroach-filled "Gregor Samsa's Samosas." Throughout, Gordon attests to the nutritional value of eating bugs and shares some expert tips he's picked up from the fascinating world of entomophagy--yes, that's the insider term for bug consumption. If you're on the prowl for something more termite-specific, check out Gordon's previous book, "The Compleat Cockroach: A Comprehensive Guide to the Most Despised (And Least Understood) Creature on Earth."

The next time smoke starts pouring out of your foot-in-the-grave used car, you might consider popping open the hood and turning its engine into your personal grill. Chris Maynard and Bill Scheller show you how in "Manifold Destiny: The One! The Only! Guide to Cooking On Your Car Engine!" Far from the unappetizing cold cuts and cumbersome coolers associated with roadside eating, the authors provide recipes for everything from s'mores to poached fish and Cajun-style shrimp--all cooked using the heat of your engine block. And if car-cookery sounds to you like an explosion waiting to happen, fear not--the book comes complete with thorough safety guidelines.

That's what rapper Coolio (of "Gangsta's Paradise" fame) calls his approach to quick, wallet-friendly cuisine, as presented in his cookbook, "Cookin' With Coolio: 5 Star Meals at a 1 Star Price." The rapper's personality pervades every page of the book, with recipes including "Soul Rolls" and "Banana Ba-ba-ba-Bread," and chapters titles such as "It's Hard Out Here for a Shrimp" and "Sweet Treats for That Sweet A**." As Coolio tells readers, his recipes are products of a lifelong passion for cooking, and the book conveys the rapper's ability to combine tasty-sounding food with rhythmic language and wit.

Chef Jennifer McLagan's work begins when the (so-called) prime parts of the animal have been carved out and cooked by "less adventurous" chefs. McLagan deals strictly with what's left, and in "Odd Bits: How to Cook the Rest of the Animal," she gives readers a guide to cooking with seemingly less desirable animal parts. Bellies, hearts, necks, lungs, tongues and--oh, yes--testicles are among her ingredients of choice. Sure, "Odd Bits" works as a gag gift, but for brave foodies it's a tantalizing way in to new flavors, textures and eating experiences.

"Star Wars" fandom re-enters the kitchen with "The Star Wars Cookbook II: Darth Malt and More Galactic Recipes," by Frankie Frankeny and Wesley Martin. While the recipes here are fun and original, it's the enthusiastic writing that gives these dishes their galactic power. A fruit-and-granola recipe becomes the "Sith Speeder Sunrise," touted as the "secret behind Darth Maul's dexterity and determination." Other dishes include the "Pickle Jar Jar," "Proctol Droid Pasta," and "Anakin's Apple Crisp." And if you're into this kind of thing, check out its predecessor, the dessert-centric "Wookiee Cookies: A Star Wars Cookbook," by Robin Davis.

"The Star Trek Cookbook," by Ethan Phillips and William J. Birnes, adds to the canon of "instellar haute cuisine" with recipes and asides that answer the burning question: What did they eat on the U.S.S. Voyager? Adopting the personality of Neelix, the Voyager's lead cook, Phillips and Birnes guide kitchen Trekkies through "Klingon Meat," "Borg Tricorder Pie," and "Vulcan Mocha Ice Cream." The perfect primer for a pre-convention potluck.

A quasi-Malthusian doomsday scenario sets the tone for "The Post-Petroleum Survival Guide and Cookbook: Recipes for Changing Times." Author Albert K. Bates's culinary approach stems from fears that due to resource exhaustion, or even government intervention, we may soon transition from a society of cheap and abundant food (at least in the first world) to one that will have to live entirely off the land. And though his recipes are similar to those you'd find in an organic, vegan or Slow Food cookbook, what sets this book apart are its foreboding asides about the coming "Great Change" and the author's pleas for humanity to embrace its "great interconnectedness."

Eat like a moon-walker with "The Astronaut's Cookbook: Tales, Recipes, and More," by Charles T. Bourland and Gregory Vogt. Bourland takes his recipes directly from NASA, modifying them slightly for earthbound enjoyment--no freeze-drying necessary. The book also includes anecdotes from space food history, and names the favorite dishes of real-life astronauts.