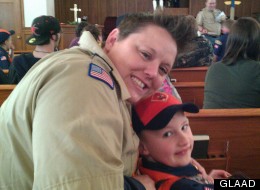 Support for the Ohio mom who was dismissed as leader of her son's Boy Scout troop because she is a lesbian continues to grow.
The Gay and Lesbian Alliance Against Defamation (GLAAD) reports that David J. Sims, a board member of the Ohio River Valley Council of the Boy Scouts of America (BSA), cited Jennifer Tyrrell in his decision to resign from his past last week.
GLAAD has obtained a copy of Sims' resignation letter, which reads as follows:
"It is with great sadness and a heavy heart that I write to you today to inform you that I am resigning as a member of the Board of Directors of the Ohio River Valley Council of the Boy Scouts of America.

Yesterday, after receiving the email from Paul Tucker, I first learned the story of Jennifer Tyrrell, the den leader for Pack 109's Tiger Scouts in Bridgeport, Ohio, who was removed as leader solely due to her sexual orientation. I understand that this action was taken as a result of a standing policy of the Boy Scouts of America and that said action is legal. However, Ms. Tyrrell's removal goes against my fundamental beliefs of how we should treat our fellow human beings and is, in my opinion, wholly discriminatory."
Sims concludes, "I hope that the powers that be will look into their hearts and find the wisdom and courage to re-examine the policies of the Boy Scouts of America."
Tyrrell told HuffPost Gay Voices Editor at Large Michelangelo Signorile that although she was "heartbroken" by her dismissal, the widespread support for her case has been "humbling."
"My son doesn't understand discrimination," she continued. "He doesn't know his family is quote-unquote different. He just knows he has two moms who love him. He's never been made to feel that that's wrong. He can't quite understand everything that's going on."
Zach Wahls, the Iowa-based student whose impassioned pro-marriage equality speech became the most-watched political YouTube clip last year, shared those sentiments. "I learned in the Boy Scouts that bravery is not the absence of fear but the mastery of fear," Wahls wrote in a blog for HuffPost Gay Voices. "But as long as this policy remains the official position of the BSA, that lesson will ring hollow."
Take a look at other LGBT employees who were forced to resign below:
LGBT Discrimination In The Workplace
A Missouri-based gay music teacher at an area Catholic school was recently dismissed from his job after authorities learned of his plans to wed his male partner of 20 years in New York. Al Fischer was reportedly fired Feb. 17, 2012 from St. Ann Catholic School in north St. Louis County, where he'd worked for four years. Fischer did not comment directly about his dismissal, but instead referred to an email sent to his students' parents after he was terminated. "A family conversation about whether or not justice was served here could be a great thing," he wrote. "I do not want the lesson from this for the kids to be, 'Keep your mouth shut, hide who you are or what you think if it will get you in trouble.'" Fischer's partner, Charlie Robin, told the paper that the couple's relationship was not a secret at the school, and that Fischer was only fired after a representative of the St. Louis Archdiocese overheard him talking to co-workers about his wedding plans. Read the full story here.