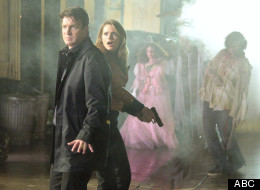 This season of "Castle" (Mondays at 10 p.m. ET on ABC) has been a season full of big secrets: Castle (Nathan Fillion) tried to keep information from Beckett about her mother's murder to keep her safe, and Beckett (Stana Katic) refused to acknowledge those three little words that Castle said to her when she was shot.
Leading up to the Season 4 finale (Mon., May 7), this week's "Castle" takes a lighter turn with the April 30th episode, "Undead Again," where a murder case's prime suspects are zombies. But don't think that a zombie apocalypse is a gimmick to distract us from what's been happening between Castle and Beckett, and what needs to happen in the big finale. "Castle" boss Andrew Marlowe says this episode does exactly the opposite.
"We can't step out of time and space and pretend it's not going on," Marlowe told HuffPost TV. "So acknowledging it here gets us to an interesting place for the finale."
Marlowe teased the action that brings Castle and Beckett closer again, rediscovering what makes them a good team. "That rediscovery gives their relationship a little growth," he said, adding, "Of course, we knock that on its ass in the finale."
Keep reading for more scoop on this fun episode from Marlowe, and check back later in the week for more "Castle" Season 4 finale scoop.
Zombies on "Castle" -- it's about time!
It is about time. I mean, I know that the fans have been calling out for zombies since the first season. They were really looking forward to our characters getting together, with zombies -- that's what I've been hearing. [Laughs.]
Yes! A hookup is even hotter with flesh-eating, end-of-the-world kind of stuff.
Of course! That's what people want -- I've seen the numbers on "The Walking Dead"; I know that that's what the audience is clamoring for.
[Laughs.] So what can we expect from the episode?
You know, it's a fun episode that comes in the middle of a really interesting trajectory for Castle and Beckett that we started in "47 Seconds." We advertise this as our "season of secrets" where Beckett hasn't revealed that she heard Castle say "I love you," and Castle hasn't revealed to her the mysterious goings on in her mother's murder and that conspiracy case, with him being told, "You can't look into it -- you have to steer her away." And so, in "47 Seconds" when the bomb went off, we had the metaphoric bomb of Castle discovering that Beckett had been keeping that secret, and we've had a couple of episodes where we've really put the two of them on the outs. You know, Castle showing up at a crime scene with a date, and then the next episode, he's out investigating with another cop. Both really fun, interesting shows, but both also showing the cracks in the Castle-Beckett relationship.
Castle clearly is acting out, and is clearly punishing her, whether he realizes it or not. And I think when we start the zombie episode, there's a little bit of a realization that things aren't working between the two of them -- should things go on between the two of them, or should we just call it a day? But dealing with zombies, there's just so much fun to be had that, in a way, through that episode, they rediscover each other and rediscover the fun they have on their cases together, and each other's value. That rediscovery gives their relationship a little growth ... of course, we knock that on its ass in the finale when all the secrets that we've been keeping eventually come out.
With these two characters, where a lot of their conversations have been in subtext and their feelings have been subterranean, they are forced to -- because of the nature of the case, and the nature of where the characters are going -- reveal everything. Not only how they feel about one another, but also how they feel about being betrayed by the other one. It puts us in really interesting ground to be able to deal with that.
The zombie episode, as fun as it sounds, gets to a very credible place at the end of it, as we did with the episode where it seemed like the murderer was aliens from outer space -- we like, at the end of the episode, to come back to a very credible place. But we do have a lot of fun with the zombie genre and Castle and Beckett start to discover the spark that they've been missing for the last several episodes. It's really fun to watch that -- really gratifying.
Here's the official episode description:

"Undead Again" -- When Castle and Beckett investigate the murder of a man with human bite marks on his body, Castle's wild theories start flying. But none are as wild as what their only witness insists happened - a Zombie attack. As the evidence pointing towards an undead assailant piles up, the team plunges into New York's Zombie subculture to find the killer and bring him in -- dead, undead or alive.
Tell us: Are you excited for zombies on "Castle"? And, more importantly, to see Castle and Beckett reignite the spark between them?
Plus, here's more of what to watch this week:
"Bones" (8 p.m. ET on Fox) When a corpse is found in the middle of the woods, the team links the victim to two families that have been feuding for almost a century. Brennan and Booth interrogate a family member with a shocking confession that leads them to a motive for the victim's murder. Meanwhile, Brennan has a difficult time accepting her father's (guest star Ryan O'Neal) offer to babysit their infant daughter because of his unpredictable presence in her own childhood.

"Hart of Dixie" (9 p.m. ET on The CW) Wade signs up for the Bluebell Battle in hopes of winning the five thousand dollar prize, but when he strikes out finding someone to be his race partner, he must swallow his pride and ask Zoe. Meanwhile, George and Lemon meet with Reverend Mayfair to discuss their relationship issues.

"The Bad Girls Club" (10 p.m. ET on Oxygen) Part one of the "Bad Girls Club" season 8 reunion, hosted by Tanisha Thomas, of season 2 fame. Things get off to an exposive start when Gia trades trash talk with a member of the audience, leading to an all-out brawl. Followed by the season finale of "Brooklyn 11223."

"Cougar Town" (8.30 p.m. ET on ABC) Jules has a hard time accepting that Holly (guest star Briga Heelan) is part of her life, a situation that does not improve after she finds out that Holly and Travis made out; Andy wants to run for mayor so he can change the town rules against weddings on the beach (something Jules has her heart set on), but Ellie won't let him; and Laurie tries to convince Bobby he's just socially inept, not prejudiced, after he blurts out some awkward comments at the cake shop.

"The L.A. Complex" (9 p.m. ET on The CW) Though the Canadian soap had a fairly inauspicious debut, that doesn't make it any less worthy of your time -- especially the episode's excellent final act. A struggling Abby is given the chance to make some big cash as long as she's willing to "play the part." Raquel decides she's not going to wait by the phone any longer and starts pushing to get a movie made where she can play the lead. Alicia's not having any luck with her dancing auditions so she takes a different approach by attending a party with a D-list actor (guest star Aaron Abrams). Meanwhile, after presenting an impressive demo at the studio, Tariq is offered the chance to produce a track with the infamous rapper Kaldrick King. However, Tariq quickly realizes that this new role won't be easy.

"Secrets of Bin Laden's Lair" (10 p.m. ET on Discovery) Special Presentation When SEAL Team Six killed Osama Bin Laden in 2011, they scooped up a prize far more valuable than Bin Laden himself: a hoard of hard drives, computers, and personal papers. The special provides insight into herculean efforts to seize the intelligence and analyze it, as well as exclusive interviews with the government insiders and journalists who were briefed on the intelligence. The Intelligence provides insight into Bin Laden's leadership of Al Qaeda, details about other terrorist groups he corresponded with, how he evaded capture for so many years, and a chilling insight into the plots bin Laden was scheming. Viewers will also learn about the personal life of the world's most wanted terrorist and his numerous wives who lived with him in his compound.

"Suburgatory" (8.30 p.m. ET on ABC) As George and Eden's (guest star Alicia Silverstone) relationship gets serious, he decides to introduce her to Tessa, who is preoccupied with her job at Crystal Cup of Crystals. Meanwhile, George and Noah make a deal regarding George's relationship boundaries with Eden, and Eden is overwhelmed by Sheila's meddling and the Werners' overprotective behavior.

"Don't Trust The B---- In Apt 23" (9.30 p.m. ET on ABC) If you thought that the show was hilarious before, you ain't seen nothin' yet. June is devastated when she receives a wedding invitation addressed to her and her ex-fiancé, so in an attempt make her feel better, Chloe gives June a crash course in confidence and fierceness -- but does too good a job. Guest-starring Kevin Sorbo (Hercules!) in a genius cameo.

"Law and Order: Special Victims Unit" (10 p.m. ET on NBC) If you can't get enough of James Van Der Beek, he's also guest-starring on "SVU" this week. Detectives Benson and Amaro investigate the disappearance of a teenaged girl after her young brother calls 9-1-1. While Fin and Rollins look into a possible abduction, they discover the girl had been searching for her biological father, an anonymous sperm donor. The investigation takes a startling turn when a suspect is found to be targeting several young, vulnerable women, all with the same personal connection. But the suspect isn't what he seems, and Dr. Huang must delve into his past to save the women.

"The Big Bang Theory" (8 p.m. ET on CBS) NASA reschedules Howard's mission, putting the wedding plans in jeopardy. Meanwhile, Leonard says something surprising to Penny in the bedroom.

"Parks and Recreation" (9.30 p.m. ET on NBC) Leslie goes on a bus tour for the final day of her campaign, and is caught off guard when an important person in Pawnee passes away. Meanwhile, Andy susses out a security threat, and Chris finds an unlikely cure for his depression. Paul Rudd guest stars.

"Awake" (10 p.m. ET on NBC) Detective Britten and Bird look into what appears to be a case of gang violence, but clues from his other reality force him to look a little closer. Meanwhile, Hannah uses her intuition to talk through a tough situation with Rex's girlfriend Emma. Later, Captain Harper (guest star Laura Innes) finds herself having to take back a promise and Detective Vega is planning Britten's going away party.

"Nikita" (8 p.m. ET on The CW) When it looks like Percy's nuclear weapons plan is getting out of control, Ryan suggests they go to the Director of the CIA, Morgan Kendrick (guest star Brian Howe), for help. Nikita is vehemently opposed to the plan and is surprised when Michael takes Ryan's side. Tensions escalate when Nikita is proven right after they discover Kendrick has a link to Percy. Meanwhile, Sean is shot by Percy's men, shaking Alex to the core.

"Fringe" (9 p.m. ET on Fox) A mysterious Fringe event causing people to spontaneously combust forces Walter to revisit his painful past, while the Fringe team faces off against David Robert Jones to save the world, or worlds. (Part 1 of 2.)

"Supernatural" (9 p.m. ET on The CW) Meg calls Dean and Sam and tells them Castiel is awake and talking. Meanwhile, a teenager named Kevin (guest star Osric Chau) gets hit by a bolt of lightening and is turned into a reluctant prophet. Sam and Dean believe Kevin holds the key to defeating the Leviathans, but must fight off two Archangels who want him for their own purposes.

"In Plain Sight" (10 p.m. ET on USA) series finale In the series finale, Mary finds herself caught between her "model" witness and an unexpected family reunion, while radical changes take place around the WITSEC office.

"Treasure Island" (7 p.m. ET on Syfy) original mini-series In a special, one night only movie event, Syfy will present a fresh, new spin on the classic tale, Treasure Island, featuring an all-star cast led by Eddie Izzard, Elijah Wood and Donald Sutherland. Robert Louis Stevenson's swashbuckling adventure story about fantastical treasure, youthful courage and murderous greed will from 7-11 p.m. ET. Izzard stars as Long John Silver, Wood plays Ben Gunn and Sutherland portrays Flint.

"Once Upon a Time" (8 p.m. ET on ABC) Henry pleads with Emma to stay in Storybrooke and continue her quest as the savior of the fairytale dwellers, and Regina concocts a plan that could rid her of Emma forever. Meanwhile, back in the fairytale land that was, Snow White enlists the aid of her fellow fairytale cohorts to attack the Evil Queen and save Prince Charming's life.

"The Comedy Awards" (9 p.m. ET on Comedy Central) special presentation Now in its second year, this awards show is dedicated to celebrating the art of comedy with an historic, one-night-only celebration honoring the most talented writers, directors, actors and stand-ups, who provided the laugh track to our lives this past year. Presenters include Chris Rock, Will Arnett, Tracy Morgan, Maya Rudolph, Adam Scott and Jon Stewart.

"Sherlock" (9 p.m. ET on PBS) season premiere Rejoin the 21st-century team of Sherlock Holmes and Dr. Watson as they battle the worst that modern criminality has to offer. Following a too-close encounter with Moriarty, crafty dominatrix Irene Adler attempts to outsmart Sherlock at his own game.

"GCB" (10 p.m. ET on ABC) season finale When Carlene takes the GCBs down to unincorporated Juarez for the groundbreaking ceremony for the Condos for Christian Living, the GCBs find themselves in danger. Meanwhile Amanda's suspicions regarding Luke lead to a surprising discovery about Ripp.