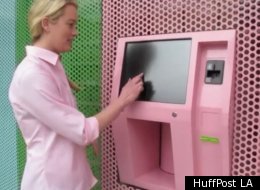 If you've been waiting with bated breath for more news about the Sprinkles Cupcake ATM coming to Chicago, you can start planning your trips: the Beverly Hills-based bakery announced where they'll be installing the dispenser this summer.
Eater Chicago reports that the 24-hour cupcake machine will be housed just outside Sprinkles' storefront at 50 E. Walton St., and confirmed that it will be up and running by summer.
The vending machine holds 600 cupcakes at a time, and charges $4.00 apiece--50 cents more than an in-store cupcake, according to CBS 6. For some, the "convenience fee" is a small price to pay to avoid the often-long lines that plague the popular bakery.
(See the ATM in action above, courtesy of HuffPost L.A.)