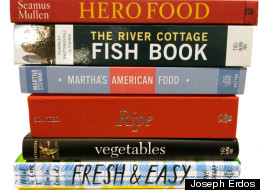 Cookbooks can make our mouths water, teach us about different foods and inspire us to get moving in the kitchen -- that's why we love them. As food editors, we're constantly bombarded with new cookbooks landing on our desks -- some lucky ones grab our attention and that's when we want to write about them. But instead of making you read a review of every single cookbook, we're giving you the shortlist from spring 2012 -- the 20 books on shelves this season that we think deserve some attention.
We've got cookbooks from around the world -- including a new one from the River Cottage folks in England, Mugaritz restaurant in northern Spain, and confectioner Pierre Herme in Paris -- that give us a look into the unique worlds outside of our own lives. For seasonal cooking with fresh fruits and vegetables, you'll want to take a look at Nigel Slater's "Ripe" and Jane Hornby's "Fresh and Easy." Cookbooks from chefs like April Bloomfield and Zak Pelaccio are right up the meat lover's alley. But if you're just looking for a guide on how to cook everything, then Mark Bittman's still your guy. Plus there's a cookbook from Martha Stewart, who always seems to have a new publication every year.
Everyone loves a great pie, but so many bakers regard them as intimidating. Gesine Bullock-Prado, a commercial baker based in Vermont, wants to inspire and embolden you, offering many great flavor ideas here to pique your interest: raspberry-lemon panna cotta tartlets; butterscotch meringue pie; fleur de sel caramel-almond brownie pie. Pie It Forward: Pies, Tarts, Tortes, Galettes, and Other Pastries Reinvented, $18.59 (available now)

Nigel Slater's passionate, intelligent, practical salute to fruit is highly seductive, a mixture of simple, appealing recipes and lucid writing. Arranged by type of fruit -- so that you can get ideas when you have overdone it with peaches at the farmers' market -- accompanied by thoughtful notes on flavor pairings and noteworthy varieties and illustrated with beautiful photography, this is as inspiring as it is practical. (In the UK, this book was published as "Tender, Volume 2.") Ripe: A Cook in the Orchard $40 (available now)

The U.S. edition of this intelligent, opinionated British guide to choosing and cooking sustainable fish and shellfish is at last available. Measurements and ingredient names in the recipe section have been adapted for our shores. The species encyclopedia included in the book has been Americanized with endnotes rather than fully revised, but there are always suggestions for substitutes when a particular creature simply is not found in U.S. waters. Anglers as well as cooks will find this completely absorbing. The River Cottage Fish Book, $29.40 (available now)

Diagnosed with rheumatoid arthritis shortly after opening Boqueria in NYC several years ago, Seamus Mullen came to embrace a philosophy of eating more of what he knew was good for him rather than less of what might be bad. He was also convinced that food one enjoys eating is much more beneficial than food one feels one should eat. In this, his first book, he offers seasonally arranged recipes for the ingredients and the dishes fitting that view, and few of us could object to the likes of anchovies, eggs, sweet peas, berries, fish, and mushrooms. Honestly, the good-for-you aspect of this book is completely hidden by the good-to-eat. Seamus Mullen's Hero Food: How Cooking with Delicious Things Can Make Us Feel Better, $23.10 (available now)

Mark Bittman's "How to Cook Everything" has been a standard home cookbook for more than a decade, but this new photo-intensive cousin is designed to help would-be cooks who think they cannot turn on the stove without visual instructions. In addition to images of finished dishes and simple techniques, Bittman includes a number of useful cooking guides showing, for example, how to distinguish between rare and medium-rare meat. The 185 recipes are primarily for safely familiar dishes, but there's enough adventure here to lead budding cooks into new areas as well. How To Cook Everything The Basics, $22.86 (available now)

As the chef of three highly popular NYC restaurants -- The Spotted Pig, The Breslin, and The John Dory Oyster Bar -- April Bloomfield has created a reputation for earthy yet meticulously prepared food which uses traditional British cuisine as a starting point but draws on influences worldwide. Despite the intense attention her restaurants receive, she is regarded by most who know her as focused and rather laconic. This first book is nevertheless personal and captivating as she presents cheffy food that is still well within reach of serious home cooks. Sweetbreads with braised baby artichokes and prosciutto; chilled crab trifle; roasted peanuts with rosemary and garlic. A Girl and Her Pig, $19.79 (available now)

Jim Lahey's Sullivan Street Bakery has been a NYC fixture for well over a decade but his recent pizza joint, Co. (pronounced "Company"), has been generating just as much buzz. Here he offers his distinctive, simple no-knead dough, known for producing a flavorful, thin, crispy crust, and a truly imaginative array of toppings. The Amalfi pie features anchovies and green olives in a basic tomato sauce; the leek and sausage pie uses a bechamel sauce; and the poached baby artichoke pie relies on a rustic walnut puree. My Pizza: The Easy No-Knead Way to Make Spectacular Pizza at Home, $17.60 (available now)

Pierre Herme, the celebrated Parisian pastry chef, offers 50 pairs of recipes: for every classic dessert or confection -- blancmange, kouign-amann, madeleines -- he presents an imaginative offspring in which flavor or texture or form (or several of these) are elevated. Ginger and grapefruit, for instance, transform tiramisu into something otherworldly. Fascinating and beautiful. Pierre Herme Pastries, $30.56 (available now)

The Knauer farm in Pennsylvania has been in the family since the eighteenth century and Ian Knauer, a former food editor at "Gourmet," draws deeply on the food grown there for this collection, a charming meander through culinary terrain as varied as Pennsylvania Dutch classics, casual Italian fare, or the occasional American melting pot inspiration: roast chicken basted in wheat beer; twice-baked chipotle potatoes; ramp tagliatelle. A good choice if you're feeling you've lost a little of your drive in the kitchen. The Farm: Rustic Recipes for a Year of Incredible Food, $19.60 (available now)

Mugaritz has long been considered one of Spain's most influential restaurants, and Andoni Aduriz one of its most talented and creative chefs. In the restaurant's first cookbook "Mugaritz," Aduriz reveals the creative process behind his dishes, while featuring 70 recipes sure to inspire chefs and food lovers around the world. The cookbook is organized by thematic chapters about the history of the restaurant, its relationship with nature, the new culinary language that Aduriz has developed, the techniques behind the dishes and the experience of the guest. Each chapter is illustrated with exclusive archive material and photographs. This is a must have book for anyone interested in fine dining, avant-garde cuisine, creativity and food culture. Mugaritz: A Natural Science of Cooking, $25.21 (available May 27)

As one of Food Network's most popular TV chefs, Giada De Laurentiis is known for her easy, no fuss Italian cooking. But for the first time, Giada tackles weeknight cooking, sharing her favorite tips and go-to dishes to get a delicious meal on the table in a flash. The cookbook rises to the challenge, delivering soups, sandwiches, pizzas, pastas, and meat and fish dishes that come together quickly with most in half an hour or less. "Weeknights with Giada" is a welcome handbook of fantastic recipes and surefire Monday-to-Friday strategies for every home cook. Weeknights with Giada: Quick and Simple Recipes to Revamp Dinner, $21.56 (available now)

Why turn to a French chef for a book about barbecuing? Maybe because it's well worth seeing a fresh take on the usual backyard warrior fare. If you're suspecting that all your cookouts have the same feel, this could be the antidote. Recipes include monkfish and chorizo skewers, pork fillets with pistachio pesto, and yellowfin tuna with shallot-lime marinade. Stephane Reynaud's Barbecue and Grill, $18.45 (available now)

This collection of 75 mouthwatering recipes makes the best of fresh, seasonal vegetables, fruit, meat and fish. Every recipe is illustrated with clear step-by-step color photographs. Jane Hornby's friendly, accessible style and helpful tips makes the recipes achievable for everyone, from complete beginners to experienced cooks. If you love cooking with spring fruits and vegetables, you'll want to add this cookbook to your collection. Fresh and Easy: What to Cook and How to Cook it, $21.80 (available now)

If the promise of "Southeast Asian-inspired, French- and Italian-inflected food" is one you have not heard of before (or even thought of), then perhaps you have not been to Zak Pelaccio's NYC restaurants, Fatty Crab and Fatty 'Cue. Chef Pelaccios first book has a rambunctious, free-wheeling air that fits very well with his cross-cultural cuisine. Recipes include turmeric-rubbed chicken with celery mostarda, pig jowls with strawberry salad, and smoky eggplant and chicken salad. Unlikely you'll have shelves of books at home with these recipes. Eat With Your Hands, $26.10 (available now)

In this beautiful cookbook, Martha Stewart, who has so significantly influenced the American table, collects her most favorite national dishes, as well as the stories and traditions behind them. The 200 recipes offer nostalgia, inspiration and information about our nation by way of its regions and their distinctive flavors. Martha celebrates the unique character of each part of the country and gathers, in one place, the recipes that will surely please your family and friends for generations to come. Martha's American Food: A Celebration of Our Nation's Most Treasured Dishes, from Coast to Coast, $24.80 (available now)

An award-winning sugar artist and founder of an internationally recognized pastry school, Ewald Notter here offers detailed instruction in pastillage and sugar casting, pulling, and blowing. Precise step-by-step photographs detail the creation of everything from small intricate flowers to large competition-style sculptures. An important addition to the field and very welcome. The Confectioner: Sugarwork and Pastillage, $40.95 (available now)

A longtime contributor to "Bon Appetit" and "Fine Cooking," Jeanne Kelley offers plenty of ideas for easy weeknight meals which are usually built around fresh vegetables. Some very appealing photography makes them especially vivid. Wide-ranging, from good sturdy Caesar and Cobb salads to such exotics as kohlrabi and black quinoa with coconut and cashews or fig, fennel, and barley salad with bucheron, speck, and honey-spiced walnuts. Salad for Dinner: Complete Meals for All Seasons, $22.86 (available now)

In 2008, three friends had a hunch that the world deserved a better ice pop, so they opened shop in NYC and have been serving out-of-the-box flavors ever since. Now, the crew behind the phenomenon share their DIY ethos in a breezy cookbook that teaches how to pair ingredients, balance sweetness, and explore fruits (and vegetables and herbs!) -- in simple recipes that work with standard ice pop molds or improvised ones. With a chapter devoted to shave ice plus recipes for grownup boozy pops sprinkled throughout, "People's Pops" proves itself top of the pops. People's Pops: 55 Recipes for Ice Pops, Shave Ice, and Boozy Pops from Brooklyn's Coolest Pop Shop, $11.42 (available June 5)

This is the U.S. edition of Jelly with Sam Bompas and Harry Parr, and it is just as eccentric and adventurous an excursion into gelatin whimsy as the UK original. Flaming gelatin, glow-in-the-dark gelatin, bacon gelatin -- it's all here, all shimmering seductively. Jellymongers: Glow-in-the-Dark Jelly, Titanic Jelly, Flaming Jelly, $13.14 (available May 3)

A renowned cooking teacher and seven-time winner of the James Beard Award for his books, James Peterson here offers a revised and expanded edition of his masterful guide to cooking vegetables. Thirty vegetables have been added, along with 50 recipes, as well as extensive color photography which places an emphasis on technique. A very useful update. Vegetables, Revised: The Most Authoritative Guide to Buying, Preparing and Cooking, $22.84 (available now)
Text provided by Kitchen Art and Letters, except for Fresh and Easy, Mugaritz, Martha's American Food, People's Pops and Weeknights with Giada from Amazon.com.