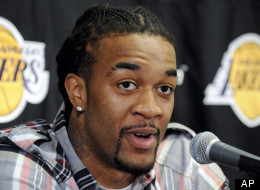 Los Angeles Lakers reserve center Jordan Hill was charged on Monday with felony assault for allegedly choking a family member, KRTK in Houston reports.
Per the report, court documents say Hill's girlfriend told police that he choked her after the two got in an argument at his home in the Houston area.
The incident was said to have occurred on February 29 when Hill was a member of the Houston Rockets.
The Houston district attorney's office issued a statement confirming the charges. If convicted, Hill faces a prison sentence of up to 10 years.
A Lakers representative told TMZ that the organization is aware of the situation but declined to comment further.
Hill was dealt to the Lakers as part of the Derek Fisher trade on March 15.
The 24-year-old recorded a double-double coming off the bench in the Lakers' 103-88 win over the Denver Nuggets in Game 1 of the first round of the playoffs.