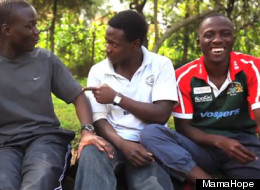 Sick and tired of being portrayed on the big screen as machine-gun wielding ruthless killers, a group of educated African men have come forward to challenge Hollywood's stereotypes.
Released on the heels of the Kony 2012 craze, a video by Africa nonprofit Mama Hope is asking the West to look beyond the way its continent is portrayed in the movies.
"We shoot our machine guns from trucks. We shoot our machine guns from boats," one of the men says as violent footage plays in the background. "We hate smiling. Smiling is stupid."
Nyla Rodgers, the founding director of Mama Hope, a nonprofit that works to develop education, health, children and food programs in Africa, told Philanthropy.com that she was "so mad" when the she saw Invisible Children's Joseph Kony documentary. She decided to fire back with a "Stop the Pity" campaign, which shows how organizations, like hers, are working to empower and educate Africans.
The video contrasts the militant way Africans are often portrayed, with colorful, playful images of local medical students and human resource workers kicking around a soccer ball.
"Using images that people can relate to," Rodgers told Philanthropy.com, "[and] showing people not at their worst but at their full potential, with creativity, is just as effective."
While the men in the video share just how relatable they are on the surface –- through sports and their affinity for Facebook –- their resounding message runs deep.
"There is nothing more dangerous than a brave Western protagonist," one man says in the Mama Hope video. "We're talking to you shirtless Matthew McConaughey."
Feeling inspired? Learn how you can get involved with Mama Hope's "Stop the Pity" campaign here.
To learn about nonprofits that are making a difference in the lives of child soldiers in Uganda, click through the slideshow below.
SLIDESHOW:
UNICEF partners with local Ugandan communities to provide them with the tools they need to protect, heal and empower former child soldiers. The organization works to take guns away from children and moves children away from living in barracks. When it comes to reintegrating ex-soldiers into their communities, UNICEF gives local centers shelter materials, medical services, counseling and job-training support. Get involved with UNICEF's child protection programs here.

Oxfam raises awareness of child soldiers in Uganda and lobbies for an end to war. The organization provides clean water and sanitation to soldiers living in camps and provides counseling for returning child soldiers. Get involved with Oxfam's child protection programs here.

Save the Children works to ensure that former child soldiers, among other vulnerable populations, have access to basic services when they're reintegrated. The organization provides education, vocational skills training mentorship and more. Its ultimate goal is to help child soldiers establish their livelihoods. Get involved with Save the Children's efforts here.

The International Rescue Committee offers medical and psychological attention and promotes community child protection committees. The IRC also improves academic options and develops vocational-training programs. "They will recover when communities fully accept the child back, and help him or her assume a positive role and identity," the organization states on its website. Get involved with IRC's efforts here.

An estimated 30,000 children have been abducted by the Lord's Resistance Army to carry out horrific crimes, according to "Kony 2012." But even when these young soldiers escape, families are often times reluctant to take them back because they're regarded as targets for potential attacks. SOS Children's Villages offers lifesaving support for these ex-soldiers with its family-tracing services, trauma counseling and community reconciliation. Learn how you can sponsor a Ugandan child here.

When Child Soldiers International was born, it pressed for a global ban on military recruitment of people below the age of 18. Today, the organization works to implement the treaty that was passed in 2002, according to its website, which more than 140 governments have ratified. Get involved with Child Soldiers International's efforts here.

World Vision seeks to end the use of children as soldiers by advocating for the provisions of the Child Soldier Prevention Act. The bill, signed into law, places limits on provisions the U.S. provides to countries that engage in the practice. Get involved with World Vision's efforts here.