Milken Global Conference 2012: Live Updates From The 15th Annual Milken Global Conference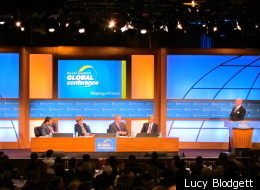 Monday marks the first morning of the 15th annual Milken Conference, a four-day long event hosted by the Milken Institute at the Beverly Hilton Hotel. Thousands of top-tier entrepreneurs, journalists, investors, executives, philanthropists, forward-thinking academic experts, journalists, senior foreign and U.S. government officials, scientists and Nobel laureates congregate this week to discuss today's most pressing social, political and economic challenges.
Over 140 panels -- lead by the likes of the 42nd President of the United States Bill Clinton, calPERS CIO Joseph Dear, LAUSD Superintendent John Deasy, Governor Jerry Brown, NBA legend Magic Johnson, House Majority Leader Eric Cantor, state Controller John Chiang, Director of MOCA Jeffrey Deitch, former Mayor of Chicago Richard Daley, former Governor of California Gray Davis, to name a few -- will cover issues ranging from business, finance, policy, education, health, energy and philanthropy.
Read last year's coverage here and follow the Milken Global Conference live blog below:
Currently attending: Europe at a Crossroads
Speakers: Jason Cummins (Chief U.S. Economist and Head of Research, Brevan Howard Inc.), Raymond McDaniel Jr. (Chairman and CEO, Moody's Corp.), Nouriel Roubini (Chairman and Co-Founder, Roubini Global Economics; Professor of Economics and International Business, Stern School of Business, New York University), Josef Stadler (Group Managing Director and Global Head of Ultra High Net Worth Business, UBS Wealth Management)
Moderator: Christopher Ailman (Chief Investment Officer, California State Teachers Retirement System: CalSTRS)