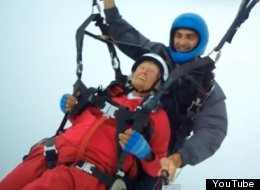 There's no holding back Peggy McAlpine.
The 104-year-old Scottish woman jumped off a 2,400 ft peak on April 14 attempting to reclaim the Guinness Book of World Records for the oldest person to go paragliding, reports the Sunday Express.
Even more surprising? This wasn't her first jump. Back in 2007 she claimed the title at 100 years of age.
But when a 101-year-old American stole the title from her in September, notes National Public Radio, she decided to have another go.
McAlpine's latest paraglide took place at the Kyrenia mountain range next to St Hilarion castle in Cyprus. She jumped with the same pilot who took her on the first record setting flight.
According to the Daily Mail, McAlpine first got her taste for extreme sports at age 80 when family members persuaded her to go bungee jumping.
Take a look at the YouTube video above to see Peggy McAlpine paraglide near Cyprus' Kyrenia mountain range.