Recently, I wrote a story on work-appropriate shorts. Paired with a fitted jacket and a blouse, they should be the same length as any skirt you'd wear to work. I quickly received an email from a reader whose experience in wearing shorts to the office was anything but pleasant.
"I work for a large corporate company. I am 28, but most of the employees are in their 30s. The dress code is business casual, so men wear khakis and a golf shirt or button-down. For women it varies, but generally they wear slacks or a skirt and some kind of blouse.
Our office has a "Casual Friday" policy where we can wear jeans and similarly less-formal gear. There are rules/dress code, but they are seldom enforced or followed. In general, no tank tops or flip flops, just look put together and presentable. What my colleagues find acceptable, I would never think is acceptable. They show up in ripped jeans and hoodies.
One day I wore Lilly Pulitzer navy blue shorts and a white, ruffled silk blouse, which was buttoned-up to my neck, with a cardigan worn over it. The shorts were a little shorter than knee-length.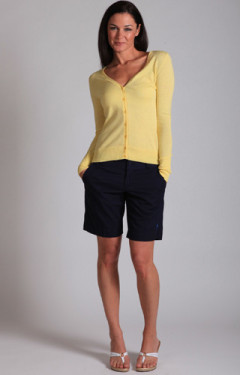 When I got to work, I had taken the sweater off because it was hot in the office and was on my way to get a glass of water. Someone saw me and wasn't happy that I had a pair of shorts on. I went to lunch and when I returned my boss called me into his office. My boss made it clear that he didn't think it was a big deal, but he went on to tell me that "Somebody called HR and reported you for wearing shorts, so we want you to go home and change. Personally, I'd rather have you be here and be productive, but that's what people want you to do."
Dumbfounded, I replied that I regularly wear skirts the same length or shorter, and that I see women wearing shorter skirts than this. During the summer when we have interns they wear skinny black jeans and Nikes on a regular business day. People come in looking like they're wearing sweatpants. How is that OK?"

CORRECTION: An earlier version of this article stated that, "Someone saw me and wasn't happy that I had a pair of shorts in."
SUBSCRIBE AND FOLLOW
Get top stories and blog posts emailed to me each day. Newsletters may offer personalized content or advertisements.
Learn more