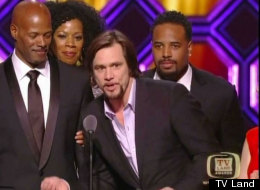 Everybody had a blast at the tenth annual "TV Land Awards" (Sun., 9 p.m. ET on TV Land). Host Kelly Ripa took to the stage dressed as everyone from Sue Sylvester to Cher, and the house band was the always fabulous B-52s.
Plus, the casts of several classic shows were reunited on-stage. Accepting the Fan Favorite award for "Laverne & Shirley," Cindy Williams paid tribute to the audience.
When Whoopi Goldberg presented the Groundbreaking Award to the cast of "In Living Color," Jim Carrey described the show as being "bigger than us."
Accepting the Impact Award, "Murphy Brown" star Candice Bergen joked about former Vice President Dan Quayle's dislike of the show.
Read what the cast and creators of "Murphy Brown" told HuffPost TV on the red carpet at the TV Land Awards.

TV Replay scours the vast television landscape to find the most interesting, amusing, and amazing moments - and delivers them right to your browser.