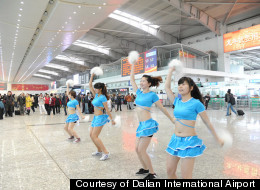 Airport delays have long marred air travel, yet rarely have they been turned into an opportunity to put on a show.
But that's exactly what happened when a thick fog stranded 5,000 travelers in Dalian, China last week.
The airport brought in a group of college cheerleaders to perk up passengers, reports ChinaSmack.
Sporting matching blue uniforms and white pom poms, the trio gave an entertaining performance filled with jumps, kicks and splits according to CNN.
Perhaps the organized entertainment was in response to Chinese travelers' anger over flight delays. According to Bloomberg, 30 passengers had already forced their way onto a Shanghai Pudong International Airport taxiway after being stranded for 15 hours.
With almost one in four flights delayed in China, Chinese airports could become the next big thing in entertainment venues.