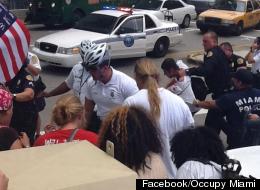 Three protestors were arrested Tuesday afternoon during Occupy Miami's May Day rally as police scuffled with demonstrators.
Brian Roland Tangherlin, 22, was charged with obstructing a public right-of-way and resisting arrest with violence, and Rolando Prieto, 23, was charged with obstructing a public right-of-way and inciting a riot.
A short time after 23-year-old Alfredo Quintana narrated their arrests in a livestream, telling viewers a police officer had punched him in the face, he was also arrested. Police charged him with aggravated assault on an officer and resisting arrest with violence.
@OccupyMIA

#OccupyMiami
The May Day protest reportedly turned violent when officers attempted to arrest Tangherlin and Prieto and others tried to pull them back into the group, which was is in the midst of a 7-hour show of solidarity with May Day protests nationwide.
"We began to question [the first arrest] and 3-4 minutes later another person was taken," said Quintana while livestreaming from the scene. "Occupy members tried to pull that person [back]...I was one one of several who was hit, and a second person was beaten and punched completely unnecessarily."
Police reports say Prieto blocked a marked patrol car while walking "slowly" on SE 2nd Avenue, ignoring an officer's repeated requests to get off the road with, "I'm not moving from the road, I'm a taxpayer." While being placed under arrest, he reportedly began to "yell and call for the crowd to gather and begin protesting in the middle of the roadway," prompting police to add the charge of inciting a riot.
Among those who gathered around arresting officers was Tangherlin, according to a second police report which said he "disobeyed [an] officer's order and continued to step off the sidewalk and obstruct public right of way. As we attempted arrest, [Tangherlin] pulled away and reentered the crowd."
Arresting officers report Tangherlin resisted arrest violently, at one point striking an officer in the ribs with his knee. Miami police spokesman Napier Velazquez said the officer suffered a minor injury.
Quintana, who was among seven Occupiers arrested at a peaceful demonstration on the FIU campus in January, said the police officer who struck him was much larger, and had no reason to fear him: "He was a little fat, and he hit me. I got right-hooked."
But an arresting officer wrote in his incident report that it was Quintana who struck first during the commotion surrounding Tangherlin's arrest.
"When he could not get his friend free, he began to punch at the Lt. hitting him in the head one time. I attempted to gain control of [Quintana] but was pushed back in the chest. While falling back [Quintana] was struck in the face twice by me while falling back."
The officer said Quintana pushed him down on his bicycle, causing a cut to his leg, before fleeing the scene.
Hoards of police vehicles could be seen converging in the Downtown area at the time of the incident, while roughly 150 protestors re-assembled along Biscayne Boulevard for a puppet show.
Occupy Miami released a statement late Tuesday night, blaming police for provoking arrests:
Miami police escalated what was a peaceful protest by pulling three individuals out of the crowd of 100 in front of the Wells Fargo and beating them with fists and batons. They also punched our live stream media in the face and nearly broke his phone.

The group of protestors had already marched through the city of miami and were near the end of their march when this happened. While the protestors had not instigated any problems the police and been escalating the action towards violence for most of the march by running cars and bicycles into the peaceful marchers.

Occupy Miami like all the Occupy Movements across the country are peaceful protests the have constantly been under increased violence by the police. We will remain peaceful. We only hope the police do.
Members were holding a candlelight vigil outside Miami-Dade jail late Tuesday night in protest of the arrests.
@OccupyMIA

#OccupyMiami
This is a developing story. View photos and keep reading below for our LIVEBLOG from May Day activities unfolding across the nation:
As thousands of people streamed down Broadway into Lower Manhattan, they faced a choice: go home to their apartments or stick around to see what happened next. Many -- including almost all the union members and immigrant rights' activists, it seemed -- chose the former. The younger demonstrators who remained, many of them clad in black, headed to the Vietnam Veterans Memorial Plaza.
By 9 p.m., perhaps a thousand protesters were gathered in the small park. "This park officially closes at 10 p.m. Some of us will stay here indefinitely," one speaker announced over the human microphone. The goal was nothing short of re-occupation.
As the hour wore on, people sat and chatted and something of a General Assembly occurred. (Occupy Wall Street hasn't had one of those gatherings since March.) Shortly after 10 p.m., a police officer on a bullhorn announced that anyone who stayed would be arrested. Most of those assembled complied with police orders. A few -- reportedly from Veterans for Peace and Occupy Faith -- stayed on, willing to be arrested.
Hundreds streamed into the night, some getting on subway trains and others engaging in a cat-and-mouse game with the police through the Financial District's narrow streets. The Huffington Post witnessed several arrestees loaded into a police van at Hanover Square, including one of a man wearing an Oakland Athletic's baseball cap.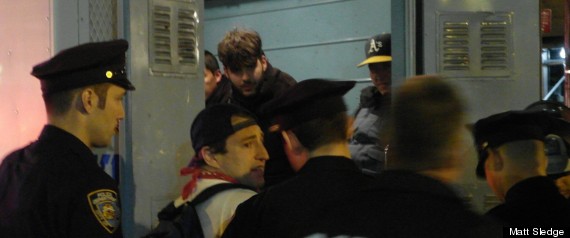 By the end, a few hundred protesters gathered in Zuccotti Park to wind down a successful day's gathering and relive old times. In the city host to the A's, meanwhile, the night was only getting started.
-- Matt Sledge