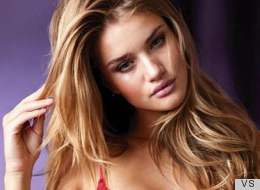 It's not enough these days to just model: you've got to have your own line, too. So Rosie Huntington-Whiteley is following her model forebears by launching her own lingerie line with Marks & Spencer, one of Britain's biggest high street retailers.
According to the Telegraph, the Rosie for Autograph collection will include 33 different pieces, including kimono-style robes, camisoles and your regular undies and bras, all set to launch in September.
While we're not sure how up to snuff Rosie's design skills are, she does have years of experience in the wearing lingerie department as a Victoria's Secret Angel, as well as modeling for Marks & Spencer (we especially loved her M&S campaign with Ryan Reynolds, natch).
Rosie for Autograph is a savvy move for the model, one that will undoubtedly extend her name beyond the runway and catalog pages. As a recent first-timer on the The Sunday Times Rich List, Huntington-Whiteley is poised to grow her brand like Gisele Bundchen or Elle Macpherson, both of whom have their own successful lingerie lines.
Of course this is Rosie's first venture, done in collaboration with an already-successful brand. But between movies and retail, we're curious to see where this young British model goes.
See other models who launched their own lines!
Models With Lines On The Side
The supermodel launched her first fragrance in collaboration with Coty in 2011 entitled Shine. (WireImage photo)

In 2007 the supermodel started a collaboration with UK-based clothing store Topshop. (Getty photo)

Singer turned model turned fashion designer, has a denim brand: dVb Style, along with a range of sunglasses and perfumes entitled Beckham. She has also collaborated with Japanese store Samantha Thavasa for a line of handbags. (WireImage photo)

In 2011 the supermodel launched an eco-friendly beauty line called Sejaa Pure Skincare. Bundchen also designed a line of sandals entitled The Ipanema Collection. (WireImage photo)

The model and actress launched her own beauty line entitled: Josie Maran Cosmetics. (Buzzfoto/FilmMagic photo)

The model launched Iman Cosmetics, a makeup and skin line for women of color. (Getty photo)

On top of being the CEO of Baby Phat, the model has started another clothing line, KLS, as well as a Hello Kitty fine jewelry line.(Getty photo)

The supermodel designed a line of jeans and t-shirts for Fiorucci in 2011. (Getty photo)

In 2009 the model launched her own skin care brand called KORA Organics. (Getty photo)

In 2012 the Sports Illustrated cover model turned designer by launching a bathing suit line in collaboration with Beach Bunny swimwear. (Beach Bunny photo)

After launching a line of socks that became a smash hit at Kmart in the early '90s, Ireland expanded her brand, which is now sold around the world and includes apparel, area rugs, wedding dresses, ceiling fans, carpeting, wigs, futons, jewelry and office furniture. She was named the richest model in the world by Forbes magazine in 2012. (FilmMagic photo)

In 2012 the British model announced a collaboration with Dr. Martens, for whom she'll design clothes, accessories and of course, shoes. (Getty photo)

In Fall 2012, the British model is launching a lingerie line, Rosie for Autograph, with British high street retailer Marks & Spencer. (Getty photo)

In 2012 Bar is launching under.me, a line of "simple, comfortable, quality" underwear. (Getty photo)

The Brazilian model unveiled her inaugural design effort in June 2012, creating a cruise collection for French brand Faith Connexion. (Getty photo)

Sir Philip Green surprised our host Marianna Hewitt during their interview with a style makeover with Topshop's personal shopping department. Which look was your favorite?