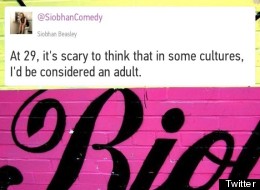 Though the "Saturday Night Live" writer Paula Pell often makes us laugh, her series of "Hey Young Girls" tweets really got our attention. This week, for example, she offered words of wisdom on plastic surgery: "Hey Young Girls, the only knife your face should ever go under is the one with chocolate frosting dripping off of it." There's another thoughtful message in the roundup below, but in case you've missed her past advice, you can find examples here, here and here.
Pell is just one of the amazing women on Twitter whose tweets we've collected this week. Click through below for our favorites, and check back each week for our new favorites.
Missed last week's roundup? You can find it here.
LOOK: The Best Tweets From Women This Week