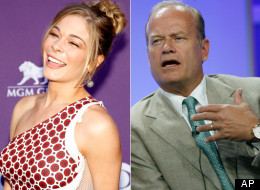 Think your ex is difficult?
After reading about the cheating, bad-mouthing ways of the famous exes below, you may want to count your blessings.
Click through our picks and vote on which celeb ex you think is the worst of the worst.
Quite possibly the most famous dastardly ex to date, Tiger Woods made headlines when his November 2009 car accident led to a slew of revelations about his many mistresses -- eleven, by one count. His ex-wife Elin Nordegren reportedly received a $110 million settlement and joint custody of their two children in the divorce, which was finalized in August 2010. The scandal cost Woods millions of dollars in corporate endorsements.

Jesse James' marriage to Sandra Bullock unraveled in March 2010 when tattoo artist Michelle "Bombshell" McGee told In Touch magazine that she and the former "West Coast Choppers" star had slept together during his marriage. Other mistresses quickly came forward, and James checked in to rehab for sex addiction. Bullock promptly filed for divorce in April 2010. Six months after their split was finalized, James got engaged to tattoo artist Kat Von D (the relationship ended in September 2011). When questioned by Nightline's Vicki Mabrey about how the news impacted Bullock, James said, "I can't worry about her anymore."

LeAnn Rimes had been married to backup dancer Dean Sheremet for seven years when she began an affair with her "Northern Lights" co-star Eddie Cibrian, who was also married at the time. The press caught wind of the affair, and Rimes was labeled a home wrecker for breaking up Cibiran's marriage to Brandi Glanville, with whom he has two sons. Rimes and her ex-husband divorced in December 2009, three months after Cibrian split from Glanville, his wife of eight years. The co-stars married in a secret ceremony in April 2011 and recently renewed their vows to celebrate their one-year anniversary.

Camille Grammer once suggested that her ex-husband Kelsey Grammer encouraged her to be on "Real Housewives Of Beverly Hills" so he could have an affair with his now-wife Kayte Walsh. Indeed, Kelsey Grammer left Camille and their two children in California to star in La Cage aux Folles on Broadway, and began a whirlwind affair with Walsh, a British flight attendant. Camille filed for divorce in July 2010 after learning about his infidelity (documented on "Real Housewives"), and one month later Kelsey Grammer announced that Walsh was pregnant (she later miscarried, though Grammer announced in January 2012 that he and his wife are expecting twins). He wed Walsh two weeks after his and Camille's divorce was finalized in February 2011. A year later, the pair's bitter custody battle over sons Mason and Jude came to an end.

Tori Spelling reportedly slept with her now-husband Dean McDermott the night that they met, despite being married to actor Charlie Shanian. She met McDermott, who was also married at the time, on the set of their TV movie "Mind Over Murder." To make matters worse, McDermott had just adopted a newborn baby with his then-wife Mary Jo Eustace, with whom he also has a son. Spelling divorced Shanian in October 2005, merely 15 months after their $1-million wedding, and eloped with McDermott the following May. Spelling and McDermott, who star in the reality show,"Tori & Dean: Home Sweet Hollywood," are now parents to four children.

Charlie Sheen is notorious for verbally bashing his ex-wives -- in public. In March 2011, he reportedly accused Denise Richards of being an awful mother and a loser, adding that he wished her a slow death. Later that month, he tweeted, "We must bombard with Warlock Napalm, that traitor and loser whore #DUH-neese POOR-ards, a vile kidnapper and now dog thief. hate. SBW." While on his "Torpedo Of Truth" tour in early April, Sheen led the audience in a chant of "f*** that b****" against his ex, whom he divorced in November 2006. It seems like the former couple have patched things up since then. In January, shortly after the pair were photographed vacationing in Mexico with their two daughters, Richards told "Access Hollywood" that she and Sheen had "actually become like brother and sister." Still, Richards isn't the only subject of Sheen's verbal rampages: he told RadarOnline in March 2011 that his most recent ex-wife, Brooke Mueller, used drugs while on a family vacation. "I've been looking at it too long, that's why I divorced the b*tch," he said. Mueller and Sheen split in February 2010.

Academy Award winning actress Ingrid Bergman was married to Petter Lindström, with whom she had a daughter, when she was cast in Italian director Roberto Rossellini's film "Stromboli" in 1950. During production, she fell in love with Rossellini, who was also married at the time, and became pregnant with their son. A great scandal ensued, and Bergman was censured on the floor of the U.S. Congress and couldn't return to America for years. "Hollywood wouldn't touch her," said James Robert Parish, the author of "The Hollywood Book of Scandals." She and Rosselini married in May 1950 (after a highly publicized divorce) and subsequently had twin daughters.

Eva Longoria decided to leave her marriage after discovering that ex-husband Tony Parker had reportedly been "sexting" with a former teammate's wife for almost a year. Though Parker denied the allegation, Longoria filed for divorce in November 2010. According to People magazine, Parker cheated on Longoria early in their marriage and kept in touch with the woman --a former teammate's wife -- on Facebook. Their divorce was finalized in January 2011. Still, Longoria says she has no ill-will toward her ex: "I always said I hold onto the love and not the loss. I think the press also wanted me to hate him and villainize him. And I don't. And I didn't," the actress said on "Good Morning America" in April 2011.

Brinkley and Cook split in July 2006 after 10 years of marriage and two children together. The divorce that followed became a media frenzy centered around Cook's reported porn addiction and affair with then 18-year-old Diana Bianchi, which reportedly caused the split. Four years after the divorce, their acrimonious custody battle continued. In March 2012, both exes made the talk-show rounds to counter the respective charges they'd made against each other, but by June 2012, the former couple had settled their legal disagreement .
Keep in touch! Check out HuffPost Divorce on Facebook and Twitter .