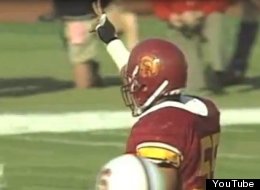 The death of former football star Junior Seau on Wednesday caused a rush of emotional reactions from both retired and current NFL players, along with a touching tribute video from his alma mater, USC.
Seau was one of the most dominant linebackers to ever wear a Trojans uniform, recording 107 tackles (33 for a loss) in 1988 and 1989. He helped lead USC to back-to-back Rose Bowls and won the 1989 Pac-10 Defensive Player of the Year Award.
The former All-American was inducted into the USC Hall of Fame in 2009.
"We are tremendously saddened to hear this news and our hearts go out to his family and children," athletic director Pat Haden said in a statement posted on the USC Football website. "Junior Seau was one of the greatest legends in USC football history. He will always be remembered by USC as the original No. 55."
Current USC football coach Lane Kiffin also shared his thoughts on Seau's passing, saying "This is a very sad day. The USC football program and the entire Trojan family extends our condolences to Junior's family. He was one of the greatest Trojans of all time. Our team and fans were very fortunate to see him just a couple of weeks ago at our spring game at the Coliseum. He will be deeply missed."
WATCH TRIBUTE VIDEO ABOVE