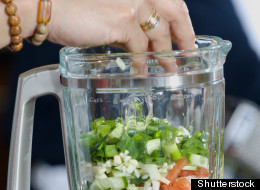 You grill, you steam and (if you're like most of us) your light-cooking tricks end there. Why not branch out and try these other methods -- blending, poaching, packing in parchment and searing? They're surprisingly easy cooking techniques that let you crank out slimming meals that taste sublime.
More from Health.com:
7 Days of Super Healthy Dinners
9 Tips From Celebrity Chefs for Heart-Healthy Cooking
Star Chefs Cook Carbs!
Healthy Cooking Techniques
Blending vegetables creates a thick, creamy texture without adding cream or starch. It's a terrific trick for sauces as well as soups. Blend potato-based soups while still hot (they will become elastic if the potato cools before puréeing). Handheld immersion blenders -- which let you blend in a bowl or pot -- are easy to use and to clean up. Best of all: You can find a good one for less than $40. Try these recipes: Spring Gazpacho Potato Leek Soup Carrot-Ginger Soup

Caramelizing the surface of food over high heat delivers high-impact flavor with minimal fat. Whether it's steak, stew, or stir-fry, don't crowd the pan, or your meat will steam instead of turning a deep, tasty brown. When you add the sauce, be sure to scrape up all the bits clinging to the pan to reap maximum flavor. Try these recipes: Thai Spring Beef Stir-Fry Basque Beef Tenderloin Crostini Seared Chicken Breasts With French Potato Salad

Poaching (gently simmering in any liquid) not only enables you to cook without fat, but also keeps food moist and tender. Poaching works well with eggs, salmon, chicken and pears, and is often best when using an aromatic broth. Try these recipes: Crostini With Spinach, Poached Egg and Creamy Mustard Sauce Poached Salmon and Watercress Salad Cranberry-Poached Pears

Cooking in parchment (essentially steaming in a tightly sealed package in the oven) is a favorite French approach, especially for fish. It also makes for a beautiful presentation. Slice hard ingredients, such as fennel and potatoes, very thin so they cook in the same time as the more delicate seafood. Don't have parchment paper on hand? A sheet of aluminum foil works just as well. Try these recipes: Scallops in Parchment With Fennel, Tomatoes and Olives Lemon Provencal Baked Snapper Parchment-Baked Halibut With Pesto, Zucchini and Carrots
For more on diet and nutrition, click here.