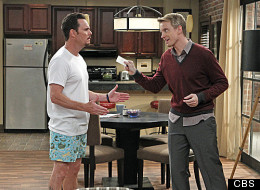 CBS's canceled "How To Be a Gentleman" is coming back. According to The Hollywood Reporter, CBS will air the canceled sitcom with back-to-back episodes on Sat., May 26 starting at 8 p.m. ET as part of the network's summer schedule.
David Hornsby created, wrote and starred in "How to Be a Gentleman" alongside "Entourage" veteran Kevin Dillon and "24's" Mary Lynn Rajskub. When CBS launched "How To Be a Gentleman" on Thursdays at 8:30 p.m. after "The Big Bang Theory," it debuted to an audience of about 9 million viewers. The show lasted two weeks in the Thursday timeslot before being canceled and moved to Saturdays in favor of "Rules of Engagement."
However, CBS yanked "Gentleman" off of its schedule in October shortly after the move to Saturdays. A "Two and a Half Men" rerun bested "How To Be a Gentleman" in its first Saturday outing in October.