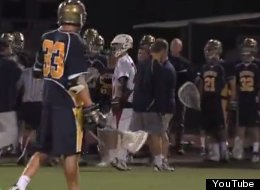 Even Metta World Peace would likely cringe at the sucker punch delivered during a high school regional final lacrosse game in Florida on Tuesday night between St. Thomas Aquinas and St. Andrew's School. While being escorted off the field (following an ejection for reportedly punching an opposing player, according to ESPN 760) St. Thomas senior Jake Champion leveled an unsuspecting opponent at the sideline.
According to the Sun Sentinel, Champion has been suspended by the Florida High School Athletic Association for six weeks, and will miss school for the remainder of the week due to his actions.
WATCH VIDEO ABOVE
St. Andrew's, the state's top-ranked team according to MaxPreps.com, would go on to win the contest 20-6.