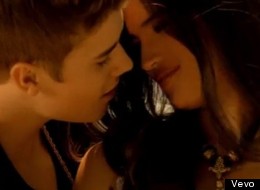 After weeks of teasing his young fans with video teasers and snippets, Justin Bieber finally released the music video for his new single "Boyfriend."
From the looks of the video, Bieber has come a long way since video games and pre-teen house parties. The 18-year-old is seen driving fast cars, partying with the ladies and getting his mack on. We're pretty sure his 21 million Twitter followers would do anything to be his music video vixen, who happens to look a lot like Bieber's girlfriend Selena Gomez.
The track is the lead single off Bieber's anticipated new album Believe, which drops June 19. The album will feature collaborations with his mentor Usher, Drake, Kanye West and country star Taylor Swift.
PHOTOS: Justin Bieber throughout the years.