Does the notorious anti-gay group One Million Moms have a personal vendetta against JCPenney?
It would certainly seem that way, as just months after the conservative "online activism campaign" slammed the Texas-based retail group's decision to hire Ellen DeGeneres as its spokeswoman, they're at it again. This time, One Million Moms is taking issue with JCPenney's inclusion of a presumably lesbian couple as part of its Mother's Day catalog.
The photograph in question features two models identified as Wendi and her partner Maggie, along with their daughters. The women appear to be wearing wedding bands.
View the photo below, then scroll down to keep reading: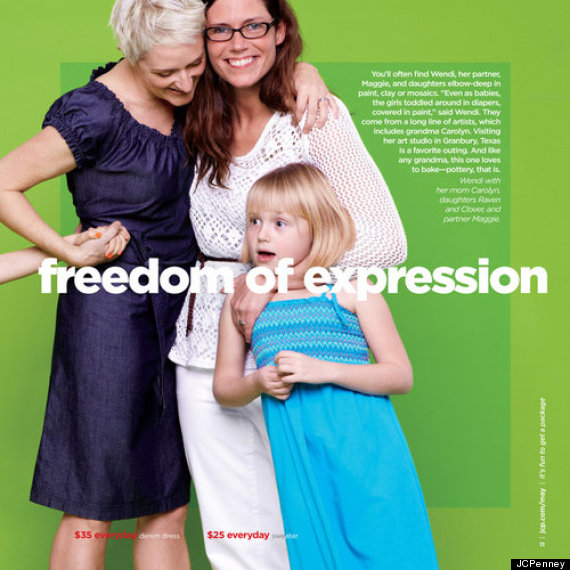 "OMM has so many issues to cover we had no choice but to move on earlier in the year but have decided to revisit this issue and speak out again," the group writes on its website. "It is obvious that JCP would rather take sides than remain neutral. JCP will hear from the other side so they need to hear from us as well."
They continue, "Last time OMM contacted JC Penney store managers, we were brushed off...OMM has been told that JCP corporate office told store managers to say, 'Thank you' and then walk away. If they want our business, then we will not be ignored!"
Whether or not One Million Moms' latest effort will make a sizable impact remains to be seen, but the failure of their planned boycott following DeGeneres' appointment is telling.
In addition to the DeGeneres debacle, One Million Moms blasted Urban Outfitters last month for a photo of a same-sex kiss which appeared in its catalog, and also condemned Toys 'R' Us for carrying a controversial January issue of Archie Comics, which depicted a gay interracial wedding between two active military officers.
Take a look at several other gay-related protests against retail outlets and other businesses below:


Loading Slideshow
Ellen DeGeneres' JCPenney Partnership

One Million Moms threatened to boycott JCPenney after the Texas-based retail chain appointed the openly gay DeGeneres as their spokesperson. "By jumping on the pro-gay bandwagon, JCPenney is attempting to gain a new target market and in the process will lose customers with traditional values that have been faithful to them over all these years," <a href="http://onemillionmoms.com/IssueDetail.asp?id=436" target="_hplink">the group wrote on its website</a>. Meanwhile, DeGeneres <a href="http://www.huffingtonpost.com/2012/02/12/ellen-degeneres-jcpenney-gay-day-flashmob_n_1269588.html" target="_hplink">took to her show in defense</a>. "Here are the values I stand for: I stand for honesty, equality, kindness, compassion, treating people the way you'd want to be treated and helping those in need," she said.

Salvation Army

This past holiday season, LGBT rights advocates <a href="http://www.huffingtonpost.com/2011/11/25/salvation-army-red-kettle-lgbt-community_n_1113358.html" target="_hplink">called for shoppers to skip the Salvation Army's iconic donation buckets</a> due to the organization's conservative view of homosexuality. "The Salvation Army has a history of active discrimination against gays and lesbians. While you might think you're helping the hungry and homeless by dropping a few dollars in the bright red buckets, not everyone can share in the donations," <a href="http://www.bilerico.com/2011/11/why_you_shouldnt_donate_to_the_salvation_army_bell.php" target="_hplink">Bil Browning noted</a> on <em>The Bilerico Project</em>. "The organization also has a record of actively lobbying governments worldwide for anti-gay policies -- including an attempt to make consensual gay sex illegal."

Chick-Fil-A

NYU freshman Hillary Dworkoski has <a href="http://www.huffingtonpost.com/2012/02/14/chick-fil-a-anti-gay-donation-nyu-protest_n_1277364.html" target="_hplink">launched a protest </a>against the fast food chain, saying she is disturbed by the company's reported financial support of several groups with "anti-gay" motives, including Focus On The Family, Exodus International, and the Family Research Council. A<a href="http://www.change.org/petitions/secretary-faculty-senators-council-stop-serving-anti-gay-chick-fil-a-on-campus" target="_hplink"> petition calling for the university</a> to close its Chick-fil-A franchise, reportedly the only one in Manhattan, has attracted over 10,000 signatures since Dworkoski launched it in January.

Victoria's Cake Cottage

Iowa residents and LGBT rights advocates launched a Facebook boycott against Des Moines bakery Victoria's Cake Cottage after its Christian owner <a href="http://www.huffingtonpost.com/2011/11/14/iowa-wedding-cake-lesbian-couple_n_1092789.html" target="_hplink">refused to bake a wedding cake</a> for a lesbian couple. "I didn't do the cake because of my convictions for their lifestyle," Victoria Childress, who met the couple during a taste-testing appointment, said. "It is my right, and it's not to discriminate against them. It's not so much to do with them, it's to do with me and my walk with God and what I will answer [to] Him for." After the couple's story made national news, <a href="https://www.facebook.com/BoycottCakeCottage" target="_hplink">a Facebook group was launched in their support</a>, and currently has about 600 members.

Best Buy

LGBT rights advocates <a href="http://projectqatlanta.com/index.php/news_articles/view/gay_atlantans_plan_protest_for_target_best_buy?gid=6240" target="_hplink">cried foul after the electronics retailer made</a> "large political donations" to a group in Minnesota which used the money to advance Tom Emmer, an anti-equality candidate. Although Best Buy scored high on the Human Rights Campaign's Corporate Equality Index and officials argued that they do not claim to agree with all issues a particular candidate promotes, HRC and Georgia Equality authorities nonetheless planned a 2010 protest, noting, "Best Buy has failed to respond at all to our community."

Target

LGBT rights advocates <a href="http://www.billboard.com/features/lady-gaga-talks-target-deal-for-born-this-1005041982.story#/features/lady-gaga-talks-target-deal-for-born-this-1005041982.story" target="_hplink">blasted Target for donating to conservative PAC Minnesota Forward</a>, a group which supported anti-gay marriage candidate Tom Emmer during the Minnesota gubernatorial campaign in 2010. Pop diva Lady Gaga, a vocal LGBT rights supporter, quickly<a href="http://www.huffingtonpost.com/2011/03/08/lady-gaga-ends-target-lgbt_n_833209.html" target="_hplink"> nixed her deal for an exclusive special edition</a> of her "Born This Way" album as a result. Target officials, who have apologized for their support of Emmer, <a href="http://www.queerty.com/canvass-for-a-cause-should-adopt-born-this-way-as-their-fight-song-in-target-lawsuit-20110325/" target="_hplink">recently filed a lawsuit</a> against the gay rights group Canvass for a Cause, after members demonstrated outside several San Diego area stores.

Heinz

The gay rights group Stonewall threatened to boycott Heinz after the condiment company yanked this controversial mayonnaise ad which featured two men kissing in 2008. As <em>The Guardian</em> reports, the ad <a href="http://www.guardian.co.uk/media/2008/jun/24/asa.advertising" target="_hplink">was pulled after just a week on the air </a>after viewers complained to the Advertising Standards Authority that it was "offensive" and "inappropriate to see two men kissing."

Wal-Mart

The American Family Association (AFA) originally planned to boycott Wal-Mart during the company's post-Thanksgiving sales in 2006 over the retail group's support of gay rights groups, but eventually withdrew its objections. <a href="http://www.msnbc.msn.com/id/15835445/ns/business-us_business/t/wal-mart-boycott-over-gays-called/#.T005-3LLyRk" target="_hplink">As the Associated Press reported</a>, Wal-Mart officials said in a statement that the company "will not make corporate contributions to support or oppose highly controversial issues unless they directly relate to our ability to serve our customers," but later said the company would continue working with the Gay and Lesbian Chamber of Commerce and other gay-rights groups on specific issues such as workplace equality.