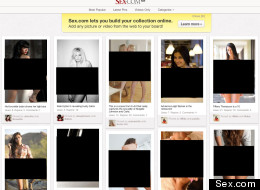 In Hollywood, you know your movie is a hit when the adult film industry makes a porn parody. Now, the same can be said for popular social networking sites.
For those wondering what ever became of Sex.com, the most obvious and most expensive domain name ever sold, it just launched as the Pinterest of porn -- or at least one site to borrow Pinterest's design aesthetic. But instead of wedding dresses, cupcakes and "thinspo," Sex.com is a virtual pin board full of naked ladies.
WARNING: The slideshow below contains NSFW images not suitable for everyone.
Pinterest is already the third most popular social network in the US, but it largely appeals to women. Sex.com, on the other hand, along with sites like the ultra-classily named Snatchly.com or the soft core PinClub.com, are intended to appeal to porn lovers of all sexes.
According to Sex.com's press release announcing the launch of the site, "Women are pinning bras, men are pinning boobs." It claims that 97 percent of Pinterest accounts are created by women and the photos shared are "of very little interest to men."
"Pinterest doesn't allow adult photos, so we felt there was an opportunity in the marketplace for such a service, and with the large amount of adult-oriented traffic, we expect to compete with sites like Tumblr and Pinterest over the next 12 months," the press release states.
There are already dozens of Pinterest clones for people to share everything from their love of Lady Gaga and Jeremy Lin, to their favorite graphic designs. And now, users can unabashedly collect and share their favorite X-rated pictures, GIFs and videos with friends and followers, as more of these sites are sure to pop up.
Check out some screenshots of the NSFW Pinterest-like pornography sites in the slideshow below:
"Sex.com allows you to gather, organize and share all the free porn you find on the web! People create pinboards to bookmark all their favorite porn videos & pictures. With just one click, you can pin porn from anywhere on the web and add it to one of your pinboards."

"Snatchly is your virtual pornboard. Snatchly lets you save and share all the porn you love from anywhere on the web, including major porn sites like: RedTube, PornHub, YouJizz, YouPorn, xHamster, Xtube, VidZ, beeg, SpankWire and Tube8. Browse pornboards created by others to discover new pornstars. Snatchly is free and secure. Get snatchin!"

"PinClub is a sexy pinboard Organize and discover sexy stuff. It's FREE !"

"See the latest stuff that's made our Kinky&Popular section. There are some really amazing artists (not to mention sexy people) on FL."
More Pinterest Clones:
Lady Gaga has been called a "social media queen," and it's not very surprising that she's backed her very own social-networking site called LittleMonsters. The newcomer site, which Mashable dubbed a Reddit-Pinterest hybrid, hasn't officially launched yet (you must request an invite to join), but it will eventually let you post your favorite Mother Monster-related images and connect with other Gaga-lovers.

What would the Internet be without a porn-inspired version of Pinterest? With features that allow you to "snatch" your favorite X-rated pictures and videos from around the web, to follow users with boards that interest you, and to create private boards, Snatchly is a free service perfect for the sociable porn-lover. And it's most likely the dirtiest Pinterest alternative of them all. (Though we've blocked out all the pictures in the screenshot above, believe us when we say that this site is NSFW.)

At first glance, Fancy doesn't look much like Pinterest, but explore the site more deeply, and you'll find it's an interesting mix of Pinterest, Tumblr and a traditional magazine catalog, letting you admire pretty images and find where to purchase them, too. The images you "Fancy" will show up on your "Catalog," or profile, and you can arrange the items you've "Fancied" into "lists," much like Pinterest's "boards." You can follow and view other users' posts, which will appear on your homepage in the same way that posts show up on a Tumblr dashboard. And, lastly, clicking on an image will send you to a page with options like: "Buy it," "More info," "I want to sell it," "Show someone" and more.

Have you jumped on the Jeremy Lin bandwagon? If you have, this "linsane" Jeremy Lin-themed Pinterest look-alike site is the one for you. J-Linterest doesn't have much to look at yet. With just one page of content, it's nowhere near as massive as Pinterest is, but it's a fun twist on the popular membership-based image-sharing service.

While all the sites in this slideshow share more than a passing resemblance to one another, only Pinspire has been called a complete rip-off. Created by none other than Rocket Internet's Samwer brothers (the minds behind the clones of eBay, Groupon, and Zappos) Pinspire looks almost exactly like Pinterest, from its layout down to its color scheme. It's still too early to tell if Pinterest will buy out Pinspire (like eBay did its Samwer-made clone, Alando) or take some other action against it. For right now, at least, it seems this Pinterest clone is off the hook.

We Heart It isn't as well-known as Pinterest, but it's been hovering under the radar since 2008 and happens to share many similar features with Pinterest. You can "heart" (rather than "pin") your favorite images from other sites, follow other We Heart It users, and create "sets" similar to Pinterest's "boards" that showcase similar images for your followers to view. With all the little pink hearts dotting its pages, We Heart It may be a bit girly, but that hasn't stopped it from gaining a solid following (it has over 400,000 likes on its Facebook page).

On the other side of the image-sharing spectrum is Gentlemint, a site whose target visitor is definitively male. Co-founder Brian McKinney recently told Forbes, "We see ourselves as more of a complement to Pinterest." Indeed, Gentlemint's pictures of scary knives, high-tech yachts, and inflatable T-Rexes replace the frilly dresses, cupcake recipes, and intricate up-dos you might find on female-dominated sites like Pinterest or We Heart It.

Juxtapost has quite a few one-ups on Pinterest, in addition to its ready-to-use, no-invitation-required registration. The service also serves up private postboards, a "More Like This" button that shows posts similar to the one you're looking at, an auto-description feature, a way to export your postboard to an Excel spreadsheet, and more. With all these helpful offerings, Juxtapost may be one of Pinterest's fiercest competitor.

Founded in 2006, design:related is pretty unique in the image-sharing service world. It not only offers visual ideas by way of designers and creatives, but it also presents design-related jobs and media content in the form of news and feature stories (hence the name). Once a prospective user receives an invite, he or she can create a portfolio of design work, share inspiration, post news, or browse through others' content.

VisualizeUs makes it a point to let everyone know right on its homepage that no invite is required to join, taking a pretty clear stab at the invite-only Pinterest. In addition to this little bonus, the site's tagging feature let you more easily find images you've posted or quickly search through other users' visual posts. It even shows "popular tags to watch" and the "most used tags" so you can see what other VisualizeUs users are interested in posting.

While Image Spark is similar to Pinterest in both the way it looks and the way it works, one unique feature it offers is its "moodboard," which works a bit differently than Pinterest's "board." Instead of displaying inspirational images in a geometric fashion, Image Spark's "moodboard" allows users to position images as they see fit, so some may end up looking more like creative collages than tidy columns. New users are offered 1GB of storage and two "moodboards" to get started.