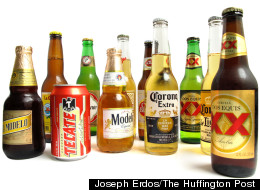 In 2010, Mexico became the top exporter of beer in the world, just beating out Holland. If you've ever noticed the omnipresence of Corona in the States, you can verify that fact. Sure, Corona is the best-selling beer produced by Mexico, but does that mean it's the best-tasting Mexican beer? With lesser-known brands such as Sol, Modelo and Pacifico on the market, we decided this called for a taste test.
Mexican beer has been so popular in the U.S. that American beer makers have tried marketing their own versions, taking the form of a citrus-and-salt flavored Miller Chill and Anheuser Busch's Bud Light Lime. But we're not even going anywhere near those in this article. We're focusing only on traditional Mexican beers sold in the United States.
Most Mexican beers (with a few exceptions) are generally characterized by being light-bodied and mild, and served ice-cold. Though those are characteristics that should make it drinkable on its own, many beer drinkers mask Mexican beer's flavor with a lime wedge. We didn't -- we blind-tasted our 10 brands without the lime to judge the beer's true flavors.
So, which brands came out on top? Click through the slideshow below to find out how they did in our blind taste test, and let us know what your favorites are!
Bohemia is another popular brand that we were unable to locate in our area. Make sure to submit your thoughts on it below!
Comments: "One of my favorites. A bit rounder and more amber than the others." "Totally respectable, balanced beer." "This has a little meat on its bones." "A good beer with a bit of personality." "This has a chocolate flavor that is not totally awful!"

Comments: "Tastes like ... licorice? It's nice!" "Sweetness that leads to a oh-so-slightly aftertaste." "Light, but surprisingly complex flavor. Hints of cherry." "If you put this in a fancy bottle, you could get people to pay a lot for it." "A little sweet, but a solid beer." "Great barley flavor."

Comments: "Corona? Tastes like a great outside, summer beer." "Heavy, yeasty flavor, with some bitter notes." "Nice and mild." "A solid basic."

Comments: "Dark in color but not in flavor." "Very bitter." "Like ashes and charcoal steeps in ginger ale." "Looks brown, but doesn't taste brown." "My kind of amber beer." "I taste caramel notes."

Comments: "A little stale." "This doesn't taste like much." "On the lighter side, but really not bad." "Skunky, but no aftertaste." "A little flat, but a nice nuanced flavor." "Good carbonation." "Much hoppier than many others, which still isn't much."

Comments: "Inoffensive." "Boring but totally drinkable." "Mild flavor; not unlike Bud Light." "Tastes like it should be consumed in a pitcher." "Nice and light -- good for a hot summer day." "Watery, with almost no carbonation." "Has a 'frat house' nose and the lightness of a fine-tuned beer pong brew."

Comments: "A beer that you can enjoy without thinking about it." "Totally drinkable. Tastes like a frat party." "A bit heavy." "Mild taste with little carbonation."

Comments: "Smells horrible -- it's hard to get past the odor." "Mostly tastes like seltzer." "Tastes a bit metallic." "Awful." "Unpleasant taste and smell." "Who put weed in my beer? It sadly goes way too mainstream on the finish."

Comments: "Starts out like apple juice." "Light color, absolutely no taste." "Not bad, but tastes watery." "Slightly metallic flavor." "Lots of bubbles, but I don't taste alcohol." "It's the Taylor Swift of light, flavorless, pointless beverages."

Comments: "Watery, one-note." "Metallic flavor. Not nice." "What air would taste like in a room full of Guinness burps." "Feels artificial." "Skunky taste." "It's too rough for a rainy day, let alone a hot one."