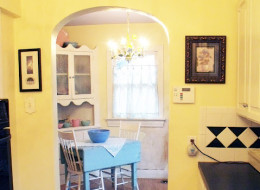 For many of us, a storybook cottage is a dream home. But for artist Nita Stacy, it's a gorgeous reality filled with lovely details that are noticeable even blocks away. The bluish-green window trim contrasts against the brick walls. The architectural detail in the rounded archways and serpentine columns add character to the Oklahoma City home and nod to its age. Step inside, and it's like you've arrived when the house was first built in 1931. Just like the home's exterior, the decor reflects the charming yet glamorous style of the 1920s and '30s.
"I found inspiration in the house itself," says Stacy, 50, who besides loving all things vintage, old Hollywood and the roaring '20s, wanted to stay true to the home's era. So much so that she spent the next eight months after purchasing the home in 2004 replacing and renovating the ceiling, floors and hardware installed in the '90s.
Even more impressive, the Oklahoma native did the majority of the fix-ups herself. Having just bought the home, Stacy found the DIY route to be more cost-effective. She actually found most of her hardware and lighting on eBay. And, her furniture is an assortment of flea-market finds and pieces that have followed her from as early as her college days.
Besides the obvious initial savings, Stacy finds another benefit to tackling projects herself: You'll know how to fix it later. "A lot of people think they can't do [home repair] themselves, but it's totally doable," she says. "I think they're afraid they'll mess something up, but if you do, you can easily fix it most of the time." In fact, Stacy is a living example that anyone can DIY. She had no home repair experience prior to fixing up her house. Surprisingly, she found that it wasn't as hard as she thought, she says. It was a process of looking up tutorials on the internet and following the instructions. Though, she'll never refinish wood floor agains, she admits. The fumes were just too much.
Flip through the slideshow to see Stacy's vintage-inspired cottage, and for more photos of her home, visit Mod Vintage Life.
Have something to say? Be sure to check out Stylelist Home on Twitter, Facebook and Pinterest.
All photos by Nita Stacy of Mod Vintage Life
Nita Stacy's Storybook Cottage
As a child, Stacy says she loved the old homes in this neighborhood so much that she knew she was going to live in it one day...and she did!

Stacy is the only one in her neighborhood with serpentine columns, she says. We love the exterior's architectural design.

Most of Stacy's furniture has been collected throughout her life.

The coffee table is actually a garden table that Stacy painted white and covered with a glass plate.

The living room is Stacy's favorite room. "I love to just go in there and sit and stare at things," she says.

The fireplace and mantle were actually renovated by professionals. Previously featuring a more moden design, Stacy had them rebuild the fireplace with antique tiles. It took about a year to complete.

Like the chairs in the breakfast nook, the seat cushions are all different colors but follow the same color palette seen throughout the house.

The kitchen floor tiles are actually fine laminate. However, she hopes to redo the flooring again with wood tiles.

This storybook breakfast nook is adorable. We love how the dining table and chairs are all different pastel colors.

All the rooms have the same butter-yellow walls but also have either rose pink or pastel blue ceilings.

"I always pretend that I live in a Hollywood home," says Stacy.

Stacy purchased this ornate chandelier from eBay for $500, but it's normally worth $3,000, she says. She hung it herself and added the medallion, which was painted twice to get that crackle finish.

Originally, Stacy tried a pastel palette to match the rest of her home, but the colors didn't work with the black countertop, a fixture she hopes to replace one day, she says.

Stacy loves Venetian mirrors so much that kept adding one at a time. Before she knew it, she had 56 mirrors in this one room. Though many of the smaller mirrors are actually coasters.

"I'll always be fiddling with my decor, but I've always loved the '20s and '30s -- the movie stars, the roaring '20s, the speakeasies -- it just seems like it would've been a fabulous time," Stacy says.

"There's a lot of things you can do to make your house look great that doesn't cost that much, like putting a tray behind the stove to dress up the backsplash," the artist says. "You have to think creatively."

Stacy used stainless-steel contact paper to bring a subtle pizzazz to the white kitchen.

Originally, there was a medicine cabinet above the sink with mirrored doors, but Stacy hated the look. Instead, Stacy took off the doors, added trim around the former cabinet and mounted a Venetian mirror to the shelves.

Stacy found this beautiful side table at a flea market in Atlanta.