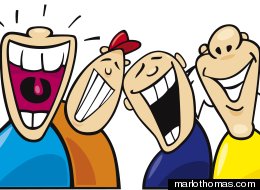 On his honeymoon, the groom took off his pants and said to the bride, "Here, try these on." The bride did as she was told, and said, "These are too large. They don't fit me..."
"Exactly," replied the groom. "I wear the pants in this family and I always will. I don't want you ever to forget that."
Then the bride took off her pants and handed them to her husband as she said,
"Here, you try on mine!" As requested, he tried them on.
"I can't get into your pants," he said with a question in his tone.
"Exactly," she replied. "And if you don't change your attitude, you never will."
Add Marlo On Facebook:
Follow Marlo on Twitter:
Weekly Newsletter

Sign up to receive my email newsletter each week - It will keep you up-to-date on upcoming articles, Mondays with Marlo guests, videos, and more!

Sign up here