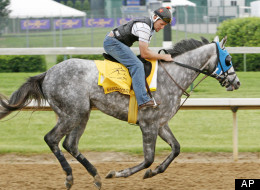 Edward Lizardhands, You Are You The Father and Kim KarDASHian were just some of the wacky names that followers of ESPN's official Twitter account thought of when asked, "If you owned a Kentucky Derby horse, what would you name it?"
We're one day away from the race dubbed "The Greatest Two Minutes In Sports" and the 2012 Kentucky Derby may have some names that fit with those. Daddy Long Legs, Bodemeister and Union Rags might give some of ESPN's followers a run for their money.
So get prepared for some mint juleps, fancy hats, an infield party and, like every horse race, some hilarious horse names.
Want to see some more funny horse names? Just scroll down below and vote on which are the funniest. When it comes to the names of race horses, sometimes truth is stranger and funnier than fiction or hashtags.
Who knew pirates bred horses?

It's unclear whether or not this horse get's his name from 2003's comedy Old School starring Will Ferrell, but there's definitely a good chance. Who wouldn't enjoy screaming "You're my boy, Blue!" from the crowd?

"You think you could go all day long?" "... That's what she said!" The title of this video explains it all. If The Office's Michael Scott owned a horse, you could bet that this one would belong to him.

Looks like there's a panty raid at Churchill Downs. If this horse's name is Panty Raid, his stable most definitely resides at a frat house.

Say this horse's name five times fast. Announcer Tom Durkin can't even pronounce it once.

It's unknown if this dialogue is of a horse announcer or just Tiger Woods' conscience.

Stud Muffin lives up to his name with 54 career starts within the last six years, including four in 2012.

Of 12 career starts, Hoof Harted only recorded two first finishes, meaning the phrase 'Hoof Hearted in the Winner's Circle' could only be used twice. What a shame.

No word if Steve Martin and Dan Aykroyd took this horse in, but if they did, hopefully they bought him a funny hat.

According to Equibase.com, three different horses have shared this name since 1984. Between them, they've only recorded 17 career starts.

In March 12, 2008, New York Gov. Eliot Spitzer announced his resignation resulting from an extramarital tryst controversy. Upstate, a stable decided to name their horse after the governor as a good-humored homage. Credit: (AP Photo/Stephen Chernin, file)

Why wouldn't you name a race horse after one of the most iconic moments in all of sports history? The famous call from 1973 lives on at the track.

Lusty Latin (2002) Watermelon (1914) Built For Pleasure (1996) Blue Pair (1941) whatamichoppedliver (1970's) Bodacious Tatas (1985) Nosupeforyou (1998) Junkinthetrunk (2000) Brangelina (2005) Lewinsky (1996) Junkinthetrunk (2000) No Fat Chicks (1988)