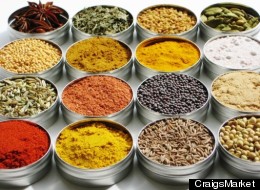 Mother's Day is fast approaching -- and if you still haven't found the perfect gift for mom, we're here to help. The first installment of our 2012 Gift Guide suggested perfect presents for hipster moms; now, we bring you gifts for dyed-in-the-wool foodies, sourced by the imaginative gourmands of Etsy.
From rustic French linen kitchen towels and a 16-piece Indian spice set to handmade blank recipe books and jars of sinful vanilla-cinnamon caramels, these gifts are thoughtful, handmade, eco-friendly -- and sweet as a strawberry French macaron. Bon appétit!
Cinnamon Vanilla Caramels (1/2 lb jar) | $13 | TheCaramelJar.etsy.com "These caramels are a small bite of luxury in the midst of an often hectic day," says Etsy seller Nicole. But don't expect to find out for yourself, because mom will likely "hoard these in a cupboard or create a secret stash." It was Nicole's "love of vanilla lattes with a dash of cinnamon" that gave her the idea for these preservative-free sweets in the first place; if you can get your hands on one, "melt [it] into your morning coffee and enjoy!"

Bon Appetit French Country Linen Towels (2) | $54 | ikabags.etsy.com These gorgeous kitchen towels don't just look French -- they are! In fact, the owner of Etsy store ikabags says the linen material has been "made by the same French family since the 1800s." Hand-washed, -sewn, and -ironed, they'll lend a rustic elegance to mom's kitchen, not to mention help her stay green (who needs paper towels when you have these?).

On the Move Mommy and Me Apron Set | $67 | luckyduckydesigns.etsy.com "Especially now when our lives are moving at such a hectic pace, it's often the little moments with our kids that we cherish," Etsy seller Sandy Grau tells us. "If having matching aprons encourages more time together or makes the moments more memorable, then I think that is a great gift." The aprons in these sets -- which are reversible and come in four different sizes -- will help foodie moms and foodie kids enjoy kitchen time in style.

"Cooking Secrets" Book | $10 | ARMINHO.etsy.com Handcrafted in Portugal, these slim, handsome vintage-style notebooks are made from local and recycled materials. The seller reports: "Each book is hand bent, cut [and] assembled," and "every paper sheet passes by our hands." If mom's a true foodie, these blank books might be the ultimate compliment; they'll send the message that you think her recipes are worth recording.

Indian Spice Kid - 16 Exotic Herbs & Spices | $35 | CraigsMarket.etsy.com Just glimpse the vibrant colors and varied textures of the spices in this handy kit, and you'll be transported to a world beyond your kitchen's workaday salt and pepper shakers. If your mom isn't an expert in Indian cuisine, not to worry -- this starter pack includes a few basic recipes she can use to find her feet. The set will appeal to the more experienced Indian chef, too, of course; seller Craig Lantz says it's "unique because it contains fenugreek leaves, fenugreek seeds and kala namak (black sea salt) which are hard to find, especially all together in one spice kit."

Heart Measuring Spoons | $48 | beehivekitchenware.etsy.com A measuring spoon is a measuring spoon is a measuring spoon. Right? Nope. These adorable instruments bridge the gap between tool and love token. As their Etsy sellers attest, "The spoons encapsulate so many things that people associate with their moms, but mostly ... the love and nurturing that goes into preparing food for the people you love."

Mini Herb Garden Markers (Nickel) | $28 | NinaGibsonDesigns.etsy.com Metalworker Nina Gibson branches "beyond jewelry" with these adorable herb garden markers, which are "hand-cut from nickel sheet" and individually stamped. Best of all, "they are made to order, so you can specify mom's favorites!" ("I have had people order them with names of children to mark plantings which honor the birth of a child," Gibson notes.)

Strawberry French Macarons | $15 | sweetsarahshop.etsy.com These "delicate and elegant" French macarons are a totally on-trend food gift this year. Extremely difficult and time-consuming to make by hand (seller Sarah O. says "it takes me approximately two hours to complete each order"), macarons make a wonderful present for anyone with a sophisticated sweet tooth. Wrapped in "eco-friendly," biodegradable packaging, they're good for Mother Nature, too.

Red Wine Jelly (6 oz) | $9 | byMags.etsy.com "My love for jamming was actually caused by my mother," Etsy store owner Margaret Perry tells us. "In fact, all the women in my father's family are expert canners, and Mom learned how to make jam from her mother-in-law when she was a young bride, eager to make a warm and welcoming home. I'm grateful to be participating in their tradition." Red Wine Jelly is Perry's most popular item; she makes it with "local Virginia red wines, that tend towards a fruitier profile." "Offer this as an indulgent interpretation of all those PB&J sandwiches Mom used to make for your school lunches," Perry says.

4 Seasons Mugs | $56 | perchceramics.etsy.com Etsy seller Amy Adams can personally attest to the fact that these handle-free mugs are great mom gifts -- because she gave them to her own mom for Christmas. Illustrations by Claudia Pearson feature seasonal items such as kale and apples (for fall) and corn and cherries (for summer). Microwave- and dishwasher-safe, and made of "super durable" porcelain, these mugs will grace mom's table for many summers, falls, winters and springs to come.