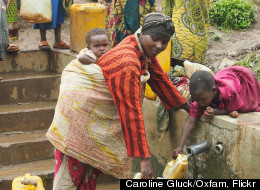 When you shower your mom with the love –- and chocolate, jewelry and flowers –- that she deserves on May 13, you can also use that moment to honor a struggling woman in need living worlds away.
Because while Mother's Day is an opportunity to thank the woman who gave you life, it is also a chance to honor the women who are overcoming major adversities and are determined to carve out a meaningful life for themselves and their families. When you celebrate with your mom, don't forget the pregnant woman in Africa who isn't guaranteed a safe delivery and the sex trafficking survivor in Cambodia who is hoping for a second chance.
As you prepare to indulge your mom in the goodies she loves most, consider doing so with a present that also gives back to an organization empowering women in greatest need.
SLIDESHOW:
Mother's Day Gifts That Give Back
After surviving the devastating Haiti earthquake in 2010, an artisan collected materials around the house, and crafted this sparkling pendant. When you buy this piece of jewelry for mom to keep close to her heart, 20 percent of the sale will go to the AFYA Foundation, which addresses the health concerns of those in the greatest need. Shop Jewelry for a Cause here.

When you toast your mom for bringing you into this world, keep the women in mind who are fighting for their lives. As you clink glasses, you'll know that a percentage of your purchase will go to fight breast cancer when you buy your Chardonnay from ONEHOPE Wine. Shop OneHope Wine here.

Celebrate your mom -- and your vow to fight cancer -- when you two bite into a Survivor Chick white and dark chocolate bar, filled with raspberries. This Seattle company is so determined to put an end to the C-word, it's giving 100 percent of proceeds from this item to the fight against cancer. Buy your mom's Survivor Chick treat here.

Prosperity Candle gives those who have suffered unspeakable tragedies in post-conflict regions the chance to rebuild their lives, by building candle-making businesses. One such businesswoman is Wafa'a -- an Iraqi widow who toils away to make scented, colorful candles to support her son who was seriously injured in a mortar blast. Shop Prosperity's Mother's Day gifts here and write a note of encouragement to a candle-maker here.

Give a sex trafficking victim a second chance when you buy a Silk Empowerment Necklace, crafted by a survivor, that comes with a hand-written card expressing her thanks. Proceeds from your purchase benefit the Somaly Mam Foundation, a nonprofit that helps rehabilitate and empower women and girls who have suffered the horrors of trafficking in Cambodia. Peruse the Somaly Mam Foundation's Mother's Day gifts here.

In 2010 alone, the International Rescue Committee helped more than 152,000 pregnant women have safe deliveries in areas where hospitals have been destroyed. When you send your mom an IRC Mother's Day card, your $24 donation will make sure that figure keeps climbing. Purchase an IRC Mother's Day card here.

When you buy one of Project Iris' colorful tees for mom, you'll be helping another set of mothers and kids on the other side of the world. Five percent of your purchase will benefit the World Food Program, which addresses the nutritional needs of mothers and their kids in developing countries. Shop Project Iris here.

You don't have to take your mom to India to buy her a one-of-kind gem crafted by a local artisan. Log onto eBay's World of Good site to peruse the handmade pieces crafted by folks who are intent on sharing their gifts with the world, and using the proceeds to earn a livelihood. Shop World of Good's Mother's Day gifts here.

If your mom has more than enough "stuff," consider this fresh idea: Provide a green garden -- and a living -- for another mother and her family. An Oxfam fruit and vegetable garden provides fresh fare for families in need to eat themselves or sell at local markets. Purchase your Oxfam garden from one mom to another here.

It's a Mother's Day dream come true: Your mom can sit back and breathe easy -- all while working to help other women in need. Give the gift of relaxation with a Raven & Lily soap set. The gift includes honey oatmeal, lavender basmati, lemon sunrise, and leh apricot scents -- handmade in Northern India using locally grown ingredients and fresh spring water. Proceeds fund literacy programs for the women artisans and children in the community. Shop for soap that helps women in need here.