The Munchies, Andrew Zimmern's Food Awards, Announces Inaugural Winners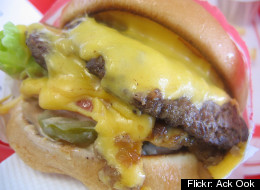 Just before the James Beard awards are announced on Monday, The Munchies, a new voted-by-the-people awards helmed by Andrew Zimmern and other celebrity panelists, has announced its first year of winners. Throughout April, online users of Tablespoon.com (owned by General Mills) voted on the motley crew of nominees.
"It's been so fun to see people who are passionate about food debate and support their favorite restaurants, media, and chefs," The Munchies lead panelist Andrew Zimmern said in a release.
Here are the winners:
Favorite Food Reality TV Show:
"Top Chef" (Bravo)
Favorite Food TV Personality
Bobby Flay, "Food Network Star" (Food Network)
Favorite Food Related Magazine
Food Network Magazine (Hearst)
Favorite Food Blog
The Pioneer Woman, Ree Drummond
Most Newsworthy Cookbook
Food52 Cookbook, Amanda Hesser & Merrill Stubbs (Harper Collins)
Best Food Podcast or Radio Show
"The Splendid Table" (American Public Media)
Best Chef
April Bloomfield, The Spotted Pig, New York, NY
Most Inspiring Food Visionary
Jamie Oliver, Food Revolution
Most Iconic Burger
Double Double Animal Style, In-N-Out Burger, Irvine, CA
Best Pizza
Grimaldi's Pizzeria, Brooklyn, NY
Best Taco
Torchy's Tacos, Austin, TX
Best Cookie
Dark Chocolate Peanut Butter Chip Cookie, Levain Bakery, New York, NY
Best Ice Cream
Jeni's Splendid Ice Creams, Columbus, OH
Best Food Truck
Wafels & Dinges, New York, NY
Best Local Farmers' Market
Pike Place Market, Seattle, WA
Favorite Stadium Eats
Tony Luke's Cheesesteak, Citizen's Bank Park, Philadelphia, PA
Coolest Coffee Shop
Café Grumpy, New York, NY
Best Craft Brewery
Dogfish Head Craft Brewery, Milton, DE
Most Intriguing Cocktail Bar
Monkey Bar, New York, NY
Favorite Gluten-Free Bakery
BabyCakes NYC, New York, NY