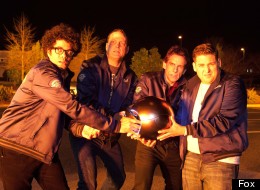 "Neighborhood Watch" is no longer called "Neighborhood Watch." In the wake of the Trayvon Martin shooting, the Twentieth Century Fox comedy has changed its title to "The Watch."
Back in March, Fox pulled posters for the then-titled "Neighborhood Watch" -- which featured a neighborhood watch sign riddled with bullet holes -- from Florida theaters. "We are very sensitive to the Trayvon Martin case," a Fox spokesperson said at the time, "but our film is a broad alien-invasion comedy and bears absolutely no relation to the tragic events in Florida."
On Friday, the studio released a new red-band trailer for the newly titled "The Watch" with the following statement:
"THE WATCH is the new title for 'Neighborhood Watch.' As the subject matter of this alien invasion comedy bears no relation whatsoever to the recent tragic events in Florida, the studio altered the title to avoid any accidental or unintended misimpression that it might."
With that controversy out of the way, "The Watch" is set to make audiences laugh come July 27. And judging from the new NSFW trailer, that seems like a fait accompli. Seriously! This thing looks much funnier than you probably thought. (Just me?)
"The Watch" stars Ben Stiller, Vince Vaughn, Jonah Hill and Richard Ayoade as a group of suburban guys who stumble onto an alien plot to takeover the world. The (very) R-rated comedy was co-written by Seth Rogen and Evan Goldberg ("Superbad") and directed by The Lonely Island's Akiva Schaffer. Watch the red-band trailer above.
[via HitFix]
PHOTOS: Richard Ayoade and Other Breakout Summer Stars
12 Breakout Stars of Summer 2012
Best known as Robin Scherbatsky on "How I Met Your Mother," Smulders gets her big-screen break in "Marvel's The Avengers." She plays Maria Hill, Nick Fury's right-hand woman and the expounder of much exposition in the superhero mash-up. Smulders also gets in on the action and wears a skin-tight S.H.I.E.L.D. suit, which isn't a total surprise; after all, director Joss Whedon once wanted her to play Wonder Woman. Make that happen, Hollywood gods.

'Nana hits the multiplex this summer as a gun-toting Naval officer in "Battleship." The trek to movie stardom doesn't stop there: Rihanna is also rumored to play herself in the Seth Rogen comedy "The End of the World" and might be the villain in "Fast & Furious 6" (because of course that movie exists and of course it would star Rihanna).

Rapace gets a second crack at U.S. stardom as the lead in Ridley Scott's "Prometheus." The original "Girl With the Dragon Tattoo" didn't acquit herself very well in "Sherlock Holmes: A Game of Shadows," but playing a nuevo Ellen Ripley in Scott's "Alien" non-prequel prequel should do wonders for her Q score.

The "New Girl" star has a breakout role in the indie time-travel love story "Safety Not Guaranteed," playing a character at least partially inspired by "Rushmore's" Herman Blume. Let's all promise that in ten years from today, we'll meet again and talk about how Johnson is the new Bill Murray. Cool?

Everyone's indie girl crush takes center stage in the post-rom-com "Lola Versus." As Gerwig -- who plays the title character -- told HuffPost, Lola is the type of role that usually goes to Sandra Bullock. Perhaps after the Fox Searchlight release hits theaters, it'll be the type of role that goes to Gerwig?

The former "Dancing With the Stars" pro is her own cottage industry of '80s nostalgia. Last fall, she played the female lead in the remake of "Footloose"; this summer, she's the female lead in the '80s jukebox musical "Rock of Ages." If she's not as big as her "Rock of Ages" perm by Labor Day, something went wrong.

Speaking of "Rock of Ages," Boneta plays the role made famous by "American Idol" castoff Constantine Maroulis. Boneta had lined up another big-budget tentpole -- playing Adam in "Paradise Lost" -- but that film was recently tabled, meaning "Rock of Ages" becoming a hit is of great import to his leading-man future.

You love Andy Samberg on "Saturday Night Live," but -- if the rumors are true -- this could be his last season at Studio 8H. That makes his push for movie stardom all that much more pressing. Samberg will get his first chance to win over audiences in Adam Sandler's R-rated romp "That's My Boy"; after that, he'll win indie hearts in "Celeste and Jesse Forever," opposite Rashida Jones. Is this your next big comedy star?

After starring in "Bloody Bloody Andrew Jackson," Benjamin Walker takes a crack at another ex-president: Abraham Lincoln. Only his Honest Abe is a bit different from Daniel Day-Lewis' take on the iconic emancipator; Walker kills vampires. "Abraham Lincoln: Vampire Hunter" is either going to be one of summer's biggest hits or biggest busts. For Walker's sake, hope for the former.

You might remember Cody Horn from her brief stint on "The Office" (or as Warner Bros. president Alan Horn's daughter), but she hits center stage (ding!) in "Magic Mike." Horn plays Channing Tatum's love interest in the Steven Soderbergh film, meaning she'll be the envy of every red-blooded American woman when the stripper comedy-drama gets released on June 29.

"Take This Waltz" has been knocking around festivals since last year, but upon release in June expect Kirby to get lots of attention. As the sultry rickshaw driver who enchants the very-married Michelle Williams, Kirby manages to be charming without ever seeming like a real jerk. A stalker, but not a jerk.

Beloved British comic Ayoade ("The IT Crowd"; director of "Submarine") gets his big American break in the broad comedy "The Watch." How big is Ayoade's role in the alien invasion comedy that also stars Ben Stiller, Vince Vaughn and Jonah Hill? Well, Chris Tucker was rumored to star in "Watch" before Ayoade signed on.