The Funniest Someecards Of The Week (PICTURES)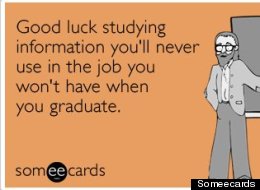 With the anniversary of Osama bin Laden's death, the White House Correspondent's Dinner, and the massive Occupy protests Tuesday, this week was pretty intense on the political front. In the meantime, college students everywhere were busy cramming for final exams in time celebrate Cinco de Mayo on Saturday.
But before you hit the bars and attend go see "The Avengers," share some laughs with this week's best Someecards. Check out our favorites below and visit the site for the rest.