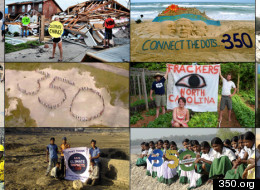 Colorful photos and live video streamed in from events held in more than 100 countries on Saturday where citizens are "connecting the dots" between global climate change and extreme weather events.
The events, part of "Climate Impacts Day" and coordinated by international climate campaign 350.org, demonstrate how a string of weather disasters around the world provide mounting evidence of the hazards incurred by global warming.
"We just celebrated Earth Day. May 5 is more like Broken Earth Day, a worldwide witness to the destruction global warming is already causing," said author, environmentalist and 350.org founder Bill McKibben. "People everywhere are saying the same thing: our tragedy is not some isolated trauma, it's part of a pattern."
While most scientists caution that no single event can be tied specifically to increased atmospheric greenhouse gases, the frequency of extreme climate events documented across the globe suggests the scope of what's upon us. Indeed, it seems as if extreme weather is now the new normal forecast.
Already photos have come in from New Mexico, where firefighters stand over the remains of the Santa Fe Forest, which burned hundreds of acres of land last summer in what some have described as the state's worst wildfire in history.
In Pakistan women hold up dots before the makeshift structure that became their home after floods devastated Pakistan's Indus river basin, killing 1,600 people and displacing more than 2 million, according to aid officials' estimates. The floods, triggered by unusually heavy monsoon rains in 2010 are the worst in recent history, affecting roughly 8 percent of the population and rendering one fifth of the nation underwater.
In Lebanon, more than 1000 students represented the dots with wheels of an enormous bicycle in protest of pollution that has reached concentrations levels so high that scientists are calling it toxic to human health, linking the air quality in Beirut to a variety of cancers.
A recent poll by Yale University found that seven in 10 Americans believe that "global warming is affecting the weather" and that more than 80 percent of Americans have personally experienced extreme weather or a natural disaster of some sort in the past year.
"Most people in the country are looking at everything that's happened; it just seems to be one disaster after another after another," Anthony A. Leiserowitz, one of the Yale researchers who commissioned the new poll, told the New York Times. "People are starting to connect the dots."
350.org has compiled a slideshow of events held around the world.
High school students in Texas.

Vermonters gather at the site of a covered bridge that was swept away in the floods from Hurricane Irene.

Women in the Sindh region of Pakistan stand outside the temporary structure that is still there only home after their houses were swept away in the disastrous 2010 flooding.

A world-renowned sand artist creates an sculpture on the beach in India to highlight the extreme heat that has hit the region.

Students in Tehran gather on a road that was washed away in flash floods.

A Vermont couple stands outside the place where their house was wrecked by flooding from last August's Hurricane Irene

Students in Johannesburg form a dot in their community garden to show one of many solutions to the climate crisis.

1,000 students in Lebanon form a giant bicycle to raise awareness about air pollution and call for more bike lanes to help solve the problem.

This Saturday, New Yorkers will gather in Battery Park to lift up a 30 ft Dot that reads "Underwater." This photo came to us from the Tiny Cup cafe in Brooklyn.