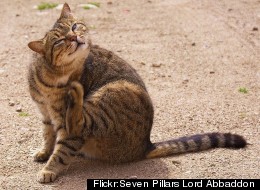 Obesity, like in humans, is also a troublesome trend in our furry friends. In fact, according to a recent report from Banfield Pet Hospital, 37 percent more dogs and 90 percent more cats are overweight than they were five years ago.
Banfield, the world's largest veterinary practice, recently released its State of Pet Health report, detailing findings about pet obesity, as well as other common health problems in dogs and cats.
Arthritis has also increased significantly in the past five years, according to the report, by 38 percent in dogs and 67 percent in cats. Part of this increase may be due to pets' expanding waistlines. Almost half of dogs with arthritis and nearly 40 percent of cats with the joint disease are also overweight, and there is a similar link between diabetes and high blood pressure in pets that are also overweight.
The report analyzed data from the 2 million dogs and nearly 430,000 cats cared for by Banfield vets, working in 800 hospitals across the country, according to a press release.
But while chronic diseases in pets continue to rise, owners remain in the dark. Only 36 percent of dog owners and 28 percent of cat owners said they would take their pet to see a vet to manage an existing chronic condition.
So what can owners do? Like in humans, prevention and early detection are key to keeping pets healthy. "At Banfield, we strongly believe in regular preventive care and early disease diagnosis. The key to successful early disease diagnosis involves a partnership between pet owners and their veterinarian to identify changes in a pet's overall health and behavior," Jeffrey Klausner, D.V.M., senior vice president and chief medical officer for Banfield Pet Hospital, said in a statement.
Keep in mind that an exam every six months for Fido is like getting checked out yourself every three and a half to four years, Brittany King, D.V.M., associate veterinarian at the Banfield Pet Hospital in Cypress, Texas, tells The Huffington Post. "They age a lot faster compared to us."
King took us through some of the most common health conditions facing dogs and cats today. Click through the slideshow below to see some simple suggestions for keeping your pets healthy and happy.
Common Health Conditions For Pets
A little tooth buildup is the most common diagnosis when a dog or cat is taken to the vet, according to the report -- it's even more common than getting a clean bill of health. Nearly 70 percent of mature adult dogs and 60 percent of mature adult cats, defined as being between ages 3 and 10, are diagnosed with dental tartar, a film of food particles and other gunk that sticks to the teeth and can attract bacteria and lead to tooth or gum disease. There are a number of different solutions, says King, including, if she'll stand for it, brushing your pet's teeth. "We've got finger toothbrushes, and chicken and liver flavored toothpaste," King tells HuffPost. Certain pet food companies make versions of their food with dental health in mind. "Companies manufacture kibble to act like a sponge along the gum line and absorb the tartar," King says. She also recommends a yearly dental cleaning at the vet's office, where your pet will be put under anesthesia so his or her entire mouth can be assessed, she says. "Think about it -- we brush our teeth, hopefully, twice a day," she says. "Dogs and cats aren't getting that!" Nearly 60 percent of geriatric dogs and more than 50 percent of geriatric cats, over the age of 10, have tartar buildup, as well as more than 50 percent of young adult dogs and 40 percent of young adult cats, defined as years one to three. Fewer than 10 percent of juvenile dogs and cats, ages zero to one, have dental tartar. Flickr photo by John Morton

"As we get busier, a lot of owners don't have time to spend with their pets, and show love by giving her an extra treat," says King. And, just like we misperceive our own weight, owners' perceptions of their pets' weight play an important role in the problem. Today, almost 20 percent of mature adult cats and dogs, almost 15 percent of geriatric dogs and cats and almost 10 percent of young adult dogs and cats are overweight, according to the report. If you think your pet might have a weight problem, the first step is to measure how much food you give him or her, says King. "Some bags make it look like you should feed that amount twice a day," she says. "I've solved so many weight issues [by getting an owner to realize] 'I should be serving half the amount I'm giving!'" You also don't need to reward a pet with a treat -- a piece of regular, healthy food can be a treat, too, she says. And cutting back on unhealthy table scraps can also help. If those methods don't make any difference after a month or so, it's time to look for underlying health problems and complications of being overweight, like diabetes and hypothyroidism, King says. Flickr photo by Jacek.NL

Ear infections are more common in dogs than cats, but still one of the more common feline diagnoses. Almost 18 percent of mature adult dogs, more than 16 percent of geriatric dogs, more than 14 percent of young adult dogs and more than 12 percent of juvenile dogs come to the vet with an ear infection, while 8 percent of juvenile cats present with symptoms, more than 7 percent of geriatric cats and more than 6 percent of young adult and mature adults do, according to the report. The best way to prevent problems is to clean your pet's ears once a week, says King. "Dog and cat ear canals are much longer than humans,'" she explains, so the waxy buildup that naturally migrates out of our eyes can get stuck in theirs, she says. Ear infections can also be caused by parasites or bacteria, or by a particular breed's love for swimming, she adds. A vet can recommend the best cleaning solution, whether it's a generic anti-wax cleaner or something to fight specific bacteria, she says, as well as show you the best way to hold your pet while you're cleaning their ear, because "let's face it," King laughs, "they don't like their ears messed with!" Flickr photo by E>mar

Typically, owners think of fleas as a dogs-only issue, or at least something indoor cats don't have to deal with, but that's not always true, according to King. "[Prevention] is much easier to do than to have to treat a bad flea allergy," she says. She recommends using a multi-purpose topical product once a month for cats to protect against fleas, as well as heartworm. Fleas are more common in young cats, with around 13 percent of juvenile cats being diagnosed, while only 4 percent of young adult cats and 3 percent of mature and geriatric cats are diagnosed. Flickr photo by Seven Pillars Lord Abbaddon

Arthritis prevalence in dogs has increased by 38 percent over the past five years, according to the report, and 13 percent of geriatric dogs were diagnosed with the joint disease in 2011. The average age of diagnosis in dogs is about 9, but really, as soon as a dog reaches 7 years old, he can start eating a diet meant for geriatrics, says King. A senior-appropriate food will be fortified with glucosamine chondroitin, she says, a supplement thought to protect the joints, which has recently grown in popularity for dogs, according to PetMD. There are also anti-inflammatories a vet can recommend to help you manage your dog's pain, says King. Flickr photo by gurdonark

Everything from a scratch to an ulcer to allergies can cause eye problems in cats, says King. Seven percent of juvenile kitties, 4 percent of young adults and 3 percent of mature adults are diagnosed with eye infections. Older cats may even present with cataracts, she says. Flickr photo by andedam

Older dogs are also often diagnosed with this aging-related eye condition, which appears similar to cataracts, but does not affect a dog's vision as seriously, according to VetInfo. In fact, nearly 20 percent of geriatric dogs and more than 2 percent of mature dogs experience it. While no treatment can reverse the effects, because vision is typically only lost at a very advanced age, vets recommend simply giving good care to a dog with nuclear sclerosis, which includes not making too many changes to the dog's environment. Flickr photo by jack berry

More than 8 percent of geriatric cats are diagnosed with what's called malaise in the report, or an over-arching change in temperament that may be similar to depression. Pets can experience true depression, says King, like grief over the loss of another pet, and there are animal behaviorists who can diagnose these disorders. But an underlying physical disease is likely be the cause, says King. If your pet doesn't feel like moving around, for example, it could be arthritis. "Their overall demeanor is different just because they're ill," she says. Three percent of mature adult cats are diagnosed with malaise, and 2 percent of juvenile and young adults. Flickr photo by lurker4hire
For more on pet health, click here.