Jimmy Fallon Thanks Kentucky Derby, Most Tanned Mom Ever, Sporks (VIDEO)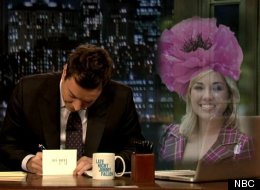 On Friday, Jimmy Fallon always thanks the absolute most important people and things to him. Because that's just the kind of guy he is.
This week, he compared the Kentucky Derby to "The Hunger Games," morphed his own face with the Most Tanned Mom Ever, and gave us a little rhyme about sporks. It just goes to show that if you remember to write thank you notes, you too may get to slow jam with the President one day.