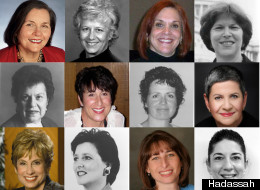 By Marcie Natan
Hadassah National President
In 2004, Belle Simon, who lived in New York at the time, needed a kidney transplant. A longtime member of Hadassah's national board, she was fortunate to have become acquainted with a fellow board member, Katie Edelstein, who lived across the country in Seattle. When Belle got sick, Katie was inspired to fulfill a mission inspired by Hadassah –- helping and healing. She made the amazing gift of donating a kidney to Belle. Today, both are the living, breathing examples of the significance of Hadassah's Pikuah Nefesh program, which encourages organ donation and builds awareness among families about the importance of letting loved ones know one's intent to be an organ donor.
Katie and Belle are but two of the 100 women that we highlight today as Hadassah reaches its 100th anniversary. Each of these women brings her own unique experience to the largest women's and largest Jewish organization in the United States, but at the same time is motivated and influenced by the mission of Hadassah: to strengthen our partnerships with Israel, ensure Jewish continuity and realize women's potential as a dynamic force in American society.
Today, I am honored to have a very special opportunity to introduce you to Belle and Katie and 98 other women who have made Hadassah what it is today: a women's Jewish organization more than 330,000 strong that brings women, girls and the men who support us together with a continued determination to improve medical care and research, social action and advocacy, volunteerism, Jewish education, youth programs that foster connections with Israel, and reforestation and parks projects. Jewish American Heritage Month, celebrated throughout May to commemorate Jewish Americans' contributions to America, seems a fitting time to mark the ways Hadassah has played a role in the American Jewish fabric.
Take a look at the honorees and continue reading below...
Sandra Alfonsi of East Stroudsburg, Penn., President of Hadassah's Stroudsburg Chapter, has been a life member of Hadassah since 1978 and a member of the National Board since 1995. She has served as President of the Bayside Chapter in New York and a National Vice President. Currently Chair of "It's Not His Story, It's Your Story," she is an important part of Hadassah's Jewish/Zionist Education Department. "My involvement in Hadassah has enhanced my leadership skills," she says, "it has given me the opportunity to bring Hadassah's message to many communities where Jewish identity is at risk, and it has allowed me to pursue my love of Zionism, Israel and the Jewish people."

Sherry Altura of Los Angeles, Calif.: "Growing up, it seemed that my mother's Hadassah group was always talking about raising money for the new hospital in Israel - luncheons, rummage sales, dinners, raffles, and I was always somehow involved - servin lunch, selling tickets. All of this came full circle when on my honeymoon trip to Israel, my husband took me to Ein Kerem to see a plaque in memory of his mother, and I saw the actual hospital and all of the plagues from around the world."

Miriam Aron of Teaneck, N.J. Since she grew up in a home where Zionism and volunteerism were part of her everyday life, it was a natural succession that Miriam became Region President of Northern New Jersey and the only National Board member who could say, "My mother is a National President," - Deborah Kaplan. Miriam puts her own spin on volunteerism in Hadassah with her determination and creativity, bringing joy to and respect from everyone who works with her.

Ginny Baird of San Jose, Calif. is honored to be completing her first year as President of the Central Coast Region of Hadassah and serving on the national board during this historic time - Hadassah's Centennial year and opening of a state-of-the-art medical tower in Jerusalem. "I could never have imagined when I was the regional webmaster, having developed the first web site linked to our national web site, that Hadassah would become so important in my life," she says.

Jacquie Bayley of Seattle, Wash., is Region President of the Pacific Northwest and a product of the first Hadassah Leadership Academy. She is passionate about Hadassah because she shares the same values of founder Henrietta Szold: Tikkun Olam, Repairing the World; Pikuah Nefesh, Saving a Soul; M'Dor l'dor, from Generation to Generation, and K'lal Yisroel, a United Voice of the Jewish People.

Phyllis Berlas of Beachwood, Ohio, says Hadassah has been an integral part of her life and the life of her family for over 50 years. "It has been my passion and no matter what portfolio or position I have held in Hadassah, it has empowered me to embrace my conviction with action in working toward a better tomorrow for all people. "

Rhoda Bernstein of Forth Worth, Texas has for most of her adult life, considered Hadassah the main expression of her Zionist and Jewish commitment to the land of Israel and the Jewish people. "Joining my mother, of blessed memory, on the National Board nearly two decades ago, and then having my sister join our ranks, has only served to strengthen the undeniable bond and strength of this, our incredible Hadassah family. In 1985, I stood proudly as my grandmother installed me as a third generation President of the Fort Worth Chapter of Hadassah. And then in 1993, I was honored to be installed by my mother as the President of the Greater Southwest Region, a position she had held in the early 1960s."

Mindy Bloom of Winston-Salem, N.C.: "After the tragedy at Virginia Tech in April 2007, Southern Seaboard Region Board members decided to go to the students, faculty, and Blacksburg, Va.'s Jewish community to show how much we cared about what happened to them. Our Region went to Blacksburg and celebrated Shabbat on the Virginia Tech campus by hosting Shabbat dinner and giving the students Virginia Tech kippot inscribed with the Hadassah logo. A memorial service to present a 400-tree JNF garden to university officials in memory of the victims was also held that weekend. Every moment we spent with the students, faculty, and community was intentional, important and substantive. Just as Hadassah does, when we are need by our Israeli family at a time of peril, we were needed by our Virginia Tech family. The goals of showing support and building new and happy memories were realized in ways that will reveal themselves for many years to come.

Aileen Bormel of Baltimore, Md., Hadassah Centennial Lock Campaign Chair: "Hadassah has connected me to a network of women around the world. It has empowered me to advocate for Israel and given me the amazing opportunity to allow others to experience the country through the Israel missions that I have led."

Pennie Sessler Branden of Woodbridge, Ct., past-President of the Connecticut Region of Hadassah, found her niche in Hadassah in the Nurse's Council, where she has left her indelible mark. Her enthusiasm, knowledge and skills of leadership have brought her to be Co-Chair of the Hadassah National Center for Nurses Councils Advisory Board.

Fredi Brown of Scottsdale, Ariz., President of the Desert-Mountain Region, is a fourth generation life member of Hadassah, a committed leader, an ardent supporter, and an advocate for women's rights and Israel's cause. "I do my work because of those that came before me and showed me the way, and for those that will follow me, and continue the work of Hadassah."

Roz Brown (late) of Wellington Florida: No matter what Roz did for Hadassah, it was always fundraising, from being Region President to a National Board member, to writing a show or developing new leaders, her heart and strategies revolved around the best campaign to get the job done. No one could plan better, implement smarter or nurture a donor better than Roz, the ultimate Zionist. She will be missed forever.

Ruth Cole of Ridgewood, N.J.: "Among my important memories of Hadassah are the early years in the 70's of building our Northwest Bergen Chapter in northern New Jersey and serving as Region President in the 80's. The end of the 80's to the present have been exciting years of educational and advocacy, for instance when as National Chair of Jewish Education and then Israel and Zionist Affairs Chair, I was a part of overseeing the publication of outstanding books and study guides including "Jewish Marital Status," and "Between Arab and Jew: Unraveling the Knot." When we published "Israeli and American Jews: Understanding and Misunderstanding," we launched with a major symposium for Jewish Education Chairs from across the country. It was most rewarding to see the engagement and enlightenment of Hadassah women and their communities developing a deeper understanding of the complex issues we continue to grapple with today.

Lisa Davidson of Hartsdale, N.Y. has been an active member of Hadassah for 23 years. After serving as president of the Tarrytown, N.Y. chapter and moving onto the region board, Lisa began her three-year term as Westchester Region President in 2004, subsequently moving to her current position on the National Board. Hadassah has enhanced her life socially and has made her the strong Zionist she is today.

Katie Edelstein of Bellingham, Wash., says, "To me, Hadassah links women who care to women who dare and is a vibrant example of people working together across countries and continents, helping and healing, dedicated to changing people's lives. Through my involvement with Hadassah, I was offered the opportunity to impact another person's life by answering the appeal to donate my kidney, and I responded by saying hineni - I am here - and as a result donated my kidney to my National Board colleague, Belle Simon, in 2004."

Judith Epstein (late) of New York, N.Y.: During her 92 years, she served two terms as National President, first in 1937 and then in 1943. She is remembered most for being a role model as a learned and proactive leader to younger women, to whom she was constantly reaching out and mentoring as they joined the ranks of leadership on Hadassah's National Board. She realized that while the history and experience of the organization is held by its longstanding members, the future of the organization belongs to the young women. The Judith Epstein Young Leadership Award was named in her honor.

Karen Everett of Larchmont, N.Y.: "Hadassah is Jewish women from all across the country and around the world, of all ages and backgrounds, coming together to heal the world. Hadassah is the only organization where the power of women, in particular of Jewish women, is brought to bear on some of the most difficult health and welfare challenges of our day. "

Dr. Karen Ezrine of Naples, Fla., chairs the Hadassah National Physicians Council, through which she is working with her colleagues to develop and enhance the relationship between U.S. and Israeli physicians and to support the work of the Hadassah Medical Organization in Israel and the United States. She looks forward to the council's third exciting Continuing Medical Education Program, "From Concept to Cure," that will take place just prior to Hadassah's Centennial Convention.

Nancy Falchuk of Boston, immediate past National President, created the Hadassah Nurses Council and expanded Hadassah-International's bridge-building around the world. As Hadassah's 24th National President, she streamlined the organization to overcome economic tidalwaves. Repeating "our grandmothers built Mount Scopus in the Depression," her presidency achieved Hadassah's largest ever fundraising goal of building the Sarah Wetsman Davidson Medical Tower at Hadassah Medical Center in Jerusalem.

Arlene Freedman of Flossmoor, Ill. Began her affiliation with Hadassah in 1967 after a trip to Israel. She served as President of Zahava Deborah (one of the groups comprising Hadassah Chicago Chapter) in 1975, President of Hadassah Chicago Chapter from 1985-87, while her daughter was a group president, and then served as a member of the National Board and at present is a member of the Honorary Council of Hadassah.

Ruth Ann Freedman of Highland Park Illinois has followed in her mother's footsteps and is today the President of Hadassah Chicago Chapter. Her involvement in Hadassah began when she was in her twenties and became president of one of Chicago's young leader groups and has continued as she has used her professional and volunteer skills to be a leader in Hadassah and a role model in tikkun olam for her 11-year-old daughters.

Dr. Miriam Freund-Rosenthal (late), New York, N.Y., was a member of a six-generation Hadassah family who persuaded Marc Chagall to create 12 windows displayed in the Abell Synagogue, Jerusalem. Under her reign as National President from 1956-1960, the first Young Judaea Year Course took place, Ein Kerem Medical Center moved forward, Hadassah Hebrew University was dedicated, and the Hadassah School of Dentistry opened and the first class graduated. She also was editor of Hadassah Magazine, and served in leadership positions in National Education, Youth Aliyah and Zionist Affairs, and as Hadassah United Nations Non-Government Representative.

Leslie B. Gaffin joined the National Board of Hadassah as the president of the Southern New England Region in 1993 and is currently serving as the liaison to the Hadassah-Brandeis Institute, where she is also a board member. Locally, she serves on the Hadassah New England Philanthropy Collaborative and is a five generation life member of Hadassah. The HBI (founded in 1997 with a grant from Hadassah) develops fresh ideas about Jews and gender worldwide by producing and promoting scholarly research and artistic projects. She has been involved in promoting "HBI Conversations," a book group where women meet with authors who write on subjects pertaining to Jewish women, currently running in 10 communities in the United States and Canada.

Donna Gerson of Philadelphia serves as Chair of the Hadassah Foundation. She is the former Co-Chair of the Young Women's Department, former Chair of Hadassah Attorneys' Councils, and a member of the National Board. Her Hadassah journey began when her grandmother made her a life member. "Who knew that it would take me to so many places, including the U.S. Supreme Court for a special swearing-in program featuring a meeting with Justice Ruth Bader Ginsburg?" she says. "I am so proud of what our members are building for all Israelis regardless of religion, gender, or race.

Marla Gilson (late) of Washington, D.C.: Opening Hadassah's Washington Action Office with her as the director propelled the organization into a position of power and prestige on the national, state and local scene. Under her direction, programs such as Day on the Hill and Date with the State brought large numbers of Hadassah members into the political arena and affected change on issues such as the danger of insurance companies using pre-existing conditions to deny coverage.

Barbara Goldstein of Jerusalem, Israel was the first National President of Junior Hadassah and has been involved with Hadassah for more than half a century, starting as a teenager in Junior Hadassah, through many roles of leadership in Hadassah, locally and nationally, to this day where she is a staff professional - Deputy Director of the Hadassah Office in Israel. "My life has been guided by a passion, commitment and humor to Judaism and Zionism, activism and pragmatism from the struggle to free Soviet Jewry, the need to zionize, to promote "in-marriage" through education and love of Israel and the Jewish people. I live according to Pirkei Avot - the task is not mine to finish but I must be part of it."

Sandy Goldstein of Bethesda, Maryland has been a Life Member of Hadassah for 40 years. Among her many roles, she served as a National Vice President, National Chair of American Affairs, President of Hadassah's Northern Seaboard Region, and President of the Annapolis Chapter. She chaired the Day on the Hill portion of the 2005 Hadassah National Convention and brought 1,500 delegates to Capitol Hill to lobby their Members of Congress on issues of importance to Jewish Americans. This year, she is working on bringing Hadassah women to Washington again to celebrate Hadassah's Centennial in the Nation's Capital.

Jill Goldstone of Wynnewood, Pennsylvania: After serving as immediate past president for three years of Hadassah of Greater Philadelphia (10,000 members) she has accepted four positions on the National Board. Having just been nominated to a three-year term on the board, she is passionate about sharing the mission of Hadassah with others and fundraising to enable Hadassah to remain strong for another 100 years.

Ruth Gursky of New York, N.Y., current President of the New York Region of Hadassah, is part of a three-generation life membership family who became active in Hadassah after graduating from the Hadassah Leadership Academy (HLA). The HLA enabled her to grow in personal strength, Jewish knowledge, leadership abilities, appreciation of Hadassah's work, dedication to Zionism, and love for Israel. Due to her life-changing HLA experiences, she stepped up as a leader in Hadassah, and she looks forward to leading Hadassah into its second century.

Rose Halprin (late) of New York, N.Y., was an ardent Zionist who spoke Hebrew fluently and lived in Jerusalem for five years as the liaison between Hadassah in the United States and Palestine, during which time she sat on the building committee of Hadassah Hospital Mount Scopus, and she attended its opening in 1939. A member of the Zionist Executive of the Jewish Agency for 20 years, she is most remembered for storming out of a World Zionist Congress when it was declared that all true Zionists eventually made aliyah to Israel, for she knew better - she knew the women of Hadassah. She served as Hadassah National President twice, from 1932-1934 and again from 1947-1952.

Gail Hammerman is a proud Centennial Founder from three generations of lifetime members. As current President of Hadassah Brooklyn Region, two years ago, she conceived and coordinated an archive project of oral histories, photos, and chronologies of events and artifacts of the 100-year history of Hadassah Brooklyn Region for its Centennial . This booklet will be released in June and will presented to National President Marcie Natan for the Hadassah Archives. She is a member of the National Board and Past President of the Park Slope Chapter of Brooklyn.

Ruth Hendelman of Dallas, Texas: "As an audiologist and as a woman committed to supporting Israel, 30 years ago I was drawn to Hadassah's lifesaving work in the field of medicine and to its efforts on behalf of children through its Youth Aliyah villages." Having served as a Chapter President, Region President, and a member of the National Board for the past 12 years, she currently serves as the Deputy Coordinator of Development and a member of the Executive Committee and is proud to be in the Circle of Founders and Keeper of the Gate families that financially support the work of Hadassah.

Kathy Hershfield of Sharon, Mass.: "My connection to Hadassah as a volunteer has helped me to connect to my Jewish identity, to the state of Israel and to other like-minded dynamic Jewish women here in the United States. I am fortunate to lead the Northeast area of Hadassah where we work to engage women in this cause that weaves a beautiful history of women's empowerment and healthcare in the Middle East to modern day Israel, cutting edge medical developments and a bridge to peace throughout the world." She serves on the National Executive Committee.

Ellen Hershkin of Dix Hills, N.Y., served as National Coordinator of Young Judaea, Hadassah's Zionist Youth Movement, during the Second Intifada when over 2,500 young people participated in Israel Programs, which were never cancelled. A 24-year National Board member and current National Secretary, she formerly served as a National Vice-President and has been a Hadassah member since 1973. She created leadership and speaker effectiveness training workshops t0 be used in Israel, Europe and the United States. Hershkin remains steadfast to Hadassah's Zionist Mission.

Charlotte Jacobson (late) of New York, N.Y.: As national president of Hadassah during the 1967 war, she went to Israel to receive the keys to Hadassah's Mount Scopus hospital from the Israeli Army after access to Mount Scopus was regained. The hospital had been cut off from the rest of Jerusalem since the War of Independence in 1948. As building and development chair, she supervised the rebuilding of the hospital and the building of the Moshe Sharett Institute of Oncology in the Siegfried, and Irma Ullman Building at Hadassah-Ein Kerem. She was presented with Hadassah's 1998 coveted Henrietta Szold Award at the 84th Annual National Convention in New York City. This was the first time a national Hadassah leader received the prestigious honor, named after Hadassah's founder, since it was initiated in 1948.

Carmela Kalmanson of West Palm Beach, Fla.: "Hadassah empowered millions of women, as practical Zionists, to make the world a better place. Because of Hadassah, for the first time in my life, I studied with women, taught Hebrew and Bible to members and understood the power of education to move one to action. I marched with Hadassah to celebrate the State of Israel, to free Soviet Jews and support a woman's right to choose. When I was elected as the National President of Hadassah, these important lessons set the agenda and culminated when Hadassah received the coveted prize for excellence in Zionist Jewish education before 2,000 delegates at the National Convention held in Jerusalem, after the Gulf War."

Deborah Kaplan of Bayonne, N.J. started as a teenager in Junior Hadassah in Northern New Jersey and rose to National President in 1991. Over 70 years, her fervor for Zionism and activism has brought her to the White House, to international capitals and to most of the chapters in Hadassah to share her message. Her inspiration and her commitment to Zionist principles as well as Hadassah's social action activism make her a role model for generations to come.

Marlene Kaplan of Highland Park, Ill., was elected Big Chapter President of Hadassah Chicago Chapter in 1995, growing membership, enhancing grassroots fundraising and increasing major gifts, while strengthening the organization's local infrastructure. Subsequently elected or appointed to various regional and national positions, including as current National Executive Vice President, she has continued to increase donations, grow Hadassah's existing donor base, and mentor emerging leaders. "My goal is to translate my passion for Hadassah's groundbreaking medical research, patient care, worldwide medical missions and education into meaningful donations which will not only benefit the current global population but will have a significant impact on future generations."

Eddyse Kessler of Miami, Fla.: Among the many opportunities Hadassah has given her, she has served as co-chair of two national conventions and on strategic planning teams with a focus on moving Hadassah forward with strength rooted in tradition. "Hadassah is about individuals contributing their best to build an organization that impacts the world. My contribution has been to motivate, inspire and provide for continued leadership at all levels of the organization. Through creating and implementing fully funded Young Women's Missions to Israel, I have seen young women take leadership roles locally and on the National Board."

Viviane Kovacs of Searingtown, N.Y., is President of Nassau Region of Hadassah with a membership of over 18,000 women. Her hope is to inspire others to give of themselves by becoming active contributors in the building of a Jewish future in the United States and in Israel. She began the first Nassau Region Walk-a-thon to raise needed money and awareness for stem cell research at Hadassah Medical Hospital.

Bobbi Kraft of Philadelphia, Penn., is a Past President of Hadassah of Greater Philadelphia and has served on the National Board as United Nations Representative, Advocacy Programs Chair and Editor of the Hadassah Academic College News Bulletin. She is the National Editor of hCoast-to-Coast, an online news bulletin of Hadassah happenings around the country and currently serves as Promotions and Marketing Chair for Hadassah's upcoming national Centennial Convention to be held in Jerusalem in October.

Marcia Gabrilove Ladin of Rochester, N.Y.: "My Zionism began at age 12 with my first visit to Israel. Hadassah has enabled me to keep my Zionist connection since I became a member in 1979. My most exciting Hadassah moment was when my nomination of Henrietta Szold to the National Women's Hall of Fame in Seneca Falls, N.Y. was accepted in January 2007. As the current Young Judaea Scholarship Chair, I am proud that we, Hadassah, enable a new generation of Zionists to develop through our camps and Israel programs, and our scholarships help make it happen for kids whose families are struggling with the costs."

Bonnie Lipton of Highland Park, Ill.: A five generation Life Member, Bonnie Lipton stepped up from Chapter to Region to serve as the 22nd National President (1999-2003). Currently Building Chair of the Sarah Wetsman Davidson Hospital Tower now open at Hadassah's Ein Kerem campus in Jerusalem, she has been a major fundraiser throughout her 50-year association with Hadassah. Among her 200+ trips to Israel, she chaired a National Convention In Jerusalem and has led many major donor missions to Israel.

Debbie Levine of Sugar Land, Texas: "Nine years ago, I initiated the Women of Courage program in Houston, with upwards of 600 in attendance honoring special women and institutions that have made significant contributions to women in our community. As founder of the Mazal group in Sugar Land, I am the immediate past president of Houston Chapter and currently serve as an appointed member of the National Board as the Society of Major Donor Chair. As a three generation life member, I remain a devoted enthusiastic volunteer whose passion is development, sharing Hadassah's medical successes, embracing donors and perpetuating Hadassah for future generations."

Lisa Lowhurst of Spokane, Wash. was a Young Leader who was runner-up for the prestigious 2009 Judith Epstein Memorial Award for her community project, "Possibilities for Peace: Breaking Barriers and Building Bridges in the Middle East." Her involvement as a Young Leader helped energize other young women to participate in Hadassah's work.

Ellyn Lyons of Toms River, N.Y. is Hadassah's current treasurer. "Hadassah is the avenue through which I have expressed my deep love for Israel and all aspects of my Jewish heritage," she says. "From the first time I stood with a Hadassah chapter to sing Hatikvah, I knew I would devote much of my time and heart to this Zionist movement. I met inspirational women who showed me how and, more importantly, why, to make Hadassah, Israel and Jewish life a central component of my life and, thus, my family's as well."

Dale Marcus of Wichita, Kan. is the immediate past president of the Great Plains Region, a Hadassah life member, and currently, a Donor Relations Manager and a Development Division Trainer for Hadassah. "What I do is twofold - I am an online trainer for our volunteers, facilitating workshops on topics such as how to motivate volunteers, how to avoid volunteer burnout, and how to find new and renewed leadership. As a donor relations manager, I assist chapters in identifying, soliciting and stewarding major donors. As a trainer, I facilitate workshops on reducing anxiety around solicitation of major gifts, and provide workshops for groups and chapters on putting together fundraising events."

Debra Mazon of Emerson, N.J.: "From joining Hadassah when I was newly married for its Zionist bent as well as to meet others like me, to becoming a Region President and member of the National Board because of what we were achieving in Israel through the Hadassah College and the rest of our projects, I discovered that Hadassah gives me the opportunity to use my organizational and creative skills to bring joy and wisdom to leaders, young and old alike, in a Zionist envelope. I believe that together, because we are smart, passionate and focused, we will continue to be a pacesetter in Israel and our efforts will impact lives everywhere, for years to come."

Deborah Minkoff of Madison, Wisc.: "Engaging in local Hadassah activities in Madison as a young, married mother inspired me to redirect my life's work from scientific research to partnering with Israel through meaningful projects that have empowered me to expand my Jewish identity. Each new experience has been an opportunity for positive personal growth. Whether it was attending a National Convention, lobbying for a cause, or challenging myself with every new leadership responsibility, I always find myself through Hadassah."

Sue Mizrahi of Mamaroneck, N.Y.: "In my 30-plus years on Hadassah's National Board, I have served as National Secretary, National Vice-President, Chair of Strategic Planning, Coordinator of the Education/Public Policy Divison, Coordinator of the Marketing-Communications Division, Chair of Leadership Development, Chair of Young/Women/Young Leaders , Chair of Jewish Education, Young Judaea Chair of post-high-school programs and Birthright. The most important part of my work with Hadassah has been the privilege of learning and teaching and of strengthening my Jewish soul."

Julie Morris of Spokane, Wash.: "While surrounded by a loving family and a vibrant synagogue in a small Jewish community, Hadassah and my passion for Israel are the frosting on my cake. Serving with dedicated women, making friends from all over the United States, and lending my talents in leadership, strategic planning, development and mentoring have hopefully enriched Hadassah and given my life added depth, added values and added meaning."

Susan Moye of Marietta, Ga.: "Jewish volunteering and promoting Israel have always been central to my family and my own philosophy; Hadassah has given me the best possible way to express these values in a proactive, meaningful manner." She has been president of the Southern Region, Chair of Grassroots Fundraising for four years, and is now a National Vice President.

Luisa Narins of Harrisburg, Penn., currently holds nine different portfolios as well as serving as Membership Vice President for the Northern Seaboard Region and incoming President for the Harrisburg Chapter. "My husband will often ask me if I'm 'Hadassah-ing,' and the usual answer is 'of course.' The truth is that we are both deeply committed to Hadassah because we believe in the message and the work this organization stands for.

Marcie Natan is Hadassah National President. Zionism and love for Israel are in her heart, and Hadassah is in her DNA. She has served the organization since her early twenties, rising to be President of the Eastern Pennsylvania Region, as well as a former National Vice President, she has also served as Chair of Planned Giving & Estates, Major Gifts, Unit Assessment, and Hadassah College. Her positions have included National President's Training Chair, National Secretary, and National Treasurer. Sje has traveled to Israel more than 50 times, including visits during both intifadas and the 2006 Lebanon War. Her time in Israel has intensified her passion and honed the perspective she has brought to Hadassah's National Board and Executive Committee, and the Hadassah Foundation Board.

Helaine Ohayon of New York, N.Y.: "My affiliation with Hadassah actually began in the summer of 1969 when I volunteered as a nursing student at Hadassah Medical Organization and upon graduation, I worked for one year as a public health nurse sponsored by Hadassah Medical Organization. Twenty-nine years later, I first became a National Board Member as President of the Boston Chapter and afterwards, became the Chair of the National Center of Nurses Councils, Coordinator of the Membership Division, Coordinator of Hadassah International and currently, Coordinator of the Development Division. I must admit that my greatest privilege and joy has been leading missions and connecting members and supporters from around the world to Israel and to the jewel in our crown, Hadassah Medical Organization."

Barbara Pailet of Metairie, La.: During my years of service on Hadassah's National Board, I was privileged to serve as Chair of the National Constitution Committee as we completed a comprehensive update of this important governance document. In addition to working on this update, I was honored to use my position as a member of Hadassah's National Board to organize a massive communitywide Passover seder for families in the New Orleans area who, in the immediate aftermath of Hurricane Katrina, were unable to celebrate the holiday in their own homes."

Judy Palkovitz of Pittsburgh, Penn.: "It has been my privilege and honor to represent Hadassah in many venues including the UN Women's Conference in Beijing in 1995, the UN Conference on Race in Durban, South Africa in 2001, The Hague regarding the Israeli fence in 2004, and throughout the United States. My greatest joy was helping to pass the Genetic Non-discrimination Act in 2008. At previous Beijing Women's conferences, there was virulent anti-Semitism and anti-Zionism. We went to counteract any such reoccurrence, and we worked in coalition with other Jewish women's groups. The conference did not repeat the past.

Esther Panitch of Atlanta, Ga., won the Judith Epstein Memorial Award in 2008 - Hadassah's highest award for young leadership. "I have been an active life member since I was a child, being given chocolate chip cookies by the women in my mother's and grandmother's chapters (I am the third of four life member generations). I have been the President of a group in Miami and co-President of one in Atlanta, helped raise over a million dollars for stem cell research and now sit on the governance committee of Camp Judaea. I was sworn in to the Supreme Court on a Hadassah trip several years ago."

Hanna Pollack of Cleona, Penn., is a former National Vice-President and current Leadership Training Chair whose hands-on participation and strong mentoring skills have been a continuous resource for new leaders and those who are in need of guidance and advice. "I joined Hadassah because it was a Zionist organization and allowed me, as a child of Holocaust survivors to support the homeland of the Jewish people while living in a small town in central Pennsylvania. I stayed because I felt good about the work that Hadassah was involved in, I believed that I was making a difference, and I enjoyed working with the women involved in Hadassah at all levels."

Ruth Popkin of New York, N.Y., Hadassah's 18th National President, is known for her commitment to Hadassah's future as both an organization and as a people, especially through Young Judaea. She was elected as the first woman President of the World Zionist Congress in 1987, and her work in the Jewish National Fund is legion, but anyone who has ever danced in the Israel Dance Festival can picture her sitting in the front row cheering them on.

Marlene Post of New York, N.Y., served as Hadassah National President from 1995-99, during which time both the Hadassah Brandeis Institute and the Hadassah Foundation were established. Her involvement in the Jewish world begins and ends with Hadassah, but in between, she has found time to hold significant positions in the World Zionist Organization, the Jewish Agency for Israel, Birthright USA, and the State of Israel Bonds, and was awarded the Guardian of Jerusalem award for her lifetime commitment to the Zionist cause, among numerous other Israeli awards for her advocacy and work on behalf of people with disabilities. She is acknowledged for her commitment to Hadassah's future by creating the Hadassah Leadership Academy, devoted to educating prospective leaders as they take the organization into its second century.

Joyce Rabin of Woodmere, N.Y.: "Hadassah has been an integral part of my life for over 35 years. There are several things that immediately captivated me about Hadassah: Meeting the most incredible women and feeling empowered to work together as volunteers on a mission that stirred my heart and soul, and becoming excited from the minute I landed in Israel in the early 1980s and saw, firsthand, the work of Hadassah that touched so many lives in the State of Israel. My Zionist heart was awakened and my lifelong journey as a Hadassah leader began which has been and remains one of the most important parts of my life."

Lonye Rasch of Short Hills, N.J.: "Hooked on Israel since I was a teenager in Young Judaea, I have found Hadassah to be the perfect address for a meaningful partnership with Israel. As a member of the National Board of Hadassah, I have felt privileged to be the Communications Chair for Hadassah International since 2003 as well as the current Hadassah Medical Organization Communications Chair, raising awareness about the healing, research and global outreach of our hospitals."

Elizabeth Resnick of Miami Beach, Fla., is a founding member of the Miami Beach Galim Chapter of Hadassah, for which she served as President for three years from 2008-11. Under her leadership, the Chapter won the respected Judith Epstein Award in 2009, in honor of the best Young Women's event across the nation. She chaired the Young Women's event at the National Convention in 2010.

Leah Reicin of Skokie, Ill. "100 years ago, Hadassah was founded as a study group for secularly educated women who had minimal knowledge of Judaism and Zionism. Today, as the National Chair of Jewish/Zionist Education, I am responsible for continuing Hadassah's legacy by providing the American Jewish woman with courses and material on Bible, Hebrew language, Jewish/Zionist history and thought, Israeli culture, and Jewish customs and traditions."

Roz Rosen of Hallandale, Fla.: "My love affair with Israel began as a teenager when I went on a summer program. I have carried this passion into adulthood, sharing it with my family and all who know me. My focus has been on training and leadership, and I have held the positions of Broward Region President, Coordinator, Member & Unit Services Division, Grassroots Fundraising Chair, Leadership Chair, chair of the Governance Action Team, and National Vice President.

Benita Ross of Canton, Mass.: "I am the third of a five-generation life membership Hadassah family, three generations of Associates and have held major leadership positions in eight units around the country. On the National level, I served as president of the Southern New England Region, Machon Chair, Vice-Chair of the Hadassah Leadership Academy, Chair of Jewish-Zionist Education, Jewish-Zionist Education Action Team Leader for Strategic Planning, and am currently Centennial Education-Programming Task Force Leader, a member of the Massachusetts Influentials to Israel Team, a National Vice President and Chair of Youth Aliyah.

Barbara Sabin of River Vale, N.J., first went to Israel after reading a Nurse's Council ad for a trip in Hadassah Magazine. "It changed my whole world, as well as my involvement in Hadassah, where I am now an active member of the National Board. I was asked to be Hadassah's Chair for the first Susan G. Komen/Hadassah Race for the Cure in Jerusalem. Fortunately, I had led seven nurses' educational missions to Israel, including a trip to Amman, Jordan, which was quite an experience. As National Chair for Hadassah's Nurses Councils, through Hadassah International, I arranged Medical and Nurses Symposia in Mexico City; Monterrey, Mexico; Sao Paulo, and Buenos Aires. Over the years, it has become my passion to encourage all of our members to see Israel through the eyes of their own profession, be it nurses, attorneys, physicians or educators."

Alecia Sachs of Miami, Fla., served four years as Hadassah's National Camp Chair for Young Judaea Camp, and prior to that, as Chair of the National Young Leaders Advisory Board and Region President for the Greater Miami Region. "Visiting all of the Young Judaea Camps as Hadassah's National Camp Chair, I saw firsthand the power of experiential learning as I witnessed today's young people becoming committed Zionists. My own children are products of Young Judaea Camps and have a love for Israel that could never have been taught in school."

Judith Saxe of Lexington, Ky., an alumna of Young Judaea, first visited Israel 60 years ago with the second YJ Summer-in-Israel group. An active Hadassah volunteer for 50 years, much of her work on the National Board has been with Young Judaea and Young Women, in particular building a strong connection to the State of Israel.

Faye Schenk (late) of Brooklyn, N.Y. and Jerusalem, Israel, served as National President from 1968-72. A former Young Judaean and member of Junior Hadassah, she served as National Treasurer, Vice President, Secretary, National Chair of Hadassah Medical Organization and President of the Zionist General Council. She led the restoration of Mount Scopus, leading to a threefold increase in its size. She made Aliyah in 1978 after being elected to the World Zionist Executive. She headed the Organization Department of the Jewish Agency. When she died in Jerusalem, she was buried on the Mount of Olives.

Miki Shulman of Great Neck, N.Y. created Hadassah's breast cancer education program, chaired Hadassah's Convention in Israel in 2001 during the intifada and is chairing this year's 100th anniversary Convention in Israel celebrating Hadassah's Centennial. She is a member of the Hadassah Hospital board of directors and part of a four generation life membership family and three generation president's family. She has made over 60 trips to Israel, including leading over 30 Hadassah missions to Israel, several during unrest or wars, and has attended four World Zionist Congresses.

Sima Schuster of Encino, Calif.: "Early on, I recognized that I would not be one of the few in each generation who do make a difference that changes the world for the better. But, from my first encounter at a local unit meeting with Hadassah women 45 years ago as a bride in Evansville, Idaho (far from my Philadelphia upbringing), I knew that I found the way I could 'repair the world' -- tikkun olam - in concert with more than 300,000 other women who shared my core values. Hadassah has given me opportunities for personal growth and fulfillment that transformed me."

Carol Ann Schwartz of Cincinnati, Ohio: "As the National Presidential Development Co-Chair, I have had the opportunity to help glean knowledge, information and expertise from amazing women from across the country and around the world. Hadassah is about people, about changing lives, about Tikkun Olam - about making the world a better place -- focused on health, education, youth and the environment. Hadassah changes lives, one person at a time."

Roni Schwartz of Brooklyn, N.Y.: As a National Vice-President of Hadassah, she is committed to inspiring and building new and stronger Zionists. As the Coordinator of Young Judaea for Hadassah, and as a member of the Founding Board of Young Judaea Global, she is proud to be a part of the continued relationship of the premiere Zionist Youth movement and Hadassah.

Judy Shereck of Montvale, N.J. is currently the Zionist Affairs Chair, representing Hadassah at the Jewish Agency for Israel, World Zionist Organization, JCPA, AIPAC, and the Jewish National Fund. She has led six family missions to Israel, and is a member of the Board of Friends of the Israel Scouts. She was previously division coordinator of Young Judaea, the Zionist youth movement of Hadassah, and has two children who were both active in Young Judaea, including a daughter who served as National President of Young Judaea.

Elaine Senter of Silver Spring, Md.: "Since I was eight years old, Hadassah has been in my life, through Young Judaea, Junior Hadassah, the National Board, and of course, my family, who are all five-generation life members and associates. Israel and Zionism are the passion of my life, and Hadassah embodies both through its practical Zionism and its excellent missions to Israel."

Shelley Sherman of Great Neck, N.Y. currently serves as the Executive Division Coordinator. Under her tenure as Young Judaea Coordinator, the youth organization began the process of becoming an independent entity. During her time as Young Women's major gifts chair in Hadassah's Development Division, she created Take a Stand!, the young women's fundraising and advocacy initiative for stem cell research. She is co-creator and co-chair of SYNERGY, a committee of lay and professional leaders charged with vetting all new initiatives to be implemented in Hadassah. Both of her children are alumni of Young Judaea programs.

Andrea Silagi of Encinco, Calif., is a retired teacher who was a winner of the 1995 Milken Family Foundation Distinguished Jewish Educator Award. She taught a bilingual Hebrew-English kindergarten and first grade Hebrew and Judaic Studies. She has been an active Hadassah volunteer for over 26 years. For the past four years, sje was Coordinator of the National Development Division responsible for fundraising throughout the United States.

Natalie Silverman of Springfield, Ill., became involved in Hadassah when she moved from Chicago in 1976. Rising through the ranks as President of her local Chapter to the Great Plains Region President, she has spent the past 20 years as a member of the National Board, including three years on the Executive Committee. She has served as a National Vice-President, co-Chair of the New York 2007 Convention, chair of Hadassah's yearlong Israel@60 celebration and chair of the Hadassah Associates. She currently works in the Development Division as the National Chair for the Center for Institutional Giving. She remains active on the local and Region scene as the advisor for the Greater Kansas City Chapter and in donor relations in the Upper Midwest.

Belle Simon of Boynton Beach, Fla., a member of the National Board of Hadassah for 29 years, is Deputy Chair of Hadassah International and the National Chair of the Ethics Committee. In 2004, Belle received a kidney from a fellow National Board member, Kathryn Edelstein, who was inspired to make this amazing gift in great part thanks to Hadassah's Pikuah Nefesh Program, a Hadassah initiative that encourages organ donation.

Barbara Spack of Edison, N.J., has been a member of Hadassah for over 44 years and on the National Board for 33 of them, serving as a National Vice President and in many different portfolios. Her favorite Hadassah memories are from the time she served as National Jewish Education Chair, her favorite role, and include the creation of Al Galgalim, a family education program for toddlers, with music donated by her friend Debbie Friedman, z"l because of the outreach the program has made, and serving as the Hazzanit and tutor for the over 400 women who became bat mitzvah at Hadassah Conventions in the 1980s.

Annette Sondock of Houston, Texas: "My involvement with Hadassah began as a child through Young Judaea while living in Beaumont, Texas. In 1968, I joined as a young mom after moving to Houston, and worked from that time in my Group, Chapter and Region until coming onto the National Board as Greater Soutwest Region President in 1990. Since then, I have served in a variety of National positions that included Chair, National Conventions, New Campaigns, Jewish Education Department, Speaker's Bureau and Training, Hadassah Office in Israel, Hadassah Medical Organization and Strategic Alignment. I am still active on my local and Region level and find that my participation in Hadassah has allowed me to grow and learn in ways I would have never imagined."

Karen "Kacy" Spivack of El Paso, Texas, has been an active member of Hadassah for more than 30 years, is Past President of the Desert-Mountain Region and a proud member of the Centennial Founder family. Her love for the work Hadassah does and its commitment to Israel has kept her engaged in taking on leadership roles on every level, currently as the Vice-Chair of the National Leadership Department on the National Board, where she embraces the opportunity to work with, train, and develop leaders throughout the organization.

Jane Strom of Tampa, Fla.: "I followed in the footsteps of my grandmother and mother as a Hadassah leader and proudly took my place as a Region President on the National Board next to my sister, Nancy Wiadro. I know I have inspired other women with the joy of philanthropy through Hadassah, and my children and grandchildren will proudly point to the proof that I have added my bricks to the building of Hadassah in its 100th year."

Judith Swartz of Brookline, Mass., and Delray Beach, Fla., is a member of Hadassah's National Board and an elected member of the Hadassah Medical Organization Board of Directors. Currently, she and her husband, Sidney, are the National Chairs of the campaign for Hadassah's new Hospital Tower on Ein Kerem, Jerusalem. She has been a board member of the Hadassah Foundation since its establishment in 1998, and is a four-generation Life Member family. Her commitment to community is well established over many years through her service not only to Hadassah but also to Boston Combined Jewish Philanthropies, especially Jewish education.

Henrietta Szold (late) of New York, N.Y., is the founder of Hadassah. Any one of her lives - as a teacher, writer, scholar, social worker, organizer, Zionist political leader - could have been the life of a single individual. The trip that changed her life was a visit with her mother to Palestine in 1909, where she saw firsthand how desperate the need was for basic medical care. Her life's work would become practical health work in Palestine, forever impacting the trajectory of Hadassah's identity as an organization dedicated to women's and children's health. She served as Hadassah's National President from its founding in 1912 to 1921 and again from 1923-26.

Bernice Tannenbaum of New York, N.Y., served as National President from 1976-80. She left her mark on Hadassah through turning it into an international organization and founding Hadassah International. She initiated the tradition of holding Hadassah's annual convention in Israel on a periodic basis, convening the first convention there in 1978. She also created a new committee devoted to the needs of women and girls, now formalized as the Hadassah Foundation. She has represented Hadassah at the World Jewish Congress and at United Nations conferences. She was honored by Hadassah with its prestigious Henrietta Szold award, usually given to people outside of the organization, as well as was selected as the inaugural recipient of Hadassah International's Women of Distinction Award in London.

Yvette Tekel of Haworth, N.J.: Hadassah has driven Yvette's life from her youth, where her family's active involvement in Zionism including World Zionist Congresses, and Hadassah molded her future involvement as an adult, all the way to its National Board. There is no task too small for Yvette who attacks everything with competence and a smile, especially repairing the future for Youth Aliyah children.

Barbara Tirschwell of Boca Raton, Fla., fell in love with and married the young man she met in Young Judaea and has remained passionate about both to this day. An ardent Zionist, she has been an active member of Hadassah, proud to belong to an organization run and governed by women and one that fostered a close relationship among the women in her own family. Active locally and rising to a past National Treasurer, she has always been the voice of reason, able to address complex organizational issues with sage advice and perspectives.

Roselle Ungar New Orleans, La.: "Zionism, support of the State of Israel and Judaism are important elements of my life. Through my position on the National Board of Hadassah, I can focus on these important things while allowing me to touch thousands of people I will never meet. I know that the funds I help raise through Hadassah will make a difference in people's lives today and pave the way for a healthier future for all mankind."

Karen Venezky of Newark, Del.: "My 15 years as an elected official in Delaware gave me the experience to work with Hadassah members on some issues of concern to Jews, women, all Americans, as Hadassah's Advocacy Chair (for example, grassroots work in support of stem cell research). As the former president of a small advertising and design firm, I was instrumental in creating a team that moved Hadassah into the forefront of non-profit communication, marketing and design."

June Walker (late) of Rockaway, N.J., served as National President from 2003-07, during the second Intifada. Her commitment to treating all in need at Hadassah Hospitals regardless of race, religion or nationality, led to Hadassah's being nominated for a Nobel Peace Prize in 2005. Under her reign, the Judy and Sidney Swartz Center for Emergency Medicine opened for trauma medicine, Young Judaea built new headquarters in Jerusalem, and Hadassah College Jerusalem expanded its student body from 600 to 2,200. Walker became the second woman elected as chair of the Conference of Presidents of Major American Jewish Organizations. She served as Treasurer and Chair of American Affairs/Domestic Policy Department for Hadassah and was the director of in-service education for pulmonary medicine at Columbia-Presbyterian Hospital.

Nancy Wiadro of Naples, Fla., currently serves as Grassroots Fundraising Capital Campaign Chair in Hadassah's Development Division: "Hadassah has enabled me to realize and hone the leadership and philanthropic skills as a volunteer professional that are necessary to sustain our amazing organization. My legacy is the ability, as a mentor, to offer and encourage the same opportunities, passion and commitment to future leadership."

Laurie Werner of Fort Worth, Texas: "I am proud to have joined my mother, Madlyn Barnett (of blessed memory), and my sister, Rhoda Bernstein, as Presidents of the Greater Southwest Region and Members of the Executive Committee of National Hadassah. As Guardians of Tomorrow, Shomrei Machar, we will go from generation to generation, from the Rehabilitation Garden on Mt. Scopus, given in honor of our Grandmother (of blessed memory) Ella Brachman, to the dedication of the Madlyn Barnett Healing Guardian in the Sarah Wetsman Davidson Tower as we celebrate our Centennial Convention in Jerusalem in October."

Susan Wilkof of Canton, Ohio: "As chair of Young Judaea's 100th anniversary celebration and my work with Hadassah's major donors, I've been able to experience firsthand that Zionism is still very much alive and expressed through the volunteers and donors of Hadassah."

Mona Wood of Baltimore, Md.: "Hadassah has made it possible, for me as a woman, to have a far-reaching impact on the role of Jewish women in America and Israel. Through Hadassah, women take positive action and create constructive change for Judaism, women and the world. As women, we run a multi-million dollar corporation -- raising the money, making the decisions and to a large degree. doing the actual work." She has served as a National Vice President, National Secretary, President of the Northern Seaboard Region, and a myriad of National portfolios including National Leadership Chair. Currently, she edits "What's New! What's Hot!" the national publication for Hadassah leaders.

Susan Woodland of New York, N.Y. was the Archivist at Hadassah for 15 years, during which time she professionalized the growth, the maintenance and the accessibility of the 100 years of history in the Hadassah archives, which documents the work of the national organization. In addition to making information available to the leadership of Hadassah, graduate students, and the broad Hadassah family, she updated most of the catalog to the collection and made it available to the general public through the online catalog at the Center for Jewish History, where the Hadassah archives have been housed in a partnership with the American Jewish Historical Society since 2000. She brought the Hadassah archives into the 21st century through digitization projects.

Edith Zamost of Highland Park, N.J., Past President of the Southern New Jersey Region, and member of the National Board for almost 45 years, is an ardent Zionist who uses her skills as a brilliant writer, musician and thinker for the betterment of Hadassah.

Jane Zolot of Merion, Penn.: "Among many rewarding experiences, I was the first to chair the newly established department of Young Leaders in 1981. In later years as a National Vice President, I co-chaired Strategic Planning which led to exciting innovations including the Hadassah-Brandeis Institute (which doncuts international research on Jewish gender issues), the Hadassah Leadership Academy, and the Morningstar Commission (which promotes the positive portrayal of Jewish women in the media).
Earlier this month, the women of Hadassah opened the doors to our crowning accomplishment of the century, the Sarah Wetsman Davidson Hospital Tower at Hadassah Medical Center in Jerusalem. This building is allowing us to do what Hadassah has always done: Provide compassionate, expert care to all patients, regardless of religious or ethnic background.
But it also represents the continuation of a 100-year-old legacy in the power of generations of Hadassah women to not only build a first-rate medical system, but to bring women together across time, oceans, ages and community and advocacy needs. Hadassah's pioneering work can be found in our members' endeavors to not only build a strong and healthy Israel, but also to nurture Jewish-Arab relations, both in the Middle East and in the United States, through programs that assist at-risk youth, integrate new immigrants, and of course, develop strong Jewish commitments among Diaspora youth.
Our mission today remains as vital as it did 100 years ago as communities of Hadassah women across the United States mark our centennial year. Last month, we welcomed Shabbat 100 years to the day in the very spot where Henrietta Szold first conjured the ideas that would become Hadassah –- Temple Emanu-El in New York.
As we celebrate our 100th birthday this year, the women of Hadassah are preparing for our next century. But at the same time, we remember and honor our past. What still motivates us today and will guarantee our future is a commitment to the values exemplified by our founder, Henrietta Szold, a Jewish scholar and activist, who was dedicated to Judaism, Zionism, and the American ideal, as well as the many thousands of women who, together, have laid our foundation.
As you look through the photos and short bios of these 100 women, we hope you too will be inspired to positively influence your community. Join us as we look forward to our next century.