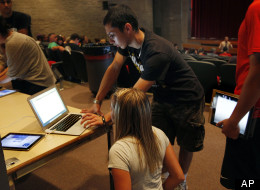 This piece comes to us courtesy of U.S. News & World Report.
When considering your child's education, it may be hard not to focus on the potential loans needed to pay for college or the outlook of the post-graduation job market. Sending your child to a top high school can ease that transition into the adult world. Often, students who graduate from a great high school do so with college credits, scholarship money, and marketable skills.
To help guide you through the universe of public high schools, U.S. News today released the fourth edition of the Best High Schools rankings, available exclusively online. While the previous high school rankings published in December 2009 included information on 1,800 schools, the 2012 rankings include data on nearly 22,000 public high schools from 49 states and the District of Columbia. (Nebraska did not report enough data to be included in the rankings.)
U.S. News partnered with the Washington, D.C.-based American Institutes for Research (AIR), which implemented U.S. News's rankings methodology. To determine the Best High Schools national rankings, schools were first analyzed at the state level in terms of how well students in each school performed on state assessments, taking into account the test scores of disadvantaged students (low-income, Hispanic, and black), who tend to score lower on tests.
High schools that made it through this analysis were then eligible to be ranked nationally, in terms of college readiness. U.S. News determines the degree to which schools prepare students for college-level work by analyzing student success in Advanced Placement (AP) or International Baccalaureate (IB) programs, both of which include college-level courses. U.S. News awarded more than 4,850 gold, silver, and bronze medals to the top-performing schools.
U.S. News Best High Schools 2012 (Top 15)
Located in Hyannis, Mass., "Sturgis Charter Public School is dedicated to an "International Baccalaureate (IB) for All" philosophy, preparing high school students for higher education in a supportive learning environment. Sturgis provides each student a rigorous world-class educational program, encouraging academic achievement, intellectual confidence, and personal growth."

Located in East Hartford, Conn., "The Connecticut IB Academy, a public high school with worldwide academic standards, connects a rigorous, pre-university curriculum to the world beyond the classroom by demonstrating the inter-relationships among the academic disciplines, by promoting international understanding, and by establishing a balance among academic, artistic, and social activities in order to produce responsible, ethical, thoughtful and informed citizens who are prepared to be global leaders.

Located in Henderson, Nev., Green Valley High School believes that "the purpose of education is to provide experiences which will encourage and assist students to achieve their potential and to assume their responsibilities as members of society. It is the obligation of the school to instill in students positive attitudes toward growth, learning, leadership, and creativity, as well as ensure their full intellectual and character development."

Located in Dublin, Calif., Dublin High School "is a four-time California Distinguished School. It is the only comprehensive 9-12 public high school in the Dublin Unified School District."

Located in San Marcos, Calif., San Marcos High School, the flagship high school in the San Marcos Unified School District, "currently serves a population of 2041 students from west San Marcos and communities south of the 78 freeway.... San Marcos students connect with their campus by participating in over thirty clubs and organizations and a full range of athletics and performing arts options."

Located in Lincroft, N.J., High Technology High School is "a specialized school concentrating on the disciplines of science, mathematics, and technology.... Since its founding in 1991, the application and admission process has become increasingly competitive. Seventy-five students are selected each year from a pool of over three hundred outstanding applicants. This totals to approximately 265 students from throughout Monmouth County."

Located in Bellevue, Wash., the International School "offers the finest educational experience to all of its students, one which is unsurpassed in preparing them intellectually, socially, creatively, physically, and emotionally, so that they are inspired to become lifelong learners and realize their dreams in the world at large."

Located in Santa Cruz, Calif., Pacific Collegiate School's vision is to "offer any student the same quality of education offered by the most academically distinguished schools in California.... Pacific Collegiate School will emphasize international, cross- cultural, and technological education in order to prepare graduates for life in the 21st Century. Pacific Collegiate students will be introduced to the rich variety of world cultures and become fluent in at least one foreign language. They will become proficient in the basic information technologies essential for cultural literacy in the 21st Century."

Located in Cypress, Calif., Oxford Academy's mission is "to prepare students to be ethically and academically focused for entrance into college/university. OA is a seventh through twelfth grade college preparatory public school that opened in September of 1998. Recognized as a California Distinguished School, OA draws students from the entire attendance area of the Anaheim Union High School District."

Located in Tucson, Ariz., BASIS Tucson is the flagship BASIS School. "BASIS seeks to provide an accelerated liberal arts education at internationally competitive levels for all students. The rigorous college preparatory education at BASIS readies students for the competitive admissions process, helps them become eligible for scholarships, prepares them to prosper at top colleges, and enriches their lives."

Located in Bloomfield Hills, Mich., the International Academy "is a public, tuition-free high school of choice for students of 17 Oakland County school districts collaborating in consortium with university and business partners. Commencing with 9th grade, it provides a unique blend of rigorous academic standards, practical and career-related learning as well as personal development opportunities."

Located in Tucson, Ariz., University High School's vision is to "be the premiere regional college preparatory school that serves academically focused and intellectually gifted students by providing a rigorous and challenging curriculum and by offering programs that reflect the diverse backgrounds, talents and cultures of our students within a supportive school wide community."

Located in Dallas, Texas, the Science and Engineering Magnet High School "is a learning community established to provide students with a rigorous college preparatory, academic and technical program relating to the sciences, mathematics and engineering fields."

Located in Alexandria, Va., Thomas Jefferson High School for Science and Technology's mission is "to provide students a challenging learning environment focused on math, science, and technology, to inspire joy at the prospect of discovery, and to foster a culture of innovation based on ethical behavior and the shared interests of humanity."

Located in Dallas, Texas, the School for the Talented and Gifted's mission is "to provide an environment in which the unique worth, dignity, and abilities of each individual are not only recognized but cultivated and celebrated as well. We wish to provide an educational experience that empowers highly capable students to interact with their intellectual peers in academic, creative, aesthetic, and social endeavors in order to meet the challenges of today and tomorrow and to become life-long learners, responsible citizens, and contributors to the betterment of society as a whole in an ever-changing world."
(Check out the full Best High Schools national rankings.)
In the 2009 rankings of Best High Schools, U.S. News awarded 100 gold medals. This year, that number soared to 500, many of which went to California high schools. The Golden State is home to the largest number of gold medal high schools (97), as well as the largest total number of schools that were awarded gold, silver, or bronze medals (577).
There are 68 gold medal schools in New York and 46 in Texas, including the School for the Talented and Gifted (ranked No. 1 nationally) and the School of Science and Engineering Magnet (ranked No. 3 nationally), both located in the Dallas Independent School District.
Often referred to as "TAG," the School for the Talented and Gifted claimed the top spot in the 2012 rankings. Ranked fifth in 2009, TAG topped Thomas Jefferson High School for Science and Technology (TJ), in Alexandria, Va., which was ranked first in the previous three editions of the U.S. News rankings.
At the nation's top high school, TAG students are pushed to be college-ready before they graduate. TAG students must take at least 11 AP courses in order to graduate and have opportunities to conduct field research through partnerships with local universities and take courses such as Web Mastery.
TJ slipped just one spot below TAG among the Best High Schools, with many of the other top 10 schools shuffling amongst each other. There were two newcomers to the top 10, including University High School in Tucson, Ariz., which jumped 17 spots to No. 4. High Technology High School in Lincroft, N.J., moved into the top 10 Best High Schools from its No. 11 position in 2009.
Among the top 20 Best High Schools, four are charter schools, which usually accept a limited number of students through an application process and are also exempt from some of the government regulations of other public schools, so long as they successfully meet the criteria of their original charter. Two schools in the top 20 are magnet schools, which use an application process that typically involves test scores and grade point averages to attract the most talented students in a region.
(View a slideshow of the top 10 Best High Schools.)
In the 2012 edition of Best High Schools, parents and students can browse rankings of the country's Best Magnet Schools and Best Charter Schools, which are separate lists from the national rankings. While Connecticut International Baccalaureate Academy (CIBA) in East Hartford is No. 14 nationally, it's ranked No. 1 among magnet schools. BASIS Tucson in Arizona ranks first among charter schools and sixth nationally.
There are also separate rankings of the top high schools by state, as well as lists of all the districts in a state and the schools in each district—ideal for both families who are moving and those who are exploring their neighborhood public schools.
(Learn about the methodology used to determine the Best High Schools rankings.)
In the state rankings, parents and students can compare schools in terms of student-teacher ratios, college readiness, and proficiency on state math and English assessments. And with the major boost of data that U.S. News collected for the 2012 rankings, specific details about each school are now freely available, such as the enrollment of each grade and the percentage of students who passed AP or IB exams.
These details are important to explore when choosing a high school in which your child will succeed.