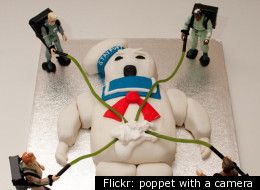 We like birthdays for everything they have to offer. A day to be showered in gifts; an excuse to act like a seven-year-old brat; getting a free pass to cry at your party, if you want to. These are all great perks to the one day a year you're allowed to celebrate your own existence. But the greatest perk of all is the birthday cake, no question about it.
Birthday cake takes the edge off of getting older. And since it's your birthday, you get to have seconds -- you're almost expected to. But even better than the sugar high is the thrill of the creative executions of these festives cakes. We've seen birthday cakes come in all shapes and sizes, flavor combinations and themes. We've even seen birthday cakes used as pillows. Click through the slideshow below to see some of the best examples that Flickr had to offer.
Birthday Cake Recipes:
Momofuku Milk Bar Birthday Cake
Rainbow Cake
Marble Birthday Cake
Incredible Birthday Cakes
A birthday cake engaged in a battle is the best kind of birthday cake you can hope for. Photo from Flickr: poppet with a camera.

The two who decorated this cake definitely won the best parents of the year award. Photo from Flickr: Leszek.Leszczynski.

The Power Rangers make quite an impact on this birthday cake. Photo from Flickr: soa2002.

There's a lot going on in this birthday cake: high heels, the Eiffel Tower and smiley-face candles. One thing we can say for sure, this is one personalized cake. Photo from Flickr: Dark Dwarf.

Buttercream popcorn! Now, that's the right way to eat popcorn. This entire cake was decorated with an artistic hand and loads of buttercream. Photo from Flickr: camnjeanacess.

A french poodle cake makes so much sense if it means you get to eat cake and marshmallows together. Photo from Flickr: shingleback.

Fondant allows the home baker to create all kinds of shapes for birthday cakes. This pastel ladybug cake is a great example of its possibilities. Photo from Flickr: prayitno.

Kit-kats surround a chocolate cake and are topped with fresh strawberries. This cake makes for one awesome birthday. Photo from Flickr: DoremiGirl.

What's not to love about a birthday cake with farm animals on it? Especially when two pigs get center stage. Photo from Flickr: Samdogs.

Legos meets birthday on this camping-themed cake. Real pine cones, lego trees, and candy rolo stumps top this chocolate-frosted cake. Photo from Flickr: woodleywonderworks.

When making a birthday cake for someone who doesn't like sweets, decorating it in the likeness of a hamburger is a smart way to go. Photo from Flickr: akeg.