Dani Benitez Throws Bottle At Referee: Granada Player Lashes Out After Loss To Real Madrid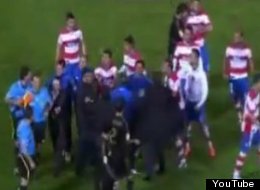 By Matt Yoder, Awful Announcing

I've heard of fans throwing bottles at referees before (Cleveland Rocks!), but not players.  Today, that changed in Granada's game against Real Madrid.  Madrid won 2-1 on an own goal in extra time to continue their march to the La Liga title.  However, Granada players were furious with the referee after the match for apparently blowing the full time whistle before a pending corner.  Two players were actually sent off in amidst the tumult.  As players angrily crowd around a referee, Granada's Dani Benitez hurls his sports drink bottle at the official and hits him in the side of the face.  The ref appears unhurt thankfully.  Really, it was only a matter of time before something like this happened with the continued abuse and angry crowds gathering around referees you see much too often in soccer...